News of all that's transpired on and off the football field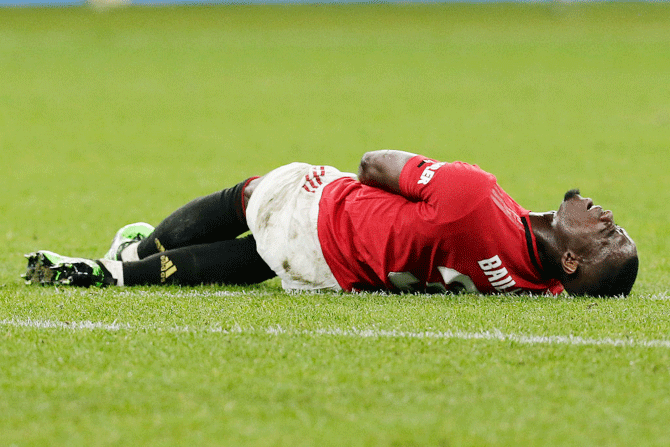 Manchester United defender Eric Bailly will be out until the end of the year after suffering a knee injury, manager Ole Gunnar Solskjaer said on Tuesday.
Bailly, 25, hurt his knee in last Thursday's 2-1 win against Tottenham Hotspur in the International Champions Cup (ICC) and had successful surgery on Tuesday.
"He's had an operation," said Solskjaer.
"He'll miss the best part of four or five months. Hopefully, we'll get him back around about Christmas."
The Ivory Coast international missed United's 1-0 win over Norwegian club Kristiansund in a friendly on Tuesday. It was the club's fifth pre-season win in succession.
Juan Mata scored the winner from a stoppage-time penalty to end the Norwegians' determined resistance as Solskjaer's son Noah came off the bench for Kristiansund as a late substitute.
United's next match is against AC Milan on Saturday in the ICC, their last pre-season encounter before facing Chelsea in their Premier League opener on August 11.
Bale wasn't fit for Real's Munich trip, says Zidane
Gareth Bale was not fit to travel with Real Madrid for their pre-season friendly against Tottenham Hotspur in Munich, manager Zinedine Zidane has said.
Wales international Bale on Tuesday missed the Audi Cup match, which Spurs won 1-0, following the collapse of his proposed move to China.
British media reported Real's board refused to approve Bale's departure, with Jiangsu Suning wanting to acquire the 30-year-old on a free transfer.
"He didn't travel because he wasn't fit," Zidane told reporters after the match at Allianz Arena.
"After speaking with the doctors, the best thing was for him to stay in Madrid. He stayed back and is training there. It was a joint decision between the player, medical staff and the coach."
Bale, who has won four Champions League titles since joining Madrid from Tottenham in 2013, appears to be out of favour at the Spanish club after Zidane said last week he was "very close to leaving". [nL8N24M0G7]
With a little over a week of the close season transfer window remaining, Spurs have only signed two players - one of them, Jack Clarke, immediately returning to the Championship side Leeds on loan.
Mauricio Pochettino, who has previously distanced himself from the club's underwhelming business, said his job title should be changed from manager to coach as he has no influence over transfers.
"I am not in charge and I know nothing about the situation of my players," the Argentine said.
"The club need to change my (job) title and description, no? My job now is to coach the team. It's not a question for me, it's a question for the club and maybe they need to change my title."
Paul Pogba will be fantastic for any team: Varane
Real Madrid's defender Raphael Varane has lauded his French teammate Paul Pogba, saying the player will be a fantastic addition to any team.
Varane's remarks come after wide speculation over Madrid's interest in Paul Pogba. "I think we have a team. Pogba is a good player, I know him very well. For any team he would be fantastic," Goal.com quoted Varane as saying.
Madrid have had a bad start to their season, as they have already lost their four pre-season games. They were able to win just one match against Arsenal at the Intercontinental Champions Cup.
However, Varane showed faith in the team and said the side would put up better performance once the season starts.
"I understand that you always want to improve. We are working on that and I trust in our work. It is true that on an individual level we are making mistakes. They're not tactical, they're technical errors. This will be corrected. I think we're going to improve little by little. We are focused on our work," Varane said.
"I remember that in 2017, when we won everything, we started the pre-season badly, with defeats. We all know that when the competition starts, Madrid is something else. This is not an excuse. We are focused on friendly matches," he added.
Real Madrid have been surrounded by controversy over the alleged fallout between head coach Zinedine Zidane and striker Gareth Bale.
Bale was recently asked by coach Zidane to leave the club as soon as possible, after team's match against Bayern Munich.
Later, Zidane had given a clarification that he did not disrespect any player, and said Bale did not want to play against Bayern Munich.
"Firstly, I have not disrespected anyone, least of all a player because I always said the same thing, that players are the most important thing and every time there is a player here I am always with them. Secondly, I said the club was trying to get him out. Period," Zidane had said.
"Thirdly, the other day Gareth didn't play because he didn't want to. He said the club was trying to negotiate his departure he and didn't want to play because of that," he added.
Zidane, after the match against Bayern Munich, had said that it would be good if Bale leaves the club as it will be good for both the team and the player.
This comment by former French international was criticised by Bale's agent Jonathan Barnett, who had described him as a "disgrace."
Bale's future at Real Madrid is uncertain as he is rumoured to be in talks with Chinese Super League clubs Jiangsu Suning and Beijing Guoan.
Chelsea ban fan for life for racist abuse in Man City game
Chelsea have banned a supporter for life for hurling racial abuse at players during last season's Premier League home match against Manchester City, the club said on Tuesday.
City's Raheem Sterling was a target of abuse from fans near the touch line during the game, in an incident widely covered in the news for highlighting lingering racism among football fans despite years of efforts to stamp it out.
Chelsea had banned four supporters from matches last year pending an investigation into alleged racial abuse.
"One individual has been permanently excluded from StamfordBridge for the use of racially abusive language and threatening and aggressive behaviour," Chelsea said in a statement.
Five others were handed suspensions of one to two years for "abusive language and threatening and aggressive behaviour" in City's 2-0 defeat in December last year.
"Individuals receiving the shorter exclusion did so on the basis that they have provided undertakings about their future behaviour."
Although the Crown Prosecution Service said they would not be initiating criminal prosecutions, Chelsea decided to ban the supporter.
"The club took into account the denial made by the individual as well as a range of other evidence, including video evidence and evidence from two lip reading experts - both of whom advised that the individual had used words that are racially abusive."
US men's team supports women's squad in equal-pay fight
The US men's team on Tuesday accused the US Soccer Federation of refusing to pay national team players a fair share of generated revenue as they gave their support to the women's squad in their equal-pay lawsuit.
The women's team filed their lawsuit in March and will soon head into mediation with US Soccer, whose president said on Monday in an open letter that the body had paid the women's team more than the men's team in recent years.
The United States National Soccer Team Players Association (USNSTPA), the labour organisation for members of the men's national team, said it was not impressed with the details of Carlos Cordeiro's letter.
"This is more of the same from a Federation that is constantly in disputes and litigation and focuses on increasing revenue and profits without any idea how to use that money to grow the sport," the USNSTPA said in a statement.
"One way to increase profit unfairly is to refuse to pay national team players a fair share of the revenue they generate."
The US Soccer Federation did not immediately respond when asked to comment.
Cordeiro said in his letter that analysis of financial data showed the women's team were paid $34.1 million from 2010-2018 in salaries and bonuses compared to $26.4 million for the men's team over the same period.
The letter stated the totals do not include money received by US Soccer from FIFA for World Cup bonuses and that if that money is included, the men earned $41 million during the same 2010-2018 period compared to $39.7 million for the women.
Each member of the women's team, that won a record-extending fourth World Cup three weeks ago, were named as plaintiffs in federal court when their lawsuit was filed.
It included complaints about wages and nearly every other aspect of their working conditions .
The players, including Megan Rapinoe, Carli Lloyd and Alex Morgan, said they have been consistently paid less money than their male counterparts even though their performance has been superior to the men's team.
The lawsuit alleges years of institutionalised gender discrimination, and says travel conditions, medical personnel, promotion of games and training are less favourable for female players compared to their male counterparts.
"The only solution Mr. Cordeiro proposes is for fans to buy more tickets and watch more games on television," the USNSTPA said.
"He conceals the fact that the money will not go to USWNT players when sponsors pay the Federation to support the USWNT, fans buy tickets to USWNT games at ever-increasing ticket prices, and television companies pay more when more fans watch USWNT games. That is neither fair nor equitable."
Ellis to step down as head coach of US women's team
Jill Ellis, who became the first female coach in history to win back-to-back World Cups, will step down as boss of the US women's national team in early October, she said on Tuesday.
Ellis, 52, who steered the US to a record-extending fourth World Cup title in France earlier this month, called the move "bittersweet", but said her decision to walk away after the team's victory tour was in line with the timeline she envisioned when she was first appointed in May 2014.
"It has been an amazing ride," said Ellis, who added that she wanted to spend extra time with her family after more than five years at the helm of the team.
"The timing of this is not just geared towards me on a personal level but also for the programme as it prepares to start a new cycle," she told reporters on a conference call.
"It just felt right, it felt good and I'm in a really good place with the decision," added Ellis who won 102 of her 127 matches in charge.
At this year's World Cup in France, Ellis guided her side to victory in each of their seven games in what was arguably the greatest achievement in the team's history, three years after they missed out on a medal at the 2016 Rio Olympics.
At the end of 2015, Ellis, who won eight tournaments with the US including her two World Cup titles, was named the FIFA World Coach of the Year and CONCACAF Coach of the Year for Women's Soccer.
Ellis, who was born in England and moved to the US in 1981, said the team would benefit from a fresh perspective.
"I firmly believe that this is not a job that someone should sit in for 10 years. I think change is good," she said.
"A position like this shouldn't be forever."
Ellis will continue to work for US Soccer for at least the next year as an ambassador, which will include representing the Federation at events.
Yet she does not have many other concrete plans.
"When you go through something that's intensive and do it for so long ... I think I just need to take a step back, take it all in and see what next intrigues me and piques my interest," she said.
US Soccer President Carlos Cordeiro said the governing body and the sport of soccer in general owes Ellis a debt of gratitude for all that she has done for the game.
"Jill was always extremely passionate about this team, analytical, tremendously focussed and not afraid to make tough decisions while giving her players the freedom to play to their strengths," Cordeiro said in a statement.
"She helped raise the bar for women's soccer in the USA and the world, and given the history of this programme, the level of success she achieved is even more remarkable."