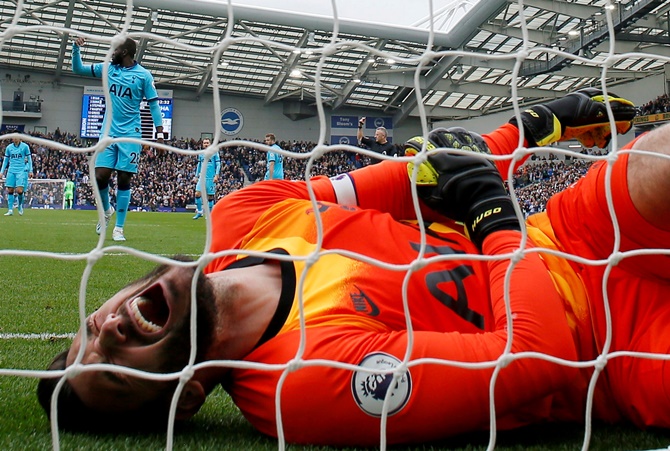 Tottenham Hotspur captain Hugo Lloris will not require surgery on the dislocated elbow he suffered during the weekend but the goalkeeper had been ruled out till January with ligament damage, the Premier League club said on Monday.
Lloris picked up the injury during Tottenham's 3-0 league defeat by Brighton & Hove Albion on Saturday.
The 32-year-old Frenchman fell heavily into his goal as he tried to prevent Neal Maupay scoring after parrying the ball into the path of the Brighton striker.
He was treated for six minutes by medical staff on the pitch before being carried off on a stretcher while being given oxygen.
"The findings have shown that although surgery will not be required, our club captain has suffered ligament damage and is not expected to return to training before the end of 2019," Spurs said in a statement.
"Hugo is currently in a brace and will now undergo a period of rest and rehabilitation under the supervision of our medical staff at Hotspur Way."
Wenger defends Pochettino after Tottenham slump
Mauricio Pochettino has found an ally in former Arsenal manager Arsene Wenger as he faces his toughest spell in his five years in charge of Tottenham Hotspur.
The final seasons of Wenger's 22-year reign at Arsenal were overshadowed by crowd disgruntlement at the club's lack of a serious title challenge and frustration is growing at Spurs who have yet to win any silverware under Pochettino.
Despite no trophies, Pochettino has established Tottenham as a top-four side in the Premier League and helped them out of Arsenal's shadow. But his progress appears to have stalled.
A 3-0 loss at Brighton & Hove Albion on Saturday left them off the pace in the Premier League and followed hot on the heels of a 7-2 Champions League drubbing by Bayern Munich and a League Cup exit to fourth-tier Colchester United.
Tottenham are playing in the Champions league group stages for a fourth successive season but there are suggestions Pochettino is under pressure to turn things around.
Wenger, however, leapt to the defence of his old adversary.
"I think he (Pochettino) has done very well, what everybody acknowledges," Wenger said in an interview with beIN Sport.
"When he came to Tottenham he slowly built them up with a very young generation. Every year people want something more from you. I experienced that at Arsenal.
"We were 20 consecutive years in the top four but in the end it was not enough."
Wenger says Pochettino is almost paying for his own success and that the team is lacking the chemistry of previous seasons -- a consequence of question marks over the futures of several players including Danish playmaker Christian Eriksen.
"Once you're four or five years, somewhere, no matter how good a job you have done, you have to show people you can give more, and he's at that stage," Wenger said.
"They are a bit destabilised. When I played them two or three years ago they looked like a young, hungry team who had found good strength, good core of the team with people who were growing together, with people who expressed that hunger, and players from outside who were vital like Eriksen.
"Today you don't feel that exact same chemistry. A player like Eriksen is a bit sidelined because he doesn't look like he wants to commit to the future of the club."
Tottenham are ninth in the standings and have not won any of their last 10 away games. Despite reaching last season's Champions League final, their domestic form suffered a big dip and they lost 13 Premier League games last season.
"They've done extremely well in the Champions League and came close to winning it. It's down to small margins," Wenger said. "Your real quality is always where you finish in the table. So the real trend is there.
"Pochettino knows, he said himself something is not there at the moment. And he will certainly rebuild that. I like him very much because he's always been quiet, respectful, motivated, worked very well and got a lot of recognition from his own players, that means he's a quality manager."
Lawrence named in Wales squad for Euro qualifiers, Ramsey returns
Derby County forward Tom Lawrence, who was arrested and charged with drink-driving last month, was on Thursday named in the Wales squad for their Euro 2020 qualifying games against Slovakia and Croatia later this month.
The 25-year-old was charged by Derbyshire Police alongside his Derby team mate Mason Bennett following a collision on Sept. 24 as the Championship club's skipper Richard Keogh sustained a knee injury that ruled him out for the season.
Lawrence played in the second-tier club's 2-2 draw against Barnsley on Wednesday after missing their 3-2 home win over Birmingham on Saturday.
Juventus midfielder Aaron Ramsey returns to the 26-man squad after shaking off a hamstring injury that kept out of the first half of their qualifying campaign.
Wales will travel to Slovakia on Oct. 10 before returning to Cardiff to face Group E leaders Croatia three days later.
Manager Ryan Giggs also included fit-again captain Ashley Williams, winger Rabbi Matondo and striker Tyler Roberts.