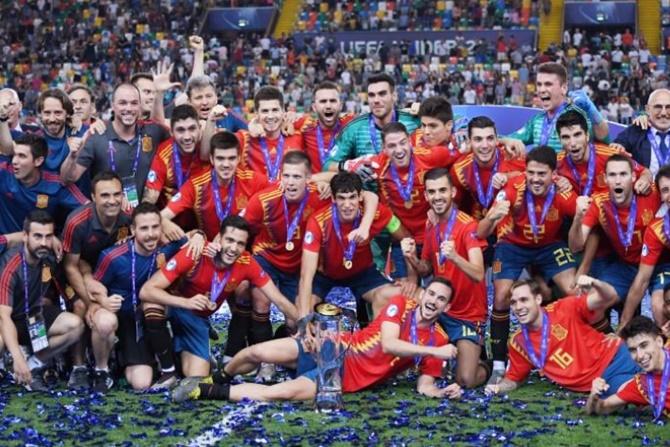 A slick Spain side took their revenge on Germany as they lifted the European Under-21 Championship title with a 2-1 win thanks to goals from Fabian Ruiz and Dani Olmo on Sunday.
The Spaniards had suffered a 1-0 defeat by the Germans in the 2017 final but dominated this year's showpiece at the Stadio Friuli until a late Nadiem Amiri consolation for the Germans.
Ruiz scored after eight minutes with a low shot into the corner and Olmo got the second in the 69th by dinking the ball over keeper Alexander Nuebel who failed to hold Ruiz's drive.
Spain's Carlos Soler hit the bar in the 81st before Amiri's fine late strike but the Spaniards held on to celebrate a fifth Euro under-21 title to match the record of hosts Italy.
England's Neville says US team breached etiquette with hotel visit
England manager Phil Neville has criticised the United States Soccer Federation for breaching etiquette by sending officials to the Lionesses' hotel in Lyon ahead of Tuesday's women's World Cup semi-final.
American team staff visited the England hotel while Neville's side were training on Sunday, with reports saying that their aim was to assess the venue as possible accommodation if they beat England and reach the final.
"The only thing I would say is it's not something I'd want my team doing. It's not something that England would do," Neville told a news conference.
"We're happy with our hotel and we were just training. So I hope they're enjoying their hotel but it's not something we'd do, send someone round to another team's hotel," he said.
Normal etiquette in tournament football is for the two teams to stay in separate accommodation and it is highly unusual for officials to step inside the opposition's hotel.
Inter confirm signing of Godin from Atletico Madrid
Inter Milan said on Monday they had signed former Atletico Madrid defender Diego Godin on a three-year deal.
The 33-year-old said in May he would be leaving the Spanish side after nine years when his contract expired in June.
"FC Internazionale Milano announces that a contract has been agreed with Diego Godin that will run until 30 June 2022," Inter Milan said.
The Uruguayan, who joined Atletico from Villarreal in 2010, played 389 times for the club and famously clinched their first La Liga title in 18 years with a header in a 1-1 draw at Barcelona in 2014.
Godin also won two Europa League titles, the Copa del Rey, Spanish Super Cup and three UEFA Super Cups with Atletico as well as reaching the 2014 and 2016 Champions League finals, where they lost both times to Real Madrid.