News of all that's transpired on and off the football field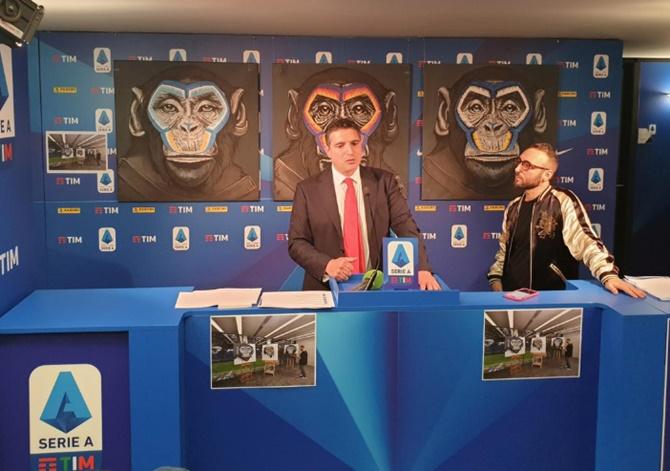 Italy's Serie A chief has apologised for the ape artwork used for its anti-racism campaign which has been widely criticised.
The imagery by artist Simone Fugazzotto featured three apes with different colour eyes and detailing.
"We realised it was inappropriate," the league's chief executive Luigi De Siervo said in a statement on Tuesday.
Italian clubs AS Roma and AC Milan have criticised the choice of imagery that the league initially said "aims to spread the values of integration, multiculturalism and brotherhood".
Fugazzotto, who uses apes in much of his work, defended his creation, saying "we are all monkeys".
Guardiola expects quick decision on Arteta over Arsenal move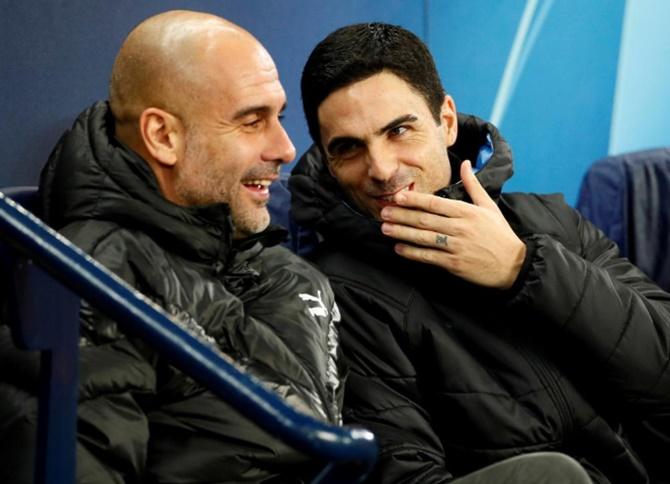 Manchester City boss Pep Guardiola said he expected a 'quick decision' on assistant Mikel Arteta's future, confirming his fellow Spaniard was in talks to take the vacant Arsenal job.
Guardiola said Arteta will be at Oxford United on Wednesday for City's League Cup quarter-final but appears resigned to the prospect of losing his right-hand man.
"I think it (the decision) is going to happen quick," Guardiola was quoted as saying by the BBC. "Why not (go)? It's a good argument."
Former Arsenal captain Arteta is the leading candidate to succeed Unai Emery as Arsenal manager after the London club's chief executive Vinai Venkatesham was pictured outside the 37-year-old's house in the early hours of Monday morning.
"Mikel is travelling to Oxford with us tomorrow," Guardiola earlier told reporters. "We were so smart to pick him up and the other clubs missed it. He's an incredible person, good manager. Work ethic. That's why he is what he is."
"He's talking with Arsenal so I don't know. Now he is part of our group and staff and he is here. When we have new news, I will know and you will know. Now he is here, tomorrow travelling. He trained today and that's all."
Spaniard Arteta made 149 appearances for Arsenal before joining City's coaching staff in 2016 where he has enjoyed a successful spell as assistant to Guardiola, helping the club to consecutive Premier League titles over the last two seasons.
Guardiola said he had spoken to Arteta about the Arsenal opportunity and would not stand in his way.
"I am a guy who lets people live with freedom and do what they want because that is what they want in the moment, for their lives, family, professionally and individually," he said.
"Mikel knows exactly what we think about him. After that, we cannot do more."
Bengaluru FC beat NorthEast United 2-0 to move to top spot
Defending champions Bengaluru FC bounced back from their previous match defeat with a 2-0 win over NorthEast United FC in their Indian Super League match in Guwahati on Wednesday.
After an evenly-contested first-half, Bengaluru pulled ahead when Sunil Chhetri (68th) scored from the penalty spot. Centre-back Albert Serran (80th) scored the second goal as Carles Cuadrat's side climbed to the top of the table with 16 points from nine matches.
Bengaluru had lost to Mumbai City FC 2-3 at home in their previous match at home.
NorthEast are without a win in four matches and find themselves at the sixth spot with 10 points after eight games.
The match was earlier to be played in front of empty stands due to unrest in Assam following the passage of the Citizenship (Amendment) Bill but the league organisers later decided to open the game to spectators.
Ozil removed from computer game in China over Uighur comments
Arsenal's Mesut Ozil has been removed from Konami's eFootball Pro Evolution Soccer (PES) 2020 computer game in China over his comments about the country's treatment of its Uighur Muslims.
NetEase, which publishes the PES franchise in China, confirmed on Wednesday it will remove Ozil from all three existing titles, including the flagship PES 2020 Mobile.
"The German player Ozil posted an extreme statement about China on social media," NetEase said in a statement on Weibo on Wednesday.
"The speech hurt the feelings of Chinese fans and violated the sports spirit of love and peace. We do not understand, accept or forgive this."
Ozil, a German Muslim of Turkish origin, posted messages of social media last week calling minority Uighurs "warriors who resist persecution" and criticised both China's crackdown and the silence of Muslims in response.
China's foreign ministry said Ozil was "deceived by fake news" as social media platforms in the country such as Weibo were flooded with angry messages.
Arsenal were quick to distance themselves from Ozil's comments, saying the club "always adhered to the principle of not involving itself in politics".
Ozil must 'accept consequences' of China criticism: Wenger
Former Arsenal manager Arsene Wenger said on Wednesday Mesut Ozil must "accept the consequences" of criticizing China's treatment of its Uighur Muslims, but he defended the star midfielder's right to express an opinion.
Ozil, a German Muslim of Turkish origin signed by Wenger in 2013, posted messages on Twitter and Instagram last week calling minority Uighurs "warriors who resist persecution".
China's foreign ministry said Ozil had been deceived by fake news as the country's Twitter-like Weibo platform erupted with angry messages, some calling for the London club to sack their highest-paid player.
Wenger told reporters in Doha he did not know if there would be a long-term impact for Ozil.
"I don't think the situation is definite, that can change very quickly, and although I don't know the situation well overall, Ozil made a comment and after, when you make a comment about your individual opinion, you accept the consequences of it," Wenger said.
"First of all, Mesut Ozil has freedom of speech like everyone else and he uses his notoriety to express his opinions, what is not necessarily shared by everybody but he has the right to do that," the Frenchman added.
US Secretary of State Mike Pompeo came out in support of Ozil on Tuesday, saying Beijing could not hide rights violations.
China has repeatedly denied any mistreatment of Uighurs. But the United Nations and rights groups estimate up to two million mostly ethnic Uighur Muslims have been detained as part of what Beijing calls an anti-terrorism campaign.
Arsenal was quick to distance itself from their midfielder's comments, posting a statement on Weibo saying it was his personal opinion.
Wenger said he did not want to get involved in the debate about the right balance between players' opinions and the commercial relationships big clubs, such as Arsenal, have internationally.
"I don't want to go into that dilemma, I think what is important is that Ozil has an individual responsibility, he doesn't carry the word of Arsenal Football Club. So, what he says is about himself, not about Arsenal," Wenger added.
The National Basketball Association says it has incurred substantial financial losses in China since a Houston Rockets official tweeted his support for Hong Kong's pro-democracy protests in October.
Pompeo expresses support for Ozil in criticism of China's treatment of Uighurs
US Secretary of State Mike Pompeo on Tuesday came out in support of Arsenal player Mesut Ozil for his criticism of China's treatment of ethnic Uighur Muslims, saying Beijing can censor the team's football games but cannot hide rights violations.
The Arsenal midfielder, a German Muslim of Turkish origin, last week in social media posts called Uighurs "warriors who resist persecution" and criticized both China's crackdown and the silence of Muslims in response.
China's state broadcaster CCTV on Sunday removed Arsenal's Premier League game against Manchester City from its broadcast schedule.
"China's Communist Party propaganda outlets can censor Mesut Ozil and Arsenal's game all season long, but the truth will prevail," Pompeo tweeted. "The CCP can't hide its gross #humanrights violations perpetrated against Uighurs and other religious faiths from the world."
The United Nations and human rights groups estimate that between 1 million and 2 million people, mostly ethnic Uighur Muslims, have been detained in harsh conditions in Xinjiang as part of what Beijing calls an antiterrorism campaign.
China has repeatedly denied any mistreatment of Uighurs.
On Monday, China's Foreign Ministry said Ozil "had been completely deceived by fake news and false statements."
Washington has been ratcheting up its criticism of Beijing over Uighurs simultaneously as it has continued its trade deal negotiations. US President Donald Trump in November signed into law congressional legislation backing protesters in Hong Kong despite angry objections from China.
Earlier this month, the U.S. House of Representatives passed legislation requiring a stronger response to Beijing's treatment of its Uighur Muslim minority.
What started as demonstrations against a now-withdrawn bill allowing extradition from Hong Kong to mainland China has morphed into calls for greater democratic freedoms and nearly six months of sometimes violent protests in Hong Kong. Beijing has condemned the unrest and blamed foreign interference.
Arsenal on Saturday tried to distance itself from Ozil's comments after he posted messages on Twitter and Instagram. "The content he expressed is entirely Ozil's personal opinion," the official account of Arsenal said in a post on China's Twitter-like Weibo platform.
The controversy is the latest between the sports industry and China. In October, an executive with the National Basketball Association's Houston Rockets expressed support for the pro-democracy demonstrators in Hong Kong, angering Beijing and suddenly putting on shaky ground the league's estimated $4 billion market in China.