News of all that's transpired on and off the football field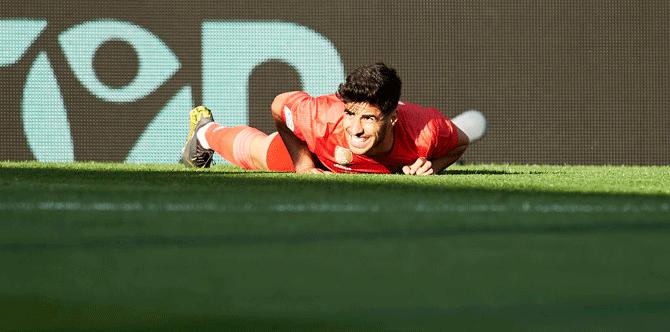 After suffering a serious knee injury, Real Madrid's midfielder Marco Asensio on Friday wrote an emotional message on Twitter thanking his fans for all their support.
Asensio suffered a knee injury in the team's match against Arsenal in the International Champions Cup and the player is likely to miss six to nine months of footballing action.
In one of the tweets Asensio wrote, "I began this season with renewed hopes, looking after even the last tiny detail of my preparation so that this would be a great season for all the Madrid fans and for myself".
"At the highest points in life, you can have an unexpected stroke of bad luck and suddenly everything changes. It is hard to accept everything these days, but I begin another personal challenge in my life. I still trust that this will be a great season," he wrote in another tweet.
"Your messages of support and loving gestures give me even more strength to face this challenge. Heartfelt thanks to all of you for your support. See you soon," he said.
Real Madrid is also hampered by Ferland Mendy's fitness issues as he injured his leg against Arsenal.
Swede Sundhage to coach Brazil's women's team
Pia Sundhage will take over as manager of Brazil's women's team after quitting as coach to several of Sweden's under-age international teams, the Swedish FA (SvFF) said on Thursday.
Brazil lost to hosts France in the last 16 at this year's World Cup, prompting an impassioned plea from striker Marta to young girls in the country to get involved in the game.
Brazil's previous manager Vadao, who also coached the team for two years from 2014, was removed just four weeks after Brazil's World Cup exit.
Under him, Brazil had reached the semi-finals of the 2016 Olympic tournament in Rio and won two Copas America and a Pan American Games title.
"Brazil is a fantastic football nation full of talented players that I am looking forward to getting to know and work with," the 59-year-old Swede Sundhage told the SvFF website.
"The national team is in an exciting phase at the moment - one needs, to a certain extent, to undergo a generational change, and at the same time they have qualified for the Olympics,"
Regarded as one of the pioneers of women's soccer in Sweden and around the world, Sundhage, who won Olympic gold as coach of the U.S. team in 2008 and 2012, ended a five-year spell in charge of Sweden in 2017 before coaching the under-age teams.
Guardiola gets candid over Sane's future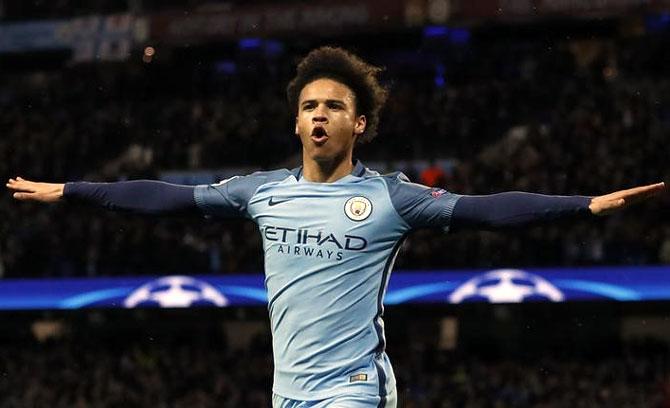 IMAGE: Leroy Sane. Photograph: Lee Smith/Reuters
Manager Pep Guardiola admitted Leroy Sane's future as a ManchesterCity player is beyond his control as speculation linking the Germany international with a return to his homeland continues to build.
Sane, who joined City from Schalke in 2016, has been a transfer target for Bayern Munich throughout the summer, and Guardiola remains determined to keep the 23-year-old at the Etihad Stadium.
"I like him a lot, I think he has an incredible chance to be better, incredible in terms of being connected in the game," Guardiola said after Sane scored twice in City's 6-1 win over Hong Kong side Kitchee late on Wednesday.
"I think I said two times or three times, we want to keep him. We want him to stay, that's the reason why for more than one year he has an offer waiting to talk with his agent to extend the contract.
"It's not in our hands or in my hands. He has to decide if he wants to stay and if our agreement is good. If he's going to leave we will be sad, but what can we do? Hopefully he stays."
The game against the Hong Kong Premier League side was City's third in just over a week since arriving in Asia.
They will conclude their tour in Japan on Saturday when they take on Yokohama F Marinos, an outfit part owned by the club's parent company City Football Group.
Guardiola's team started the tour in China last week, but arrived two days later than scheduled before defeating West Ham United 4-1 in the semi-finals of the Premier League Asia Trophy.
City subsequently lost on penalties to Wolverhampton Wanderers in the final of the biennial event and have had to endure hot and humid conditions as they fine tune their preparations for the coming season.
Despite significant challenges with the schedule and climate, Guardiola claimed his players have been focused on their preparations rather than on the energy-sapping conditions.
"When I was a football player I complained a bit more but when I became a manager I changed my mind about the situations I cannot control, I adapt," he said.
"So we know we have to be here, we do the training sessions we can do and play as best as possible.
"We were delayed and we couldn't travel before, which was a pity but at the same time we could make training sessions in Manchester, which was good for everybody. That is what it is.
"I think great athletes -- and we learn from them many, many times in the great teams - they never complain about what happened. When they lose you have to congratulate the opponent and say you will come back stronger."
City, winners of all three trophies in English domestic football last season, face Liverpool at Wembley Stadium in the Community Shield next Sunday before kicking off the defence of their Premier League title at West Ham United on August 10.
Divock Origi says 'gut feeling' made him stay on with Liverpool
Liverpool's Divock Origi said it was his 'gut feeling' which made him stay back with the club and turn down a move to Wolves last year.
"It was a gut feeling. For me, I just sat down and I felt like I wanted to stay and help this team. I felt good, I just had to keep performing in training and I knew my chance would come," Goal.com quoted Origi as saying.
Origi played a major role during the club's run for the Champions League title as he scored a goal in the tournament's final and helped his club register a 2-0 win over Tottenham.
Moreover, the club could have faced a semi-final exit from the tournament as Barcelona had gained a 3-0 lead in the first leg, but Origi scored twice in the second leg to overcome their first-leg deficit and secure a 4-0 win to reach in the final.
Origi also said that he felt like they could do something 'special'.
"I felt like we could do something special. I just had to block everything out and focus on the right things. In football you never know 100 per cent, it could have gone another way but that's the choice I made," he said.
"There might be some difficult moments in the future, as there might be some good moments, I am just preparing for the best," Origi added.
Liverpool's Clyne suffers cruciate ligament injury in pre-season
Liverpool right-back Nathaniel Clyne is facing a lengthy spell on the sidelines after suffering knee ligament damage during the club's pre-season tour of the United States.
Clyne, 28, sustained the injury during last week's 3-2 defeat by Borussia Dortmund at Notre Dame Stadium and has flown home for treatment.
"What can I say other than how gutted we all are for Clyney," Liverpool manager Juergen Klopp told the club website https://www.liverpoolfc.com/news/first-team/358081-nathaniel-clyne-injury-update
"Clearly an injury of this nature isn't a happy moment for any player, but the silver lining for him is that, according to the medical guys, it's a straightforward ACL injury. This means fixing it and coming back from it should follow a path that is free from pitfalls and complications.
"At the moment there isn't much more to say beyond we'll all support Clyney in whatever way we can and we look forward to seeing him back on the pitch as soon as responsibly possible."
Clyne, who has one year remaining on his Liverpool contract, had been linked with a return to his former club CrystalPalace by the British media.
He spent the second half of last season on loan at Bournemouth, making 15 appearances in all competitions.
Everton's Mina charged by FA for breaching betting rules
Everton defender Yerry Mina has been charged by the FA with misconduct in relation to alleged breaches of its betting regulations, the English football's governing body said on Wednesday.
The FA said the charge relates to Mina's alleged participation in an advertisement for betting activity "which he is prohibited from engaging in".
British media reports said the 24-year-old defender appeared in a clip promoting the betting company Betjuego in his native Colombia.
Mina joined Everton from Barcelona last August but has endured a difficult start to his career in English football.
A foot injury delayed his debut until November and a hamstring issue restricted him to just 15 appearances for Everton in all competitions.
The FA rules prohibit players, coaches and officials from advertising or promoting any betting activity related to football.
Mina has until Friday to respond the FA's charge.
Chelsea's Jorginho said that the club's former manager, Maurizio Sarri, who brought the midfielder to the club, was not his friend but his manager.
Frank Lampard has now taken over as Chelsea's manager while Sarri is now managing Juventus. Jorginho said he feels like it is "another time in his life" and is looking forward to it.
"He was my manager, he wasn't my friend. We worked together for four years but now it is another time and another page. Another time in my life. I look forward to that now," Goal.com quoted Jorginho as saying.
Jorginho also expressed his happiness over being a part of Chelsea and said he was optimistic about the future.
"I left him but I stayed here and I look to work for our team now, at Chelsea. I have a four-year contract. I am very happy in London and to be at Chelsea. I hope to be here for a long time.... I think we can achieve many good things."