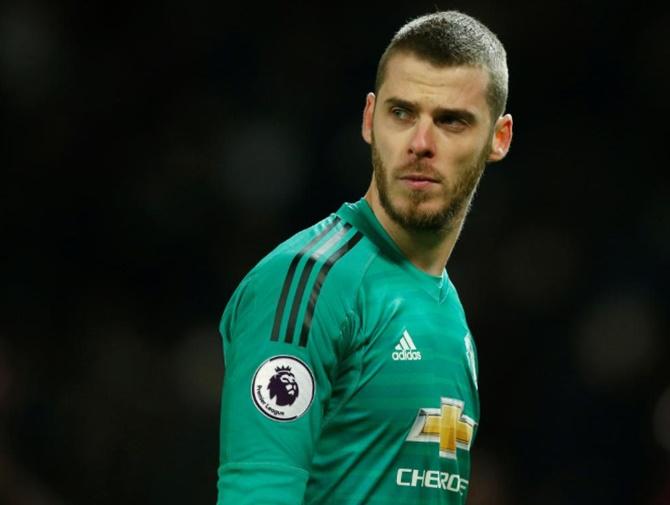 Manchester United goalkeeper David De Gea has signed a new contract that will keep him at Old Trafford until at least June 2023, the Premier League club said on Monday.
United said in a statement that the club had an option to extend the deal by an additional year.
Gea, 28, had entered the final year of his contract and would have been able to open talks with clubs outside England over a possible move in January.
The Spain international has made 367 appearances for United since joining the club in 2011.
"It has been a privilege to spend eight years at this great club and the opportunity to continue my career at Manchester United is a genuine honour," De Gea told United's website.
"Since I arrived here, I could never have imagined I would play over 350 games for this club. Now my future is fixed, all I want is to help this team achieve what I believe we can and win trophies again, together.
"As one of the senior players in the squad, I want to support and lead in any way that I can to assist the younger players, so they know what it means to play here."
Manager Ole Gunnar Solskjaer said De Gea was a vital part of his plans to take United back to the summit of the English game.
"I am delighted that David has committed his long-term future to the club. Over recent years, David has proved himself to be the best in the world," the Norwegian said.
"David is a fantastic person and his outstanding quality provides the perfect base to our defence. Over his time here, David has really understood the values of playing for Manchester United and now represents everything you want in a goalkeeper."
United are fourth in the table after five games, with two wins, two draws and one defeat. They host Astana in the Europa League group stage on Thursday before visiting West Ham United in the Premier League on Sunday.
Italian pundit dropped after Lukaku banana comment
A veteran Italian pundit has been told he will not be invited back onto one of the country's Sunday night round table programmes after suggesting Inter Milan forward Romelu Lukaku could only be stopped by giving him bananas to eat.
The remark came two weeks after Belgium striker Lukaku, who has only been playing in Italy for one month, was subjected to monkey chants by supporters at Cagliari when he stepped up to take a penalty against the Sardinian side.
Luciano Passirani was praising Lukaku's qualities when he made the remark during the Qui Studio a Voi Stadio programme on Telelombardia.
"Lukaku is one of the best signings Inter could have made. I don't see another player like him on any other team in Italy, not in Milan, in Juventus, in Roma, in Lazio," he said.
"This guy kills you in one-on-ones, if you go against him, you will fall. Either you have 10 bananas to eat, that you give to him, or..."
The presenter immediately reprimanded Passirani, who said the remark was meant as a joke.
Fabio Ravezzani, the programme director, later announced that, despite being "the first person to apologise", Passirani would not be appearing again.
"Mr Passirani is 80 years old and to compliment Lukaku he used a metaphor that turned out to be racist," he said.
Lukaku said last month that football was going backwards in the fight against racism.
After the Cagliari incident, the Curva Nord group of hardcore Inter fans posted a message on Facebook which claimed the behaviour of Cagliari fans was not racist.
"You have to understand that Italy is not like many other north European countries where racism is a REAL problem. We understand that it could have seemed racist to you, but it is not like that," it said.
Italian football has been blighted by racism incidents over the last decade. In 2013, AC Milan walked off the pitch during a friendly against a lower division side in protest at racist chanting against some of their players.
In 2014, Carlo Tavecchio was elected head of the Italian Football federation (FIGC) weeks after making a comment about a fictitious African player he named Opti Poba "eating bananas."
The FIGC cleared him of wrongdoing but he was barred from holding any position with soccer's world governing body FIFA for six months.
He resigned in 2017 after Italy failed to qualify for the World Cup in Russia.
Liverpool none the wiser over Club World Cup opponents after draw
European champions Liverpool were left waiting to see who they will face in the Club World Cup semi-finals after Monday's draw pitted them against four potential opponents.
Despite being six-times European champions, Liverpool have never won the world club title in any of its many guises with their most recent attempt ending in a shock 1-0 defeat by Sao Paulo in the 2005 final in Japan.
On Monday, they were drawn to face the winners of the quarter-final between CONCACAF champions Monterrey of Mexico and either Al Sadd, champions of hosts Qatar, or Hienghene Sport, Oceania title holders, who meet in a preliminary round match.
However, if Al Sadd win the Asian Champions League, which is at the quarter-final stage, they would be replaced in the preliminary round by the Asian runners-up, and move straight into the quarter-finals.
In the other semi-final, the eventual South American champions will face either Tunisian side Esperance, the African champions, or the eventual Asian Champions League winners.
The Club World Cup, to be staged in Qatar in December, will be the penultimate edition of the tournament in its current form. From 2021, it will become a 24-team event staged every four years rather than a seven-team contest held annually.
Liverpool won the old European Cup in 1977 and 1978 but declined to play in the old two-leg Intercontinental Cup final against Boca Juniors, the champions of South America.
In 1981, they lost to Flamengo in a single match played in Tokyo and in 1984 were beaten by Independiente.
In 2005, with the title now decided by a seven-team tournament, they reached the final where they lost to Sao Paulo.