News of all that's transpired on and off the football field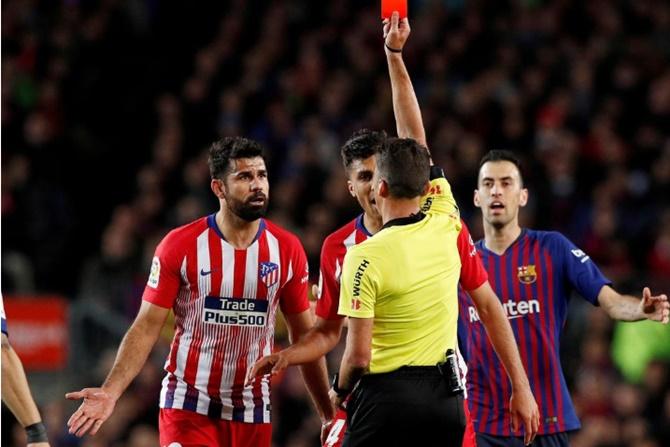 A prosecutor in Madrid said on Tuesday it has accused soccer player Diego Costa of income tax fraud in 2014 worth just over 1 million euros ($1.12 million) for money made from image rights.
Costa is accused of illicitly receiving income of 1.4 million euros, and failing to declare it in 2014 when he was hired by British club Chelsea.
The Brazil-born striker currently plays for Atletico Madrid and also plays on the Spanish national team.
Former Spain, Real Madrid coach Lopetegui appointed by Sevilla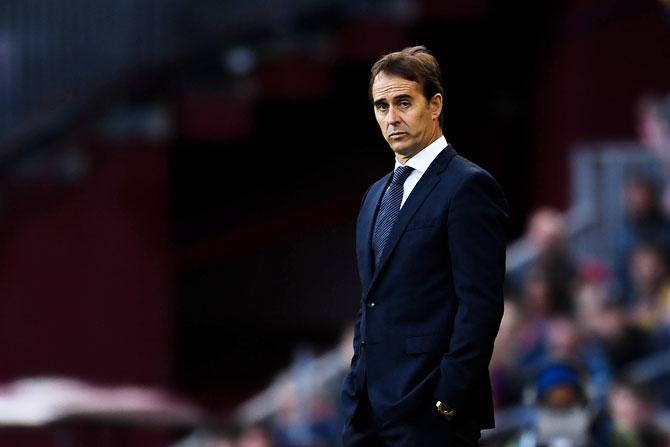 Sevilla have named Julen Lopetegui, sacked by both Spain and Real Madrid last year, as their new coach, the La Liga club said on Tuesday.
Sevilla, who finished sixth in La Liga this season, said in a statement on their website that the 52-year-old would lead their team for the next three seasons.
He replaces Joaquin Caparros who had been in charge of the side on an interim basis since March.
Lopetegui was sensationally fired by Spain two days before last year's World Cup for failing to tell the federation that he had agreed a move to Real Madrid after the tournament.
That move also turned sour as he was sacked three months into the new season.
China to host 2023 Asian Cup
China will host the Asian Cup in 2023, the Asian Football Confederation (AFC) announced at its extraordinary congress in Paris on Tuesday.
China will host the tournament for the second time after organising it in 2004.
Qatar are the defending champions after winning their maiden title at this year's edition in the United Arab Emirates.
Brazil coach Tite reserves judgment on Neymar rape accusation
Brazilian coach Tite on Monday declined to pass judgment on the rape accusation made against the national soccer side's star Neymar, whose denial of the incendiary allegations have landed him in fresh legal trouble.
A woman accused Neymar of raping her at a Paris hotel last month, according to a police report seen by Reuters on Saturday.
Tite said he preferred to leave the matter in the hands of investigators and await clarification, adding that he had always enjoyed a good relationship with the soccer star.
"I do not want to pre-judge, and I prefer to leave the matter to responsible people," he said at a news conference ahead of the upcoming Copa America tournament.
"We do not yet have the facts clarified and time will give those answers.
Tite's comments marked the first time anyone from Brazil's Football Federation has addressed the explosive allegations.
Sao Paulo state's public security ministry released a statement confirming the accusation had been made, and said the investigation was still sealed, without giving further details.
After news of the accusation surfaced, Neymar posted a long video to Instagram in which he denied all the accusations against him, said he was a victim of extortion, lamented the pain caused to him and his family, and shared WhatsApp messages with the alleged victim, including racy photos he had received.
That led police in Rio de Janeiro to open a fresh investigation into whether he had committed a crime by posting the intimate pictures online.
Speaking with local TV on Monday, Neymar's father defended the decision to publish the photos.
"Neymar needed to defend himself quickly," his father said.
"We didn't have any choice. I prefer a cyber crime to a rape crime."
Brazil are preparing for the Copa America -- a tournament played by South America's 10 national teams -- plus invitees Japan and Qatar, kicking off on June 14.
Neymar arrived at the camp on Sunday in his personal helicopter, but did not speak to reporters.
Tite said the team's focus was currently on preparing for Wednesday's friendly with Qatar. He added that Neymar was still part of his plans.
"Technically Neymar is indispensable, but not irreplaceable," the coach said.
Pepe says Benfica-Porto rivalry will not affect national team
Portugal defender Pepe said he was certain that fans in Porto would give full support to the team when the city hosts the Nations League this week and that their rivalry with Benfica would not affect their enthusiasm.
The issue was raised after television pictures showed a group of fans jeering Benfica forward Joao Felix when his car drove into the team's headquarters near Porto on Sunday.
"When I first played for the national team, there was a bit of a difference between North and South," Pepe, who joined Porto in January, told reporters.
"But that difference doesn't exist any more, we play for the country.
"The atmosphere is spectacular and I'm sure that people in the North will give great support to the team," added the Brazilian-born 36-year-old who has made 105 appearances since his debut in 2007.
"The players feel this. We've always been well received from the North to the South."
Portugal meet Switzerland in the first semi-final in Porto's Estadio do Dragao (The Dragon's Stadium) on Wednesday with Sunday's final at the same venue. England face the Netherlands in the other semi-final, in nearby Guimaraes on Thursday.
Gerrard hails Liverpool's Henderson for rising above criticism
Liverpool captain Jordan Henderson has been hailed as the 'ultimate professional' by former skipper Steven Gerrard after the midfielder led the Merseyside club to their sixth European Cup.
Liverpool beat Tottenham Hotspur 2-0 in Saturday's Champions League final to claim their first trophy since the League Cup in 2012 and Gerrard added that he was 'especially proud' of Henderson's refusal to fold in the face of criticism.
Henderson joined Liverpool in 2011 but came close to leaving a year later before finally establishing himself as a first-team regular, replacing the departing Gerrard as club captain in 2015.
"If I had to name someone I regard as the ultimate professional, then Jordan would come right at the top of the list," Gerrard wrote in a column in the Times newspaper on Tuesday.
"He is selfless, he puts himself at the back of the queue because he looks after everyone else first. He puts Jordan Henderson last."
Henderson came in for criticism early on in his Liverpool career and former Manchester United manager Alex Ferguson said in his autobiography that he had passed up the chance to sign the midfielder due to concerns over his running style.
"Everyone in football gets doubted," Gerrard added.
"Jordan has had his fair share but he handles it well and the best thing to do is let your football do the talking. That is what he has done, that is what he will continue to do."
When Juergen Klopp took charge of the club in 2015, a lack of cover in defensive midfield forced him to deploy Henderson in a deeper role but the 28-year-old also made decisive contributions in an advanced position this season.
"He has running power, you can trust him with the ball, has a good range of passing," Gerrard said.
"Over the past few months, (he) has risen to the challenge of pushing Liverpool forward and has come right into top form."
With Liverpool set to resume their title battle with Premier League champions ManchesterCity next season, Gerrard said he hoped his former team mate would kick on from winning the Champions League to collect more trophies.
"I am hoping this will become the catalyst for him to lift more trophies above his head," Gerrard said. I know that is what he wants."