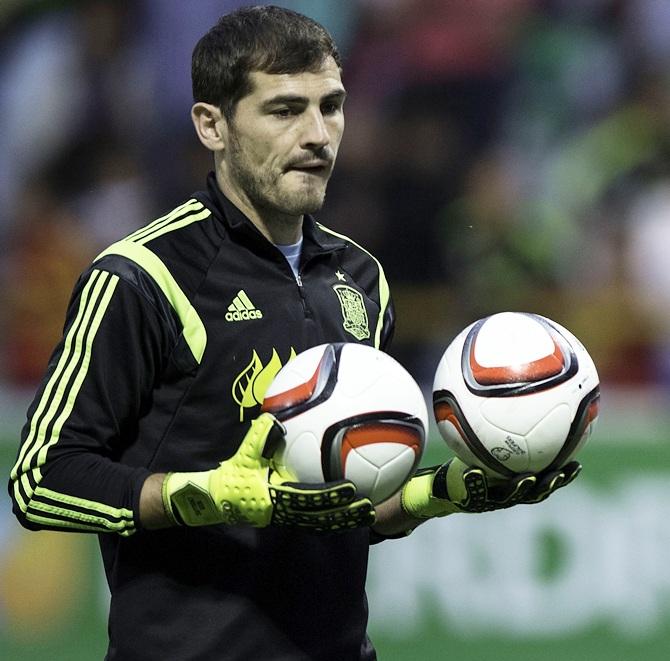 Porto goalkeeper Iker Casillas, who suffered a heart attack in May, has been registered by the club to play in this season's Portuguese league.
The 38-year-old former Spain and Real Madrid goalkeeper features in the Porto squad list which has been published on the league's official website ahead of their opening game away to Gil Vicente on Saturday.
Casillas, who captained Spain to their only World Cup triumph in 2010 and played 725 games for Real Madrid before joining Porto in 2015, suffered a heart attack in a training session on May 1 and spent five days in hospital.
Two weeks later, Portuguese sports newspaper O Jogo suggested that Casillas would shortly announce his retirement.
However, in July, Porto said that Casillas had been given a role on the team's technical staff 'while he recovers from his health problem'.
Porto last month signed Argentine goalkeeper Agustin Marchesin from Mexico City club America and the 31-year-old made his debut on Wednesday in the 1-0 win away to Krasnodar in a Champions League qualifying match.
Top referee Webb backs VAR to improve Premier League
Howard Webb has more experience than most of officiating top flight football matches and his stint in North America's Major League Soccer has convinced him that Video Assistant Referees (VAR) will only improve the English Premier League.
VAR will make its Premier League debut when Liverpool host Norwich City at Anfield to kick off the new season on Friday night and it is fair to say there are still plenty in England who question the impact of technology on the game.
Critics of VAR question its speed and whether the drama of the goalscoring moment will be diluted by delays but Webb, who has spent the last two years managing the use of the technology in the MLS, believes those concerns are misplaced.
"The Premier League is not broken, it is a highly competitive league that is refereed well, but because of the speed of it, referees will make mistakes and VAR is there to help," the former Premier League referee told Reuters.
"There were 1,299 goals in MLS last season, and only four were allowed to stand that should have been cancelled. All of these were checked and in only four did the VAR not do their job properly and missed an offside or a handball. Four.
"Niney eight percent of MLS goals stood last season. Almost all of those goals were checked without having to delay the restart. People just remember the ones that were ruled out.
"We are saying to the fans and the teams celebrate. There is a very high chance that the goal is going to be allowed to stand."
Webb, who refereed both the World Cup and Champions League finals in 2010, is now General Manager of the Professional Referee's Organisation in the United States.
He illustrated how the technology worked at an MLS Eastern Conference match between New York Red Bulls and Columbus Crew in late July.
With the match finely poised, the home crowd exploded in righteous anger when what they thought a push in the penalty area on Daniel Royer went unnoticed by referee Fotis Bazakos.
If play was waved on after such an incident in last year's Premier League, then that would be that, and the wronged coach would be left to vent his anger post match.
In the MLS, one of the first soccer leagues in the world to implement VAR technology, the penalty was awarded after a review.
"My gut feeling is that it wasn't a penalty," Webb told Reuters in his vantage point high in the stands.
"It is all about whether the VAR thought it was a clear and obvious mistake. There is some subjectivity about it. There will be many a debate in the Premier League this season."
Unlike the Premier League, where VARs will be sat in a central hub in Stockley Park in west London, Webb has assembled teams at every stadium in the MLS.
There is a VAR, an assistant VAR, someone who communicates to the stadium announcer, and an operator for the Hawkeye software that gives the officials the tools to do their job.
"We have game cam, following the action, which the VAR is watching," Webb said.
"If they see something that might need another look at, they flick their eyes down to two other screens, where they can see the action on a three second delay.
"You then hit the big red button, which everybody around the world is using, and the review starts. We want the on-field decision to be right one unless it is clearly wrong."
Every goal at every MLS game is reviewed, while other decisions the VAR feels the on-field official has missed can be reviewed, with the referee prompted to take another look on a pitchside television screen.
"As a management team, I look at every single review, every single weekend," Webb said. "Monday, we put all the possible reviews onto a internal website, and all the VARs vote on the accuracy.
"Each official will get a grading for each game. This affects what games they are given and, ultimately, their employment."
As the crowd leaves the ground after Red Bulls' 3-2 defeat, Webb heads off to meet the team and discusses with VAR Jon Freemon the merits of the decision to award the penalty after a review.
Having heard the explanation, Webb agrees with his official and the voting system later in the week reveals that 98 per cent of VARs agree too.
Webb believes match officials are desperate to get every decision right and he personally would have welcomed VAR when he failed to dismiss Dutch midfielder Nigel De Jong for a kung fu kick on Spain's Xabi Alonso in the 2010 World Cup final.
"To this day, people still bring up that tackle against Nigel De Jong," he said.
"It is such a clear red card. If there was VAR there, and I am sent to the screen to look at it again, I immediately send him off."
Hamburg's Jatta under scanner over personal data
It was an unusual rags-to-riches story when Bakery Jatta, a then-teenage refugee with no professional experience, signed a contract with former European champions Hamburg SV back in 2016.
But local authorities in Hamburg are now reviewing his passport details following media reports he may be two years older than initially stated, he may have changed his name and also may have played for professional teams in Africa.
Second division's Hamburg have stood by the player, saying he has had a valid passport and a player licence for three years.
"We expect from the league and the football association a clear and swift positioning. At the end of the day our player has had a valid passport for three years as well as licence," Hamburg sports director Jonas Boldt said in a club statement late on Thursday.
"It is unacceptable to us that his right to play is questioned by such assumptions."
The German FA said this week it had asked Hamburg for details and would make a decision in "due course."
Gambia-born Jatta had arrived in Germany in 2015, signing his deal in 2016 and being hailed as a shining example of integration amid a then ongoing refugee crisis in Europe.
Jatta was thrust into the spotlight when Nuremberg appealed Monday's 4-0 defeat hours after media reports on the player's personal details.
"We are fully behind Bakery and will continue to fully plan with him for training and matches as he is a completely integrated colleague and valuable player," Boldt said.
Hamburg's municipal authority has said it is looking into the matter.
Under German law falsifying documents could lead to the person's residency status and/or work permit in Germany to be revoked and in some cases carry prison sentences.