News of all that's transpired on and off the football field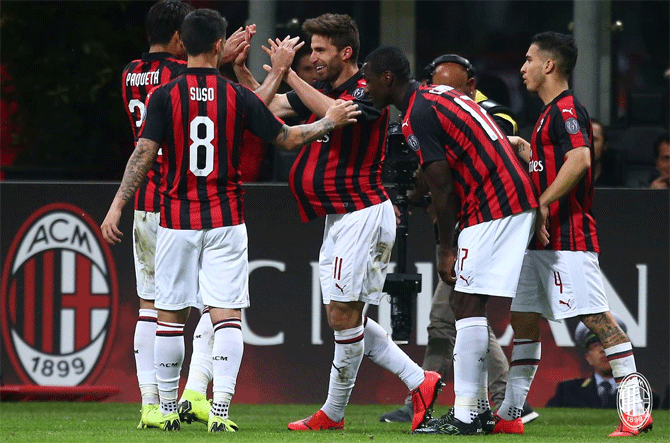 Italian side AC Milan have been banned from the 2019-20 Europa League season for breaching UEFA's Financial Fair Play (FFP) regulations, the Court of Arbitration for Sport (CAS) said on Friday.
"AC Milan is excluded from participating in the UEFA club competitions of the sporting season 2019/2020 as a consequence of the breach of its FFP break-even obligations during the 2015/2016/2017 and the 2016/2017/2018 monitoring periods," CAS said in a statement.
I-League champs Chennai City receive prize money
I-League side Chennai City FC announced that they finally received their prize money for winning the championship in 2018-19 season.
The club made the announcement two days after reminding the All India Football Federation that they were yet to receive the prize money for becoming the I-League champions.
"We wish to confirm that we have received from the All India Football Federation, the prize money for winning the I-League 2018-19 season," the club said in a letter addressed to AIFF general secretary Kushal Das.
"We wish to express our gratitude to your office and the National Federation for expediting the matter and we look forward to your positive reply with regard to the subject matter as per our letter dated 25th June 2019."
Chennai City FC had won their maiden title last season, pipping East Bengal to the post in the final round of matches.
The AIFF has been facing a financial crisis due to "non-payment of dues" to the tune of Rs 25 crore by its commercial partner IMG-Reliance.
The federation's commercial partner IMG-Reliance has not cleared the dues for the last two quarters owing to some taxation issues, because of which there has been a delay in giving away the cash award of Rs one crore to I-League winners Chennai City.
As per an agreement signed in 2010 between AIFF and IMG-Reliance, the federation is entitled to get an annual payment of Rs 50 crore from its commercial partner.
Belaili fires physical Algeria to win over Senegal
Algeria knocked Senegal out of their stride and kept Sadio Mane under wraps as they edged the West Africans 1-0 in a stop-start Africa Cup of Nations match on Thursday to reach the last 16.
Forward Youcef Belaili rifled home the only goal in the 48th minute of a match featuring a remarkable 52 fouls according to official statistics, 34 by Algeria, to leave the Desert Foxes top of Group C with six points from two games.
Senegal felt they should have had a penalty midway through the second half when two players barged into Mane but the referee was not interested, another sign that officiating is different in the tournament compared to other regions.
Senegal made a lively start and Mane, on the end of crunching tackles throughout the match, wasted a free kick by firing high over the bar, the first indication it was not to be his evening.
Another foul on Mane led to a scuffle but, apart from that, the game never got out of control despite the tension bubbling under the surface.
At the other end, Baghdad Bounedjah was a constant menace to Senegal and nearly gave Algeria the lead when he lobbed the ball over Edouard Mendy as the goalkeeper came racing off his line only for Kalidou Koulibaly to clear the danger.
Bounedjah also charged down a Mendy clearance after the goalkeeper dallied but the ball rebounded into touch and he had another effort tipped round the post.
Algeria broke through four minutes after halftime when Belaili's strike evaded two defenders to leave Mendy unsighted after Senegal lost the ball in midfield.
Senegal looked uncomfortable having to chase the game and nearly went further behind when Algeria captain Riyad Mahrez ended a twisting run by firing narrowly wide.
Their best chance fell to Mbaye Diagne after goalkeeper Rais Mbolhi parried a fierce Alfred Ndiaye shot but he sent his close-range header wide.
Madagascar continue fairytale debut at Cup of Nations
Africa Cup of Nations debutants Madagascar took a giant stride towards the next round as Marco Ilaimaharitra hammered home a late free kick to beat Burundi 1-0 in their Group B match on Thursday.
Madagascar advanced to four points from their opening two games and even if they do not finish in the top two places in the group, probably have enough points to fill one of the places in the last 16 for the four best third-placed teams.
After holding Guinea to a 2-2 draw in their opening game, the Malagasy went one better with their first ever finals victory.
Midfielder Ilaimaharitra blasted home in the 76th minute after Burundi had given away a free kick on the edge of their penalty area.
Madagascar made a lively start with Carolus Andriamatsinoro having two good first-half chances, the second one of which was cleared off the line by Burundi midfielder Gael Duhayindavyi.
But Burundi proved the stronger side after the break, ironically after they took off a struggling captain Saido Berahino.
Fiston Abdul Razak sent a header just wide in the 64th minute ands Burundi might have opened the scoring four minutes later but a free kick from Gael Bigirimana was saved.
Then Ilaimaharitra broke the deadlock and might have scored a second from a similarly placed free kick two minutes from the end but this time it was saved by Burundi goalkeeper Jonathan Nahimana.
It was the second loss for Burundi, also competing at the finals for the first timer, after a 1-0 defeat by Nigeria.
Nigeria top the group with six points while Guinea have one. Madagascar finish the group stage against Nigeria on Sunday while Burundi meet Guinea at the same time.
Mali player kicked out of Cup of Nations
Mali have expelled striker Adama Niane from their squad for indiscipline, the third player to be turfed out by his team at the Africa Cup of Nations.
"Adama Niane was excluded from the Eagles group for non-respect," said the team's media officer Ibrahim Zie Coulibaly.
Reports said the 26-year-old Belgian-based player had slapped a team mate in an altercation over queuing.
The decision came on the eve of Friday's Group E match against Tunisia in Suez.
Burundi sent home 32-year-old midfielder Selemani Ndikumana for ill-discipline before their first game without offering any further details.
Egypt recall banned Warda after players demand reprieve
Egypt striker Amr Warda has been welcomed back into their African Cup of Nations squad 48 hours after he was suspended for disciplinary reasons, the Egyptian FA (EFA) said on Friday.
Warda will still be banned for Egypt's final pool match against Uganda on Sunday, but is available for the second round, with the hosts having already sealed a knockout place.
The EFA gave no specific details about the reasons for Warda's initial expulsion, but he has previously been accused of harassing a fashion model on Instagram and a complaint against him has been filed with Egypt's Attorney General.
His return comes after a public apology on Thursday and support shown by his team mates, including Liverpool striker Mo Salah, who appeared incensed at the EFA decision.
The association issued a statement on Friday, saying Egypt's Minister of Youth and Sports, Ashraf Sobhi, had held a cordial meeting with the players and technical staff in the presence of Hany Abo Rida, president of the EFA.
"During the meeting, Hani Abu Reda praised the spirit of solidarity between the players, and their desire to pardon their colleague Amr Warda and to lift the suspension from him," the statement said.
"The association has decided to reduce the player's penalty to suspension until the end of the first round only."
Warda had posted a video on Facebook in which he apologised to his family, team mates, the EFA and "anyone who is upset at me or anyone I have upset."
Salah felt the EFA had been too hasty and harsh in their punishment of the player.
"Women must be treated with the utmost respect," he said. "I also believe that many who make mistakes can change for the better and shouldn't be sent straight to the guillotine, which is the easiest way out.
"We need to believe in second chances... we need to guide and educate. Shunning is not the answer."
Team captain Ahmed Elmohamady, who held up two fingers on each hand to make Warda's squad number 22 after scoring against Democratic Republic of Congo on Wednesday, said the EFA were wrong to expel the Greek-based forward.
"Amr Warda is one of us and we all make mistakes. We will not leave Warda alone," he told reporters. "No player should be held accountable for anything done outside the pitch. We support Amr Warda."
2020 Copa America final to be held in Colombia
The 2020 Copa America final will be held in Colombia, the Andean nation's President Ivan Duque said on Thursday.
The 2020 tournament is being co-hosted by Colombia and Argentina, the first to be held jointly by two nations.
Duque made the surprise announcement in Bogota and thanked Argentina President Mauricio Macri for his support.
"I think Colombia will now have another reason to be happy," Duque said.
The 2020 Copa America will be the fourth in six years.
The tournament brings together the 10 South American nations and two invited guests, which next year will be Qatar and Australia.
One of the two visiting nations will be drawn in the Colombia-based northern section along with Colombia, Brazil, Venezuela, Ecuador and Peru.
The other will be drawn in the Argentina-based southern section along with Argentina, Paraguay, Uruguay, Bolivia and Chile.
Four will qualify from each section for the quarter-finals.
The venues for the opening match and the semi-finals have not yet been revealed.
The 2019 Copa America continues with the opening quarter-final between hosts Brazil and Paraguay later on Thursday.
ATK signs Aussie forward Williams
Former Indian Super League champions ATK Friday roped in Australian striker David Williams, who played for A-League club Wellington Phoenix.
"His pace and technique will be valuable to us. He also brings variety to the squad since he can play on either side of the wings as well. His understanding with teammate Roy Krishna will be crucial for us," head coach Antonio Lopez Habas said.
The 31-year-old will also reunite with his fellow teammate Roy Krishna in the forward line-up of the red and whites, who finished sixth last season.
Williams and Krishna shared 30 goals between them in the A-League last season with the former scoring 11 times in 27 matches.
"I am absolutely delighted that I will be able to play alongside my friend Roy Krishna. Hopefully, together as a team, we will be able to win the title and create memories," Williams said.
Williams made his debut for Queensland Roar and went onto play for several A-League clubs, including North Queensland Fury, Sydney FC, MelbourneCity and Wellington Phoenix.
Williams has also represented his country at the U-20 FIFA World Youth Championship.
Liverpool agree to sign Dutch defender Van den Berg
Liverpool have agreed a deal with Dutch top division side PEC Zwolle to sign 17-year-old defender Sepp van den Berg, the Premier League side said on Thursday.
Van den Berg has finalised terms on a long-term contract and will join the Champions League winners in July subject to international clearance.
"It's just an amazing feeling. It is, for me, the biggest club in the world and it's a dream come true. I'm really excited," Van den Berg told the club's website https://www.liverpoolfc.com/news/first-team/354756-sepp-van-den-berg-deal-agreed
"I've seen what kind of players from the academy grew into the first team here. It is unbelievable, especially when this kind of big club does that."
Van den Berg made 15 appearances for Zwolle last season, as they finished 13th in the league.
The Netherlands under-19 international said he was keen to further his development under Liverpool boss Juergen Klopp.
"Of course, the trainer is a great guy and one of the reasons they are successful -- and also one of the reasons I came here," Van den Berg added.
"I think this is the best place for me to grow and hopefully play a lot of games here."
Liverpool finished second behind ManchesterCity in the Premier League last season before defeating Tottenham Hotspur 2-0 in the Champions League final.