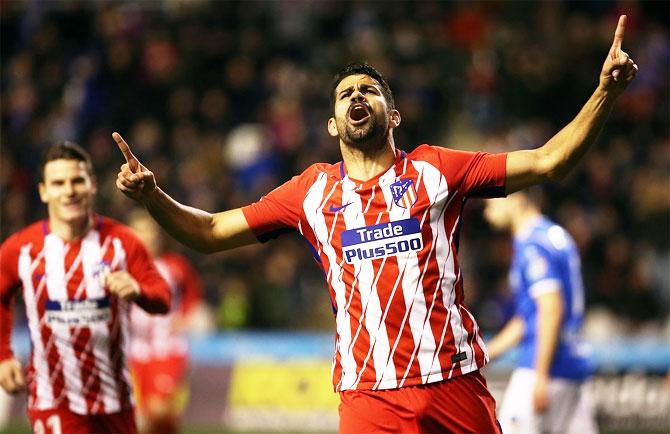 Atletico Madrid forward Diego Costa is to face trial on June 4 for tax fraud in 2014, a court filing showed on Friday, with prosecutors asking the Spain international to be handed a six-month jail sentence and a fine of 507,208 euros ($564,877).
According to the filing, Costa defrauded the Spanish state of 1,014,416 euros by not declaring payments of 5,150,622 euros from his 2014 transfer from Atletico to Chelsea in his tax return, as well as more than one million euros in image rights.
The filing added that the prison sentence could be exchanged for an additional fine of 36,500 euros, in accordance with Spanish law which allows penal sentences below two years for non-violent crimes to be exchanged for a financial penalty.
Costa, 31, who returned to Atletico from Chelsea in 2017, could not immediately be reached for comment.
Spanish prosecutors have won a series of cases against high profile footballers and coaches for tax fraud in recent years, including Lionel Messi, Cristiano Ronaldo and Jose Mourinho.
Russia to allow some spectators in stadiums when top flight matches resume
Russia's Sports Minister said on Friday he welcomed a decision by the authorities to allow spectators into stadiums when matches in the country's top professional soccer league resume next month.
The Russian Premier League halted matches in mid-March because of the COVID-19 crisis and is set to resume action on June 21.
"It's important that the soccer championship resumes in the presence of spectators, even though small in number," Russian news agencies quoted Sports Minister Oleg Matytsin as saying.
"I watched Bundesliga matches. The mood is very strange. There isn't enough emotion. Without spectators the matches do not look the way we are used to."
Several European professional leagues resumed matches this month, including German's top professional league, but without spectators.
Russia's consumer health watchdog agreed on Thursday that stadiums could welcome spectators at Russian Premier League matches if they took up no more than 10% of a given venue's capacity.
Champions Zenit St Petersburg currently lead the standings on 50 points after 22 matches played. Lokomotiv Moscow and Krasnodar are second and third respectively, nine points behind the leaders.
Earlier this month Russia said it would allow foreign athletes competing in its domestic sports leagues to enter the country even though its borders remain closed to foreigners.
It said the move was designed to help clubs resume training.
As of Friday, Russia had recorded 387,623 cases of the novel coronavirus, the third highest reported total in the world after the United States and Brazil.
Swiss league set to restart on June 19
The Swiss professional soccer league (SFL) will became the latest in Europe to restart after its 20 member clubs voted on Friday in favour of resuming the season, which was suspended in early March because of the COVID-19 outbreak.
The SFL said in a statement that the two divisions -- the top tier Super League and the second tier Challenge League -- were set to restart on June 19 and be completed by Aug. 2 with all matches behind closed doors.
It said that, with 13 rounds of matches still to be played, there would be a number of so-called "English weeks" with midweek and weekend matches. Teams would be allowed up to five substitutions per match.
The SFL said that each club was allowed to send one representative to Friday's meeting which was held "in strict compliance with the hygiene and distance rules imposed by the cantonal government."
It added that the clubs had rejected a proposal to increase the Super League from 10 to 12 clubs next season.
Polish football supporters to return to stadiums from June 19 - PM
Polish football supporters will be able to attend matches from June 19, Polish Prime Minister Mateusz Morawiecki said on Friday, but only 25% of the capacity of stadiums will be used in order to prevent the coronavirus from spreading.
"The Polish Football Association and the Premier League have chosen the 19th, so it will be possible to prepare everything according to the correct procedures," Morawiecki said.