How the snow and freezing temperatures are affecting the sporting calendar across Europe:
BRITAIN
Sporting fixtures which were badly hit last weekend, when even Chelsea's Premier League match with Manchester United was called off, are again in jeopardy with temperatures expected to remain below freezing.
The next round of soccer matches in England and Scotland are scheduled for Sunday, but already there are doubts about Blackpool's home match with Liverpool going ahead because the Bloomfield Road pitch is frozen and has no undersoil heating.
Tuesday's scheduled Scottish Premier League clash between Dundee United and Rangers has been postponed for a second time while both Scottish and English FA Cup matches scheduled for mid-week are already off.
Racing fans were happy on Tuesday with two meetings going ahead, but much of the Christmas holiday sporting programme remains in doubt.
FRANCE
Heavy snowfall in northern France and the Paris area forced two Ligue 1 games to be postponed at the weekend, but the outlook is better with a full Ligue 1 programme on Tuesday and Wednesday set to go ahead.
The French championship then heads into a three-week winter break.
GERMANY
A German Cup round-of-16 one-legged tie between third division club Koblenz and Bundesliga's Kaiserslautern set for Tuesday was called off by the German soccer federation after heavy snowfall during the night blanketed the Oberwerth stadium.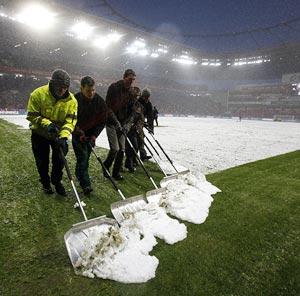 It was the second Cup game to be called off after Tuesday's game between Nuremberg and Offenbacher Kickers was postponed to mid-January.
The second-division clash between Union Berlin and Karlsruhe on Monday needed help from fans to go ahead. Some 400 Union fans helped to shovel snow to clear the pitch.
German soccer is going into a four-week winter break on Wednesday, with the league resuming in mid-January.
SPAIN
Parts of Spain are on alert for strong winds and heavy rain but sporting fixtures have not been called off.
The King's Cup last-16 first legs scheduled for Tuesday and Wednesday are expected to go ahead as planned, after which the Spanish leagues enter a week-and-a-half winter break.
ITALY
The weather has been unseasonably cold in Italy with rare flakes of snow seen in Rome.
Italian sport has avoided major disruption although Sunday's Serie A derby between Sampdoria and Genoa was postponed three hours before kickoff after a sudden snowstorm.
Top-flight soccer has a mid-season break now until January 6 so no further disruption is expected.
Last weekend's men's skiing in Val Gardena and Alta Badia soldiered on through the weather without any problem.