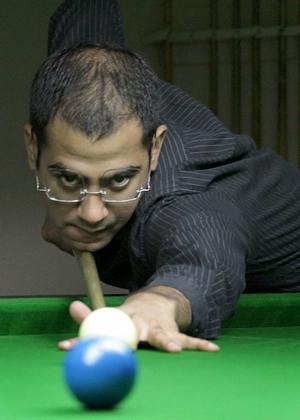 Sourav Kothari caused the biggest upset of the tournament, beating Pankaj Advani in the final, to win the Rs 3,10,000 Nahar-MIG All India Invitation Snooker Championship 2010 in Mumbai on Wednesday.
Kothari, who won 6-3 (81-1, 66-61, 37-62, 29-77, 72-38, 26-52, 77-0. 73-0, 57-45), pocketed Rs 100,000 while Advani took home Rs 50,000. 
Advani was all praise for Kothari's skills and complimented him on his brilliant showing.
Kothari, who will replace Advani in the Asian Snooker Championship in Thailand from May 8 to 15, raced to a 2-0 lead, but Advani fought back and caught up at 2-2. Kothari forged ahead again after taking the fifth frame, but Advani took the sixth to draw abreast 3-3.
However, it was a Kothari show all the way thereafter as he took the last three frames to seal a memorable victory over the billiards and snooker ace.