Smriti Mehra, India's most successful golfer on the domestic Hero Women's Professional Golf Tour, was adjudged Hero Player of the Year, at the Hero-WGAI Awards function for the just concluded 2011-12 season.
One of the doyens of women's professional golf in India, and part of the team that helped stabilize the women's pro tour, she took part in each of the 15 events and went on to win seven of them.
She also finished second in four others to cap a wonderful season that won her Rs 8,07,100 and placed her way ahead of Nalini Singh Siwach, who finished second on the Merit list for the second year in a row.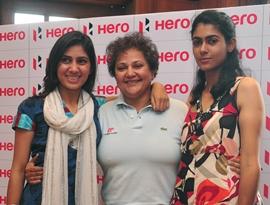 Mrs. Kavita Singh, president of the WGAI, said, "Smriti has been a great ambassador for WGAI. Not only has she been outstanding on the golf course, but her inputs, efforts and ideas have helped build the Hero Women's Pro Tour into a big success over the last few years. She is a true champion and an inspiration for the new generation of women professional golfers in India."
Smriti topped seven of the 15 events, while Nalini won three.
The only other multiple winner during the season was Sharmila Nicollet, who won two events in 10 starts. Neha Tripathi, Saaniya Sharma and Pallavi Jain won one title each during the season.
There were also two amateur winners, Aditi Ashok and Vani Kapoor, but the professional finishing next best were adjudged the pro winners.
Nalini, who was second for the second successive year, was the champion Putter of the year. Her success on the greens helped her win three events besides numerous other good results and a total earnings of Rs. 7,17,400.
Ankita Tiwana, who joined the pro circuit for the first time in 2011-12 emerged as the Rookie of the Year. Though she did not win any events, she was very consistent and improved as the season went along. She finished sixth on the money list.
Last season, Smriti played only six events the previous season, winning twice in them, while finishing fifth on the Merit List. Nalini Singh (Siwach) was second last year with two wins in 12 starts.
The Hero Women's Pro Golf Tour Awards:
Player of the Year: Smriti Mehra
Rookie of the Year: Ankita Tiwana
Putter of the Year: Nalini Singh (Siwach)
The final Hero-WGAI Order of Merit for 2011-12
POS PLAYER EARNING (Rs) PLAYED WON
1 Smriti Mehra 807100 15 7
2 Nalini Singh (Siwach) 717400 15 3
3 Neha Tripathi 480800 15 1
4 Sharmila Nicollet 470400 10 2
5 Saaniya Sharma 381750 13 1
6 Ankita Tiwana 246300 14 0
7 Pallavi Jain 179150 15 1
Amateur Winners
Aditi Ashok 3rd Leg, Clover Greens, Bengaluru
Vani Kapoor 5th Leg, Golden Greens, Gurgaon