Sports Shorts: Man United reach financial settlement with Moyes
Last updated on: April 25, 2014 22:37 IST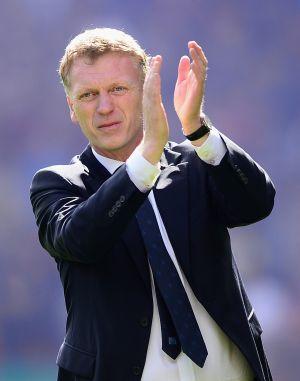 David Moyes has agreed a compensation settlement with Manchester United after being sacked only 10 months into a six-year contract, the League Managers' Association (LMA) said.
Media reports said he would be entitled to one year's salary, believed to be up to 5 million pounds.
"The League Managers Association and Manchester United are pleased to confirm that terms of settlement have been agreed between the Club and David Moyes in respect of the termination of his employment," the LMA said in a statement on Friday, Moyes's 51st birthday.
Moyes was reported to have been annoyed to learn of his impending sacking from the media on Monday rather than the club, who dismissed him at an early-morning meeting on Tuesday.
- Please click NEXT for more...
Sindhu in Asian badminton semis; Guru loses
Last updated on: April 25, 2014 22:37 IST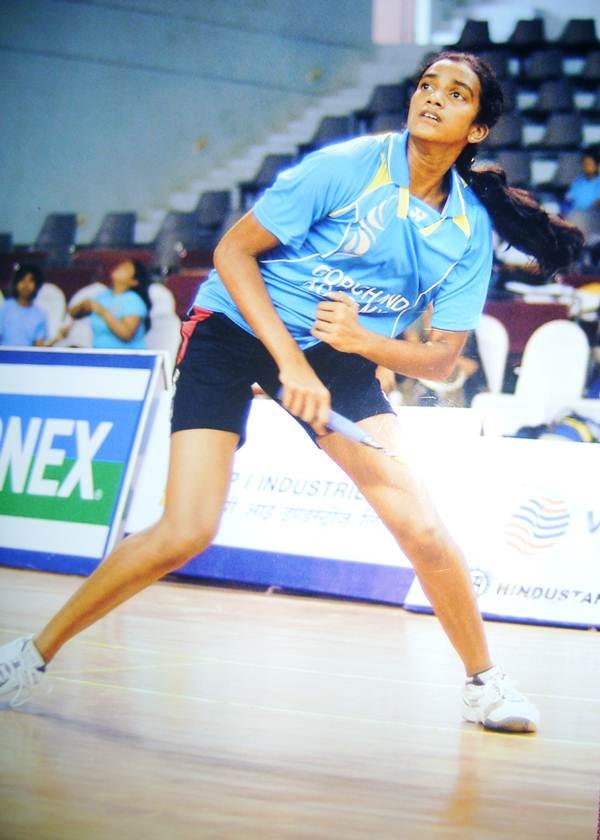 India's teen sensation P V Sindhu staged a grand recovery to enter the women's singles semi-finals in the Asian Badminton Championships, in Gimcheon (Korea), on Friday.
The world No 1 battled gamely for 60 minutes to outwit Thailand's Ongbumrungpan Busanan 14-21, 21-13, 21-10 and extend her head-to-head record against the Thai girl to 3-0, at the Gimcheon Indoor Stadium.
The 18-year-old, who had won a bronze medal at the World Championships last year, is assured of a bronze this time too, but will now look to avenge her India Super Series defeat to China's Shixian Wang, the two-time reigning All England champion.
In the men's singles, rising shuttler R M V Gurusaidutt played his heart out before losing 24-22, 9-21, 13-21 to Liu Kai of China in 60 minutes.
"Overall, it was a good match, Sindhu played very well apart from the first game. From the second game onwards, she was up and her smashes also improved and she dominated the third game," National coach Pullela Gopichand said.
Sindhu's father, Ramana, was confident that his daughter will avenge her loss to Shixian.
"I am sure she will play well tomorrow and beat Shixian. She is world number two, but I think Sindhu knows what she has to do," he said.
Commonwealth Games gold medallist pair of Ashwini Ponappa and Jwala Gutta also assured themselves of a bronze medal after a 21-12, 21-12 victory over Anscelly Amelia Alicia and Soong Fie Cho of Malaysia.
India's top shuttler Saina Nehwal had won a bronze in the 2010 Asian badminton Championship at Siri Fort stadium in New Delhi.
- Please click NEXT for more...
Bopanna-Qureshi out of Barcelona Open
Last updated on: April 25, 2014 22:37 IST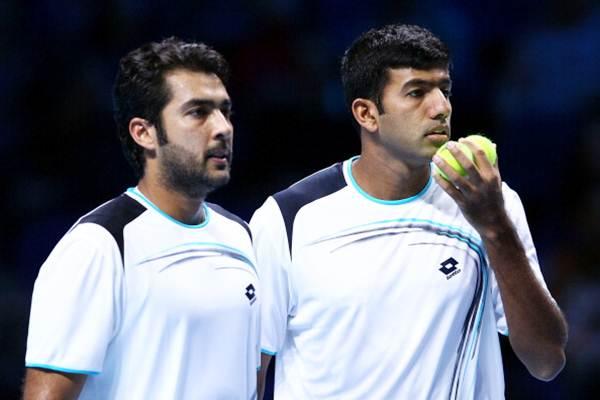 The Indian challenge ended at the Barcelona Open with the defeat of Rohan Bopanna and his Pakistani partner Aisam-ul Haq Qureshi in the quarter-finals, on Friday.
The unseeded Indo-Pak pair put up stiff resistance before losing 7-6(7), 5-7, 7-10 against top seeds Nenad Zimonjic and Daniel Nestor.
Earlier, Somdev Devvarman also lost in the doubles quarter-finals, partnering Croatia's Ante Pavic.
Somdev also made a first-round exit in the singles, his fifth straight opening-round loss in singles.
- Please click NEXT for more...
Nadal, Nishikori sail into Barcelona Open quarters
Last updated on: April 25, 2014 22:37 IST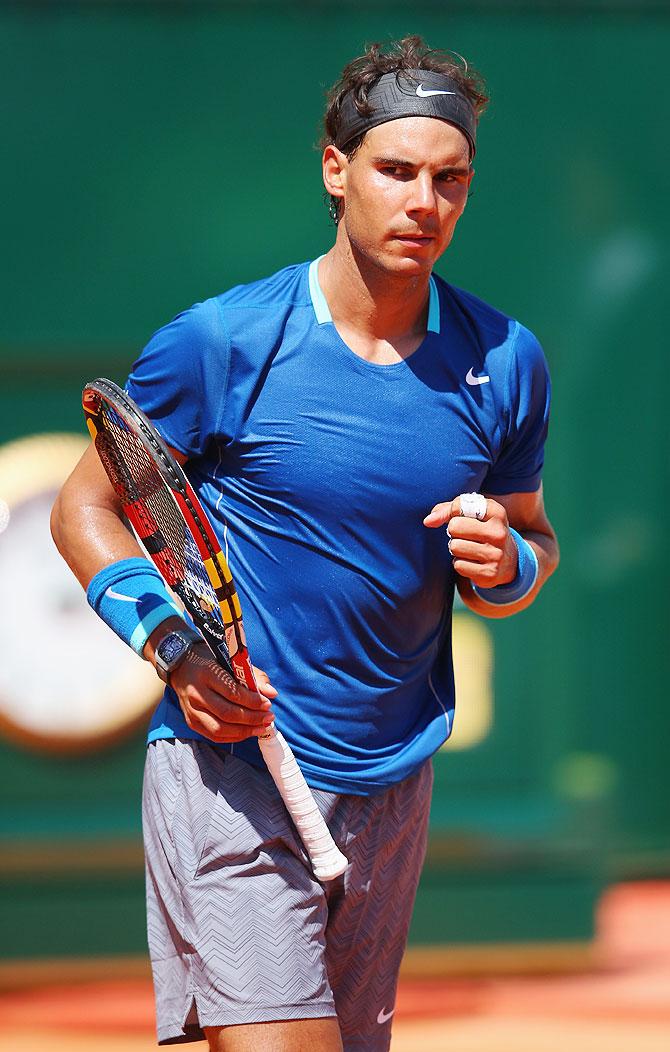 World No. 1 Rafael Nadal has booked a quarter-final berth at the Barcelona Open after defeating Croatian Ivan Dodig.
The Spaniard, who has won the tournament eight times, beat the world number 37 6-3, 6-3 in one hour and 23 minutes and will now meet fellow Spaniard Nicolas Almagro on Friday after he overcame compatriot Fernando Verdasco 6-3, 6-3.
Should he come through his last-eight contest, Nadal will face the winner of the quarter-final between German Philipp Kohlschreiber and Colombian Santiago Giraldo.
Nadal has lost just two sets during his 42-match winning streak in Barcelona, and his only defeat came on his tournament debut in 2003 when he was beaten by compatriot Alex Corretja.
Later, Japanese ace Kei Nishikori has sailed into the quarter-finals with a straight-sets win over Kazakhstan's Andrey Golubev on Thursday.
Fourth-seeded Nishikori, who defeated Spain's Roberto Bautistaagut in the second round in his first match since March, capitalized on a number of errors by Golubev to beat the Kazakh player 6-0, 6-4 victory in 76 minutes.
Nishikori will play the winner of a later match between Spain's Tommy Robredo and Croat Marin Cilic.
- Please click NEXT for more...
Sharapova to meet Radwanska in Stuttgart quarter-finals
Last updated on: April 25, 2014 22:37 IST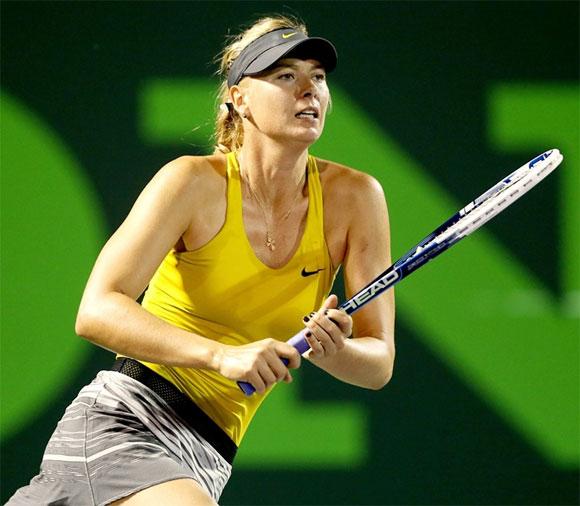 Russian tennis ace Maria Sharapova will meet Polish star Agnieszka Radwanska in the quarter-finals of the Stuttgart WTA tournament, the Porsche Grand Prix, following their respective victories in the second round.
Seeded sixth this year, the four-time Grand Slam champion, who is aiming for a third straight title on the red clay of Stuttgart, defeated fellow-Russian Anastasia Pavlychenkova 6-4, 6-3 on Thursday in the second round.
According to Sport24, Polish world No 3 Radwanska had little difficulty in wrapping up her match against Italy's Roberta Vinci, whom she beat 6-3, 6-2 within 1 hour and 19 minutes.
Meanwhile, the report mentioned that fifth-seeded Jelena Jankovic beat Italy's Flavia Pennetta 3-6, 6-2, 6-3 while Serbia's ninth-seeded Ana Ivanovic defeated German wild card Julia Goerges 1-6, 6-2, 6-3.
Meanwhile, Germany's highest seed Angelique Kerber was defeated by Carla Suarez Navarro of Spain 7-5, 6-4.
- Please click NEXT for more...
FIFA wants to revive 6+5 proposal
Last updated on: April 25, 2014 22:37 IST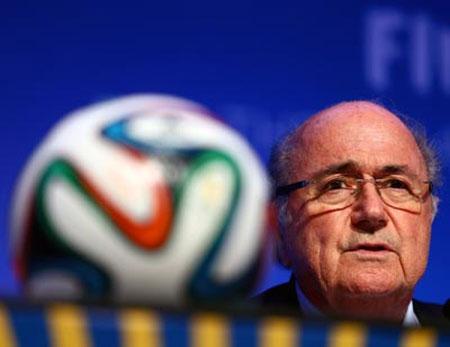 FIFA president Sepp Blatter wants to revive his so-called 6+5 proposal which would force clubs to field at least six players from their own country.
The idea won the backing of the FIFA Congress in 2008 but was ditched after it fell foul of European Union laws on the freedom of movement.
"Unfortunately the idea foundered on EU Employment Law -- the right to work in the country of choice and individual freedom of movement," said Blatter in his column in FIFA's weekly magazine.
"However, we have not heard the last word on this subject. An Institute for European Affairs (INEA) expert opinion concludes that a "quota agreement" along the lines of the "6 + 5 rule" is compatible with the law. It is therefore not too late to seriously revisit this idea."
Blatter said the rule would solve three problems in one go.
"It would improve the balance between club and national team football, preserve the clubs' national identity and increase the incentive for clubs to make more of their own youth products," he said.
"A glance at the leading leagues in Europe leaves no room for misinterpretation: foreign professionals form the majority in England (60.4 percent) and Italy (54.1), and that makes life hard for home-grown players.
"Naturally, the idea that competition is good for business also applies to football. But it has gone too far when up-and-coming young hopefuls no longer have a chance to prove themselves because foreign employees take their places in the team."
- Please click NEXT for more...
Olympic champ Phelps beaten in first comeback final
Last updated on: April 25, 2014 22:37 IST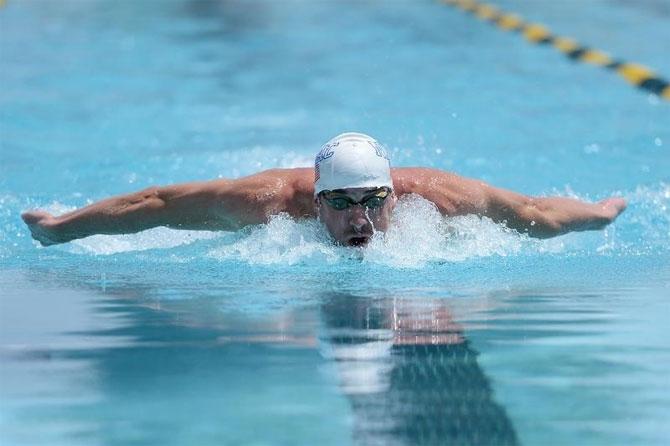 Michael Phelps suffered a narrow loss to old rival Ryan Lochte in his comeback to competitive swimming on Thursday, but still showed enough to suggest he will be a force to be reckoned with.
Racing for the first time since he retired in a blaze of glory after the 2012 London Olympics with a staggering career total of 18 gold medals, Phelps won his morning heat in the 100 metres butterfly then finished runner-up to Lochte in a close final.
Lochte, a five-time Olympic gold medallist who beat Phelps to win the 400m individual medley at London, touched the wall first in 51.93 seconds with Phelps just behind in 52.13.
Phelps's time was well outside the world record of 49.82 he set at the 2009 world championships but still safely under the qualifying standard for the U.S. national championships in August, which double as the selection event for next year's world titles in Russia.
Although the 28-year-old still holds the world record in three individual events, none of his past times count for future competitions because they were recorded before the qualifying period began in June 2013.
The last time Phelps needed to post a time to qualify for the national was when he was 13.
Phelps and his coach Bob Bowman were both reluctant to talk about their long-term goals but neither has ruled out the possibility of competing at the 2016 Rio Olympics.
"I could tell when he came in and I first saw him warm up that it was going to be good, that he was feeling good and he was into it," Bowman said after the heats.
"I'm just glad he came out of the race and he's got one under his belt.
"He's qualified for nationals so let's see what's down the road. He has an opportunity if he wants to take advantage of it."
- Please click NEXT for more...
Ecclestone denies giving $45ml bribe
Last updated on: April 25, 2014 22:37 IST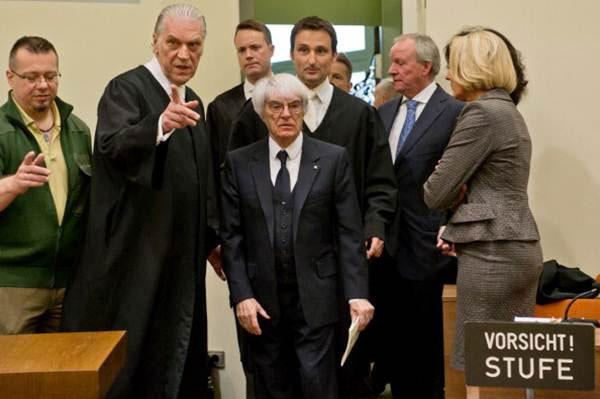 Formula One boss Bernie Ecclestone has reportedly denied the 45 million-dollars bribery charges against him at the start of his trial in Munich.
Ecclestone, who is accused of giving 45 million-dollars to a German banker in order to secure the sale of a stake in the Formula One business to a company he favoured, has agreed that he gave the money to Gerhard Gribkowsky, but denied any wrongdoings in the matter.
According to the BBC, Ecclestone's lawyers issued a brief statement at the start of the trial stating that the alleged bribery never happened and that the prosecution's claims were based on statements by Gribkowsky, which are wrong, misleading and not conclusive.
German prosecutors have reportedly claimed that the Formula One boss bribed Gribkowsky, who was on the board of Bayern Landesbank , to ensure that a private equity group of his choice bought the sport.
Ecclestone could lose his Formula One chief post if he is found guilty of bribery, but he continues to run the business for the racing sport on a day-to-day basis despite the charges against him, the report added.
However, Ecclestone has stood down from a number of Formula One-related positions in order to ease his workload until the case concludes, the report further added.