Sports Shorts: Somdev suffers another first round defeat
Last updated on: June 10, 2014 20:56 IST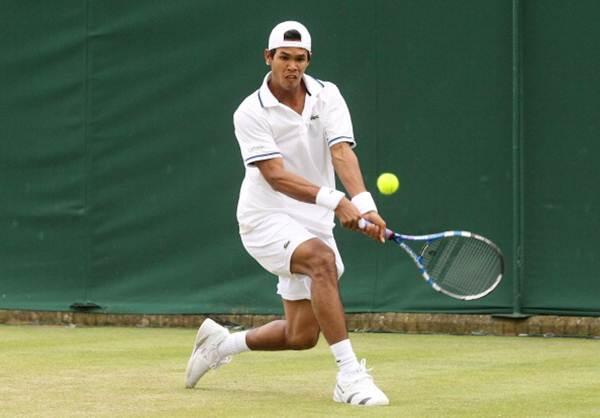 There's no end to Somdev Devvarman's woes. The Indian suffered a fourth straight first round defeat when he lost to Kenny de Schepper at the
ATP Aegon Championships, in London.
Somdev, who has dropped out of top-100 following a string of poor performances, lost 4-6, 5-7 to the Frenchman in 75 minutes.
He was unable to force a break-point in the match and lost his serve twice.
In a surprising and prolonged poor patch, Somdev has won only two matches on the ATP circuit in his last 10 tournaments.
The slump started after he won the Delhi Open in February.
- Please click NEXT for more...
Hockey World Cup: Argentina in men's semis for first time
Last updated on: June 10, 2014 20:56 IST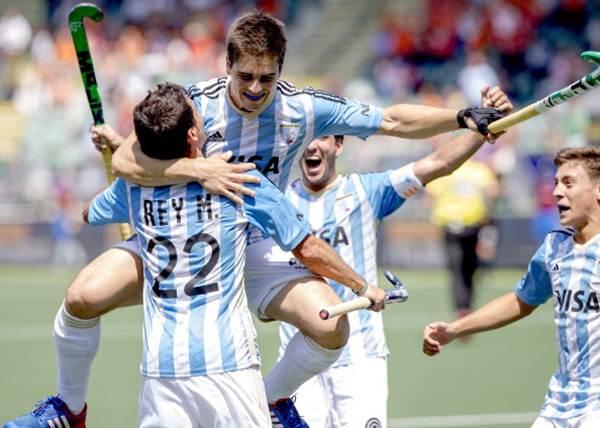 Argentina made their maiden appearance in the men's hockey World Cup semi-finals after posting a comprehensive 5-1 victory over South Africa at the Kyocera Stadium, in The Hague, Netherlands, on Tuesday.
Argentina's victory, their fourth in five outings, gave them 12 points and ousted Olympic champions Germany from the semi-final race.
Germany, who later on Tuesday beat South Korea 6-1 in their last match, have nine points from four matches after identical 0-1 defeats to Argentina and hosts The Netherlands.
Olympic silver medalists The Netherlands were the first to secure a passage into the semi-finals from Group B after four straight wins.
This is only the second time in World Cup history that the Germans have not advanced to the semi-finals. The previous occasion was in the inaugural World Cup in 1971 when Kenya made the semi-finals at the expense of West Germany.
Argentina, placed 11 in the world rankings, continued their robust game to seal their first-ever semi-final with Gonzago Peillat and Lucas Vila scoring two goals each after Joaquin Menini opened the scoring in the 20th minute.
South Africa's lone goal came from the stick of Clinton Panther, but Argentina had by then done enough to secure entry into the semi-finals.
Argentina's previous best finish in the men's World Cup was the sixth place they secured in the 1986 and 2002 World Cups.
Earlier, England defeated Belgium 3-2 to also clinch a berth in the semi-finals.
Iain Lewers placed a penalty-stroke into the left corner of the net in the 66th minute to score England's match-winner and secure their second successive semi-final.
The stroke was awarded, leading to vehement protests by the Belgians, when a penalty-corner shot struck a defender's foot on the goal-line.
The umpire blew the whistle for a stroke even as Barry Middleton smacked the rebound into the goal.
England, needing a victory to overtake Belgium for the second semi-final berth from Group A, were pressing hard after conceding an equalizer just three minutes earlier.
Australia topped Group A with five successive victories and England took the second spot with 10 points, leaving Belgium in third place on nine.
Belgium, who needed just a draw to make their maiden semi-finals, thought they had done enough to go through when they got the 2-2 equaliser through a penalty-corner conversion by Tanguay Cosyns in the 63rd minute.
But England pressed hard to force the Belgians on the defensive and got the late winner from the penalty-stroke.
Meanwhile, India will play Asian champions South Korea in the play-off for ninth position after failing to improve upon their eighth-place finish in the last (2010) edition at New Delhi.
South Korea finished fifth in Group B after suffering the 1-6 loss to 2012 Olympic champions Germany in their last league match on Tuesday.
The Koreans suffered four defeats and earned just one point from a draw with South Africa, who finished at the bottom of the pool.
After losing their first two matches by conceding late goals, India were relegated to fifth in Group A.They scored just one victory and a draw in five outings.
England, to whom India conceded a 69th-minute match-winner after squandering several chances at the other end, have progressed to the semifinals after registering 3-2 win over Belgium on Monday night.
- Please click NEXT for more...
Mauresmo appointment good move for my career: Murray
Last updated on: June 10, 2014 20:56 IST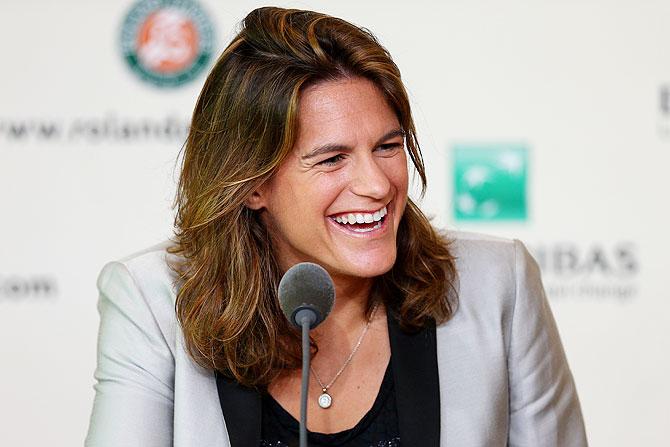 Brad Gilbert was hired to turn a fledgling Andy Murray into a physical powerhouse, while the Scot turned to Ivan Lendl for some of the ruthless streak that made the Czech-born American a multiple Grand Slam champion.
At different stages of his career both worked wonders for Murray as he broke into the upper echelons of men's tennis and then, after some close shaves, delivered two Grand Slam titles and an Olympic gold.
While those two appointments appeared self-explanatory, his choice of former Wimbledon women's singles champion Amelie Mauresmo, as his new coach, is an intriguing one and it dominated the chat on Monday as the grasscourt season moved into full swing.
It appears that the 27-year-old Scot has now reached that stage in his career when he wants a gentler presence in his corner.
"I have started to listen to my body a lot more because, over the years, you start to pick up some things," defending Wimbledon champion Murray, who had back surgery last year, told the BBC when the questions inevitably turned to his new coach.
"I think it's important that the people you work with respect and understand and listen, you know, to how you're feeling, as well, because you can't just be pushed extremely hard every single day.
"I need to pick my moments during the year where I really go for it in training. That was one of the reasons... For me, it didn't feel a strange thing to do."
So few tennis players, male or female, hire female coaches that Murray's decision was bound to have some scratching their heads. But, he said, he does not care what others think.
"A few people have come up to me and sort of asked if it was serious," he said.
"But I don't really care whether they think it's a good or bad appointment. It's whether it works well for me and my team, and hopefully it will be a good move for my career."
Murray's first match under Mauresmo's watchful gaze will be on Wednesday.
- Click NEXT to read more...
Blatter blasts criticism of FIFA as racist
Last updated on: June 10, 2014 20:56 IST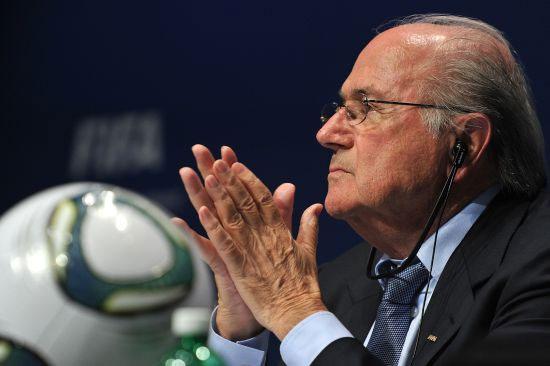 FIFA president Sepp Blatter launched a scathing attack on those he said were "plotting to destroy" world soccer's governing body, and branded some of the criticism of the Qatar World Cup award for 2022 as racist.
Blatter was addressing delegates of the African and Asian confederations at their extraordinary congresses ahead of FIFA's annual congress which starts here on Tuesday.
The African congress, which declared its "continued support" for Blatter, who intends to run for a fifth term as president next year, also passed a resolution condemning what it called the British media's racist attack on its officials.
Blatter's comment came in the wake of a series of fresh allegations made by Britain's Sunday Times newspaper about the award of the Cup to Qatar and rumblings from sponsors who are unhappy with the current trouble FIFA is facing.
Blatter, without defining who "they" were, told Asian delegates "they want to destroy us; they don't want to destroy football, but they want to destroy the institution (FIFA)".
He got a standing ovation when he told the delegates to "show unity in FIFA".
Earlier on Monday, Blatter spoke to delegates at the African Congress and without naming names described attacks on the Qatar World Cup as "racist".
The Sunday Times over the last two weeks has published a series of articles expanding on allegations that the former president of the Asian Confederation, Mohamed Bin Hammam, had used money from secret slush funds to help win votes and support for the Qatari World Cup bid.
Qatar denies the allegations and says it was not connected to Bin Hammam.
Qatar was awarded the World Cup by the FIFA executive committee in December 2010, beating rival bids from the United States, Australia, Japan and South Korea.
However, the Sunday Times made new allegations that Bin Hammam specifically targeted African soccer officials and Issa Hayatou, the president of the African Confederation, to help create a groundswell of opinion in favour of the Qatari bid.
Blatter said: "Once again there is a sort of storm against FIFA relating to the Qatar World Cup. Sadly there's a great deal of discrimination and racism and this hurts me."
Hayatou, approached by Reuters in the lobby of Sao Paulo's Grand Hyatt Hotel after the congress, said: "I am very content with what president Blatter said. We support him, and I was very happy with what he told the delegates."
- Click NEXT to read more...
Milan replace Inzaghi with Seedorf
Last updated on: June 10, 2014 20:56 IST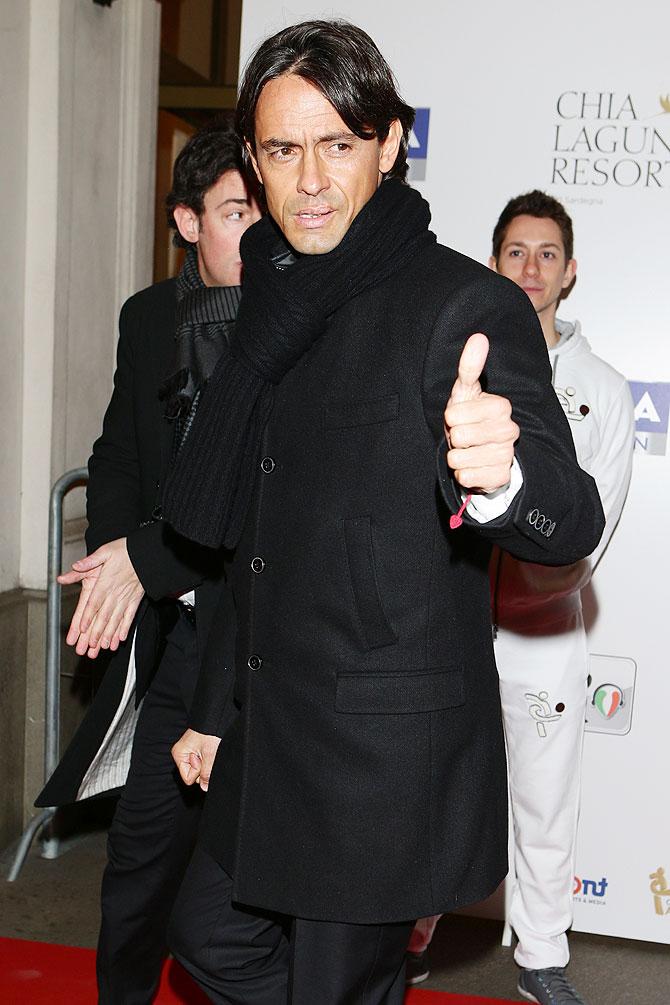 AC Milan fired coach Clarence Seedorf on Monday after less than five months in charge and replaced him with youth team boss Filippo Inzaghi, a move that had been on hold for two weeks.
"I thank Silvio Berlusconi for the trust," former Italy and Milan striker Inzaghi said of the club president. "This club is my life.
"I will give my all for this shirt, with dedication, passion and determination," he added on the club's official Twitter account after signing a two-year contract.
Former Netherlands midfielder Seedorf, who had no previous coaching experience and spent 10 years of his playing career at Milan, quickly fell out of favour despite overseeing a significant improvement in results.
Milan won 11 out of 19 Serie A matches under the Dutchman compared to only five of the previous 19 under predecessor Massimiliano Allegri on their way to an eighth-place finish, missing out on the Europa League by one point.
Seedorf, 38, was playing for Botafogo in Brazil when he he was offered the Milan job and cut short his playing career to accept what he clearly felt was a once-in-a-lifetime opportunity.
A crushing 5-1 aggregate defeat by Atletico Madrid in the Champions League round of 16 appeared to turn the tide against Seedorf, who as a player won the Champions League with Ajax, Real Madrid and Milan.
Former Italy striker Inzaghi, who has also never coached at senior level, had been in charge of the club's under-19 team.
Former Olympic swimming champion Van Dyken severs spine in accident
Last updated on: June 10, 2014 20:56 IST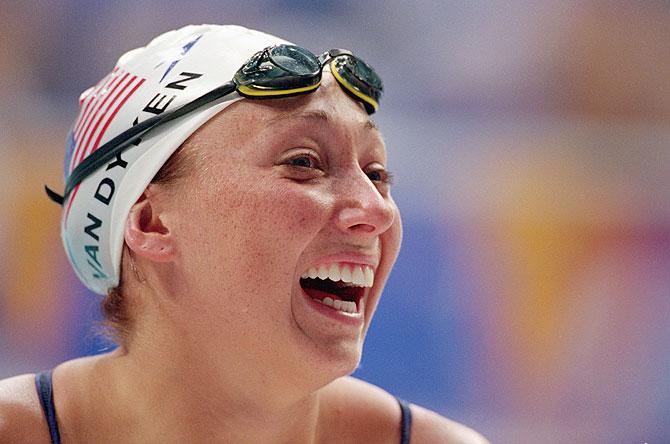 Former Olympic swimming champion Amy Van Dyken is recovering in hospital after severing her spine in an quad-bike accident, her family said in a statement on Monday.
The family said Van Dyken crashed her all-terrain vehicle on Friday night and was airlifted to an Arizona hospital to undergo surgery and was in good spirits.
"An amazing team of doctors performed emergency surgery to repair her spine and stabilize her," the statement said.
"Amy's spinal cord was completely severed at the T11 vertebrae, but, miraculously, a broken vertebrae stopped within millimeters of rupturing her aorta, and she did not suffer any head trauma.
"Amy awoke within hours of surgery acting like her typical spunky, boisterous, ebullient self and has spent the last 24 hours entertaining her family and her medical staff in the ICU (Intensive Care Unit)."
Van Dyken's husband, former Denver Broncos punter Tom Rouen, was with her when the accident happened and comforted her while waiting for a helicopter to arrive.
Van Dyken, 41, is one of the most decorated Olympic swimmers of all time, winning six gold medals during her glittering career in the pool.
At the 1996 Atlanta Olympics, she won the 50 metres freestyle and 100m butterfly as well as winning two relay golds for the United States. She won another two gold medals in relays at the 2000 Sydney Olympics.
"The USA Swimming family is devastated to learn of Amy Van Dyken's unfortunate accident this weekend. We're happy to hear that she escaped and is now in great care," USA Swimming said in a statement.
"Amy is a champion who has proven throughout her life that she is a fighter who takes on challenges and comes out on top. We know Amy will tackle her rehabilitation with vigor and be back on her feet sooner rather than later."
- Click NEXT to read more...
Sidwell joins Stoke on free transfer
Last updated on: June 10, 2014 20:56 IST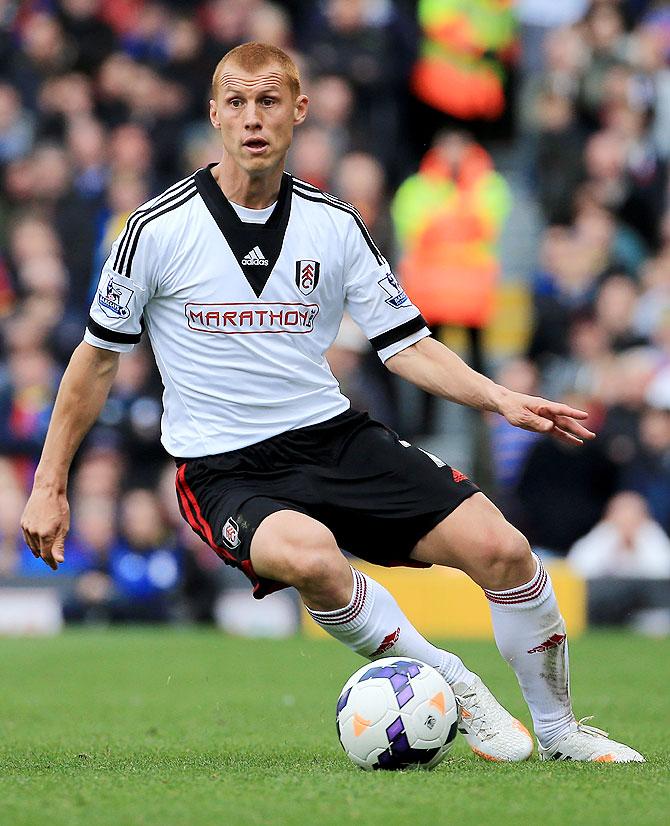 Stoke City have signed former Arsenal, Chelsea and Aston Villa midfielder Steve Sidwell on a free transfer following his release by relegated Fulham.
The 31-year-old was the top scorer at Craven Cottage last season with seven goals and has agreed a two-year deal with Stoke, the English Premier League club said in a statement on Monday.
Sidwell rejoins former Fulham manager Mark Hughes at Stoke.
"I had other offers but wanted to be part of what Mark Hughes is seeking to achieve here," he told Sky Sports News.
Donald Sterling says LA Clippers not for sale
Last updated on: June 10, 2014 20:56 IST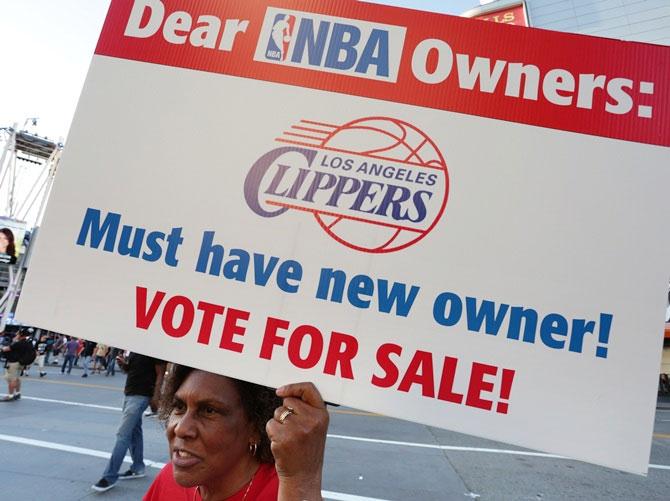 Embattled Los Angeles Clippers owner Donald Sterling said on Monday the basketball franchise was not for sale and that he would fight to keep the team he built, NBC News reported.
Sterling was banned for life by the National Basketball Association in April after a tape recording of disparaging remarks he made about black people was leaked, triggering fury among fans, players and sponsors of his team.
"From the onset, I did not want to sell the Los Angeles Clippers. I have worked for 33 years to build the team," NBC News quoted the 80-year-old Sterling as saying, citing a statement from him titled, "The Team is not for Sale."
Representatives of Sterling did not immediately respond to messages seeking comment on the report.
Sterling sued the NBA and its commissioner on May 30 seeking at least $1 billion in damages, just as the league tentatively approved a deal by his estranged wife, co-owner of the franchise, to sell the club for $2 billion to former Microsoft Corp chief executive Steve Ballmer.
In addition to the lifetime ban, the NBA commissioner also fined Sterling $2.5 million, the league's maximum penalty, and urged its 29 other team owners to take the unprecedented step of forcing Sterling to sell the Clippers, which he bought in 1981.
In his statement carried by NBC, Sterling said he was extremely sorry for the hurtful statements he made privately, and that they were made in anger and jealousy.
But he said he believed NBA commissioner Adam Silver "acted in haste by illegally ordering the forced sale of the Clippers," banning him for life, and imposing the fine.
"The action taken by Adam Silver and the NBA constitutes a violation of my rights and fly in the face of the freedoms that are afforded to all Americans," the statement said.
"I have decided that I must fight to protect my rights. While my position may not be popular, I believe that my rights to privacy and the preservation of my rights to due process should not be trampled."