Sports Shorts: Beckham likely to come out of retirement
Last updated on: June 04, 2014 20:27 IST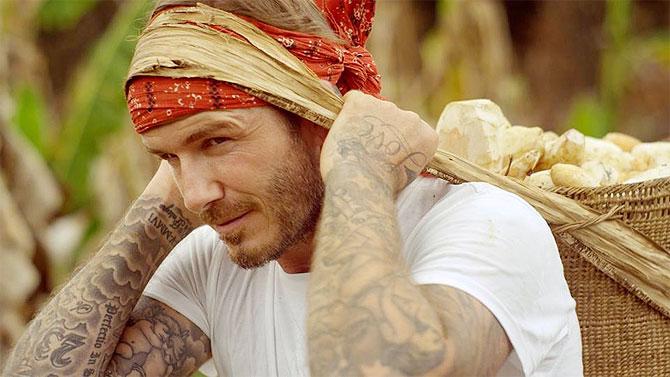 Former England captain David Beckham has indicated that he could come out of retirement to play for the Major League Soccer team he is aiming to launch in Miami.
The 39-year-old hung up his boots last year after winning the French league title with Paris St Germain, bringing the curtain down on a 20-year career, but he clearly misses playing.
"There's never been a player-owner but maybe?" Beckham said in a BBC One documentary that follows the former Manchester United and Real Madrid midfielder on an 800-mile, 12-day trip into the Amazon rainforest by motorbike, canoe and plane.
In the programme David Beckham: Into the Unknown, which will be aired on June 9, he admitted hacing "a tough time" after quitting playing, but following what he described as "a stage of enjoying the rest" he is considering coming out of retirement.
"Now I go to watch a basketball game and, when you are watching athletes play at the top of their game, it gives me that itch again and I want to be back in the game and I start thinking to myself 'Could I play again? Could I go back? Could I come out of retirement and start playing again?'" he said.
Beckham, who has 115 England caps and also played for AC Milan on loan from the Los Angeles Galaxy of the MLS, where he was based for five years until the end of 2012, is planning to start an American soccer franchise in Miami.
Beckham and his business partners last month unveiled a plan for a stadium on downtown Miami's waterfront after the original site, at the city's port, ran into political opposition. There will be a referendum on the new proposal in November.
The proposed 20,000 to 25,000-seat stadium would be part of an expanded park area close to the Miami Heat basketball arena.
- Please click NEXT for more...
Hazard gets Chelsea No. 10 shirt for next season
Last updated on: June 04, 2014 20:27 IST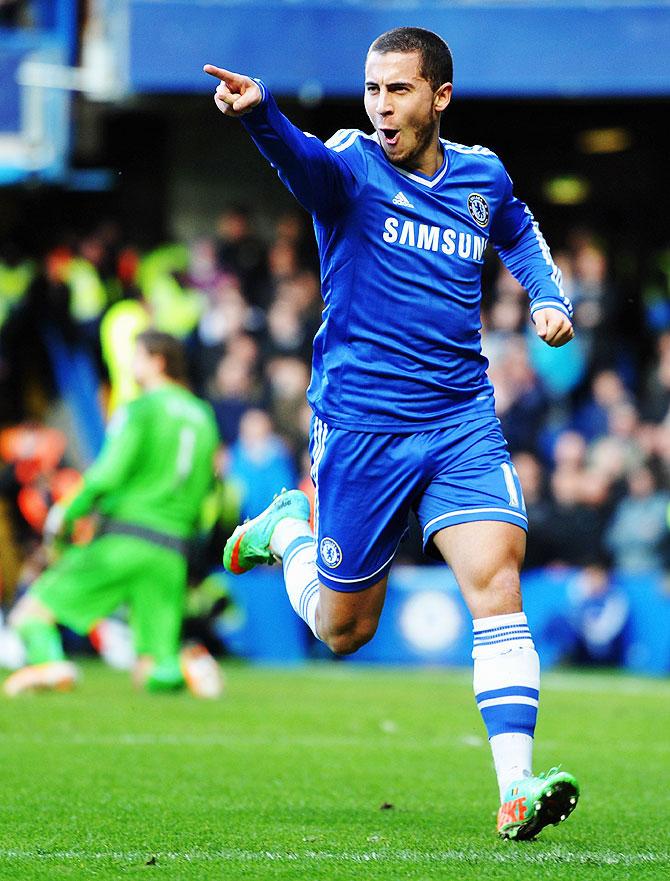 Chelsea have announced Eden Hazard is to wear the number 10 shirt next term, effectively scotching media reports that the Belgium World Cup winger could be leaving the club in the close season.
Hazard had been tipped to join teammate David Luiz at Paris St Germain. Terms have been agreed between the clubs and the Brazil World Cup defender is on the brink of completing a move to the Ligue 1 champions.
"I am very pleased to be able to wear the number 10 for Chelsea," Hazard told the club's website (www.chelseafc.com) on Tuesday.
"It is my favourite number and is one I am used to wearing for the national team, as well as the one worn by some of my heroes from when I was a kid, like (former France playmaker) Zinedine Zidane.
"I hope it brings me a lot of luck in the future and I look forward to the fans seeing me in it next season," added Hazard after taking over the number 10 shirt from Juan Mata who was sold to Manchester United in January.
Belgium have been drawn in Group H for the World Cup in Brazil later this month, alongside Algeria, Russia and South Korea.
- Please click NEXT for more...
Lampard not quitting just yet
Last updated on: June 04, 2014 20:27 IST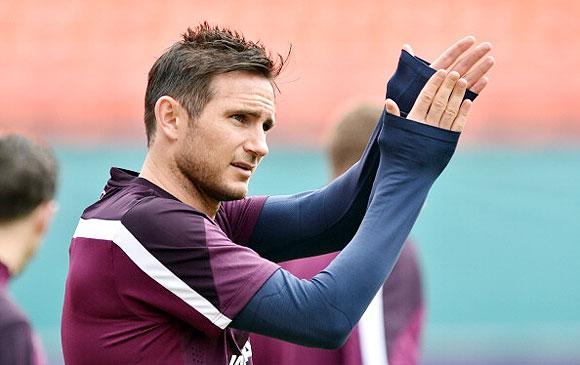 England's Frank Lampard will proudly lead out his country against Ecuador in a World Cup warm-up match at the Sun Life Stadium on Wednesday determined to savour every moment in the twilight of his career.
The 35-year-old knows the sands of time are running out on his illustrious career at the very top of the game with a possible move to Major League Soccer on the horizon following his departure from Chelsea after 13 years at the club.
He has been linked with the ambitious New York City franchise, which is part-owned by ManchesterCity, and confirmed on Wednesday that a move to the United States is a possibility.
"The America thing is an option, I make no bones about that," he told a news conference ahead of the Ecuador match.
"I am looking at different options. The main thing is that I want to carry on playing, I feel very fit and fresh and I am enjoying it. So I will keep going for as long as I feel that way. I'd love to play for a few more years."
While he has several prospects at club level, his international career is winding down, although he cannot yet face the fact that he will soon be out of the picture like his former Chelsea team mates John Terry and Ashley Cole.
Asked about retiring from international football, he said: "It is very difficult to get the words out to say that. I am very proud and very happy to play for England.
"If we go and win (the World Cup) then I probably will certainly hang my (England) boots up. I don't like to say it because I love playing but it's kind of obvious that it comes in the end but I am just appreciating and enjoying every minute at the moment."
Lampard is the sort of evergreen midfielder who gives the impression he could play on forever such is the ease with which he strokes the ball around the pitch and he has enjoyed some of his best moments late in his career.
"I have had quite a few opportunities. Most players sort of finish with England in their low thirties at the most and I have had some of my most enjoyable England years at the back end, in the last two years," he said.
"I have appreciated what I have got. When you are young you don't always appreciate it. I've enjoyed the squad, the ambience around the squad and that is why I won't write myself off yet."
Lampard's departure from Chelsea was expected but the announcement on Monday still hit many fans hard because the midfielder is so much a part of the fabric of the club.
"It was a mutual decision really. It was obviously thrown up a lot last year and it was a bit of a distraction through the season, for probably everyone, it got its own legs in the end," said the club's all-time record goalscorer.
"Chelsea have been fantastic with me throughout my career and it was mutual. That was the way I wanted to go.
"I didn't want to go as maybe it would have gone last year, in a different way. I go away with a very happy feeling and a respect for the club that I think and hope is a two-way thing.
"If you had asked me 13 years ago when I walked into StamfordBridge, whether I would be there 13 years later with all the things I have got with me, I wouldn't have believed you.
"If I look back on it, in that sense, I can be very proud and pleased with what's happened.
"I never really thought I would see the day, that's probably from being young and not really thinking about it too much but I got so entrenched in the life at Chelsea, it overtook my life."
Lampard joined the Premier League club from London rivals West Ham United in 2001 for 11 million pounds ($18.43 million) and scored 211 goals in all competitions for Chelsea. He played more than 648 games for the club - third on their all-time list.
But Lampard also thinks the fact that his future is definitely away from StamfordBridge means he can focus on England's World Cup campaign without the distraction of whether he might have another year-long contract at Chelsea.
"It certainly (means) a clear head for me. I'm quite a big boy and I can handle it. I am quite pleased, it's a weight off my shoulders to a certain extent and I'm concentrating, as I've been for the past two weeks, on training well, playing well.
"I do see my role here in a broader sense, as I think all the experienced players should, of helping things go in the right direction. We've been here before, we've been here when it hasn't been so great, we know the slight pitfalls at times and if we can bring that experience to help we can do that."
- Click NEXT to read more...
Churchill, Md. Sporting lose appeal over I-League license
Last updated on: June 04, 2014 20:27 IST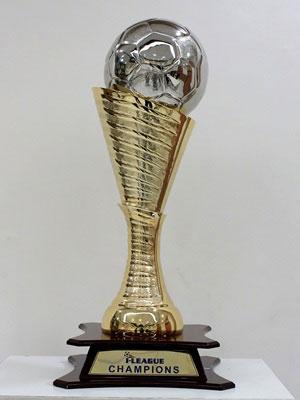 AIFF's Club Licensing Appeals Body on Tuesday ousted Churchill Brothers, UnitedSC, Rangdajied United and Mohammedan Sporting from the I-League's top-level competition by turning down their appeals.
The four clubs, however, will remain eligible to play in the second division I-League upon meeting the criteria.
The club had contested the decision of the Club Licensing Committee First Instance Body (CLC-FIB). They had made their presentations before the Appeals Committee, headed by Justice (retd) N.K. Sud of the Punjab and Haryana High Court.
The Committee heard the appeals in detail and found the clubs lacking various criteria in categories pertaining to Sporting, Personnel & Administrative, Financial, Legal and Infrastructure as underlined by the Asian Football Confederation (AFC).
The Appeals Committee met on Tuesday and upheld the First Instance Body's decision to not issue them an AFC and national licence for the 2014-15 season.