India F1 GP: What the Buddh International Circuit holds
Last updated on: October 20, 2011 17:47 IST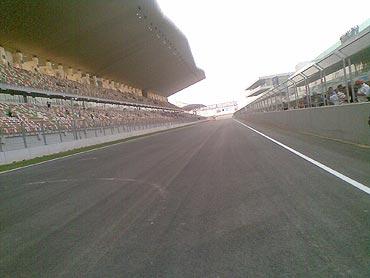 Raja Sen does a lap around the Buddh International Circuit, on which the Indian F1 GP will be run, and says the track seems unforgiving.
So the track for the Indian Grand Prix is finally ready, and I can declare that with immense conviction because I've been on it for a lap. And yes, there is much call for chest-swelling and giggly giddiness, for potentially the Buddh International Circuit looks like it could be one of the premier racing circuits in the world. A striking, strange assortment of corners, climbs and chicanes, it will demand cojones.
Of course, it's not as if I was piloting a Red Bull. A Formula One racetrack isn't the same when judged from a Merc instructed to stay well below 50 mph, but that snail-paced drive itself gives you a hint of the driving lines, turning radiuses, the problem spots, and, more than anything else on this particular circuit, the undulations of a track given to steep ascent and sharp descent.
Stopping a few times, I strolled around some of the more fascinating turns, and scribbled furiously. With a week and a half to go for the race itself, here's what I personally think the circuit holds.
It is a 5.14 km track built for a 60 lap race
Last updated on: October 20, 2011 17:47 IST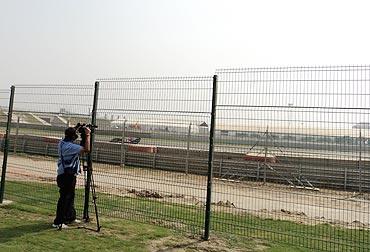 The basics of Hermann Tilke's latest, apparently fastest and most ambitious track design are explained simply in numbers: it is a 5.14 km track built for a 60 lap race, which means a race distance of 308 km. It's a clockwise track with 16 turns, and upto 14 metres of elevation changes.
It begins with the straight. Stretching past the length of the long grandstand, it's a wide straight that goes into the hard right-handed Turn One, similar to Suzuka but even slower since the apex will be easy to overshoot and late-braking here will provide a real advantage. Overtaking into the first corner of the circuit? Yes indeed.
Turn One leads right into Turn 2, where the cars need to get throttle on as early as possible before exiting the corner and shooting upwards. The climb towards Turn 3 is significantly blind, meaning you can't really see what lies past the elevation. It's a steep climb and one of the narrowest parts of the circuit, forcing the cars to stay processional. It's the slowest corner of the track leading directly to the fastest stretch of the circuit, so drivers must be on the throttle at the earliest, making a clean, fast exit to get top speed down the straight line.

We're bound to see some impressive manoeuvres on Track 4
Last updated on: October 20, 2011 17:47 IST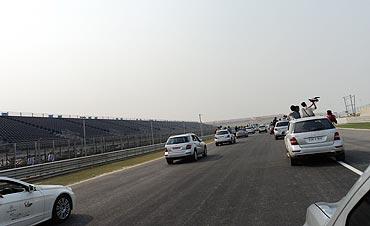 That mammoth stretch between Turn 3 and Turn 4, more than a kilometre long and set parallel to the Yamuna Expressway, is where the cars will hit and maintain their top-speeds of over 320 kmh. This extreme patch will see the rear-wings flat (during qualifying at least) and much slipstreaming during the race itself. Cars with a straightline advantage -- like, in recent races, the McLaren, the Mercedes and the Force India -- should ace this long sector as they lay down the rubber.
Turn 4 will see the drivers hit the proverbial brick wall as they brake ridiculously hard, dropping from stratospheric top-speeds to about 100-110 and attack the apex. It's going to be tempting but highly tricky to try and leapfrog someone here, but there will be a great advantage for those braking late. We're bound to see some impressive manoeuvres pulled off here, and some spectacular spins as some drivers will doubtlessly lock their front wheels.
As the circuit drops downhill the cars will head into a quickfire series of fast, tight turns requiring grip and precision. These turns (from Turn 5 to Turn 9) are fast and rapid, leading right into each other and teasingly offering more track-width but crucially not enough to pass with ease. Moves pulled off here will require daredevilry and foolhardiness, and there will be wheelbanging. By the time the cars hurtle out of Turns 8 and 9, we're going uphill again. Which leaves us pretty blind going into the circuit's coolest turn.
Cars will be slow heading out of Turn 15 into the final corner
Last updated on: October 20, 2011 17:47 IST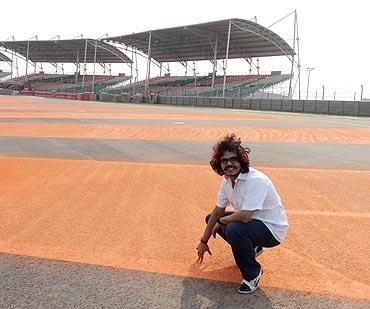 The most spectacular part of the track (and my personal favourite) is the parabolic loop running from Turn 10 to Turn 11. This is a long-drawn right hander with decidedly more than one apex, and while it will be a tight turn, the track is very wide, with a slant reminiscent of the Indianapolis Brickyard, and the cars are unlikely to drop below 200 as everyone tries to make the most of this gorgeous arc. Drivers will use the banking and the curbs as they try and outfox each other to find their own optimal apexes, and this dramatic stretch of curving asphalt will make for some very eventful racing.
It's downhill into Turn 11 which leads into Turn 12, fast turns but tight and tricky. Turn 13 and Turn 14 provide a very fast chicane -- and again one that teases unrealistically with extra width (only not extra enough) -- before we go uphill again, only not as drastically, for Turn 15. Cars will be slow heading out of Turn 15 into the final corner.
Turn 16 is a downhill left-hander, tough because it's a descending corner requiring very hard braking to maintain the line, and thrilling because the entry to the corner is invitingly wide, which translates to aggressive attempts at passing. To pass here, however, will be quite a feat considering the cars would be going from 250+ kmh to about a 100 kmh and only those with immaculate car control -- Vettel, Schumacher, Button -- will likely choose this spot to make their moves. Many will possibly try and fail.
The Buddh International does not seem a forgiving track
Last updated on: October 20, 2011 17:47 IST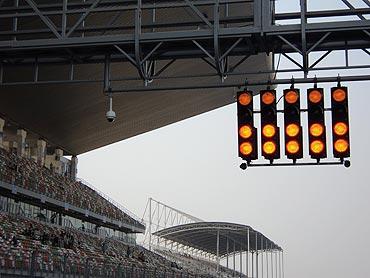 So there we have it, circuit designer Hermann Tilke at his most ambitious. The Buddh International Circuit is one that will definitely push the drivers hard, and should make for considerable fireworks. It's technical and involving, the cars needing minimum drag for the three long high-speed stretches and very low downforce and high grip for the mischievous slower corners. The blind climbs into Turns 3 and 10, the circuits most sensational stretches, are special and will keep the people making the highlights packages on their toes.
It has fun chicanes and kinks, and very striking ascents and descents, but the track's most distinctive quality, to me, is how much it teases: how it offers more width but, usually, not enough, and how it encourages overtaking without making it easier. Those too eager to gain a place are likely to lose several. The Buddh International does not seem a forgiving track.
We'll get a much better idea when we see First Practice on the 28th, but there is promise here. I can't wait to see where they place the DRS zone, but assume it'll span at least half of the kilometer-long straight between Turns 3 and 4. I personally hope it'll be the first half, which means the drivers will get to engage DRS as they're entering the tricky Turn 3, but we'll know soon enough.
What we do know for now is that India has its own F1 circuit, and it's a cracker. Buckle up.