F1 pit lane tales: New high for Vijay Mallya's Force India with podium finish
Last updated on: April 07, 2014 15:55 IST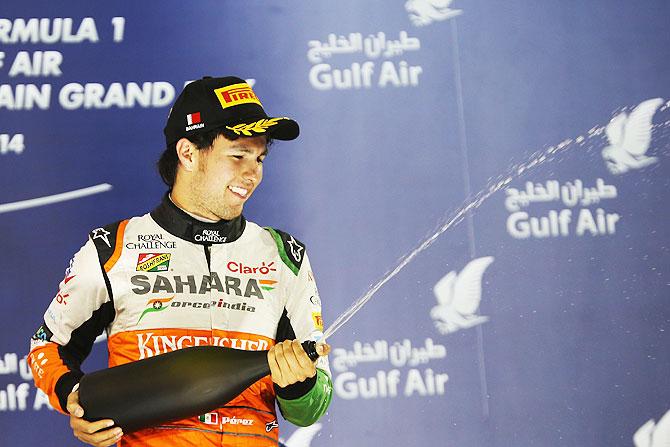 Force India reached the giddy heights of second place in the Formula One constructors' championship on Sunday after Mexican Sergio Perez secured only the second podium finish in the team's history.
The McLaren discard's third place in the floodlit Bahrain Grand Prix brought the added satisfaction of knocking his former employers into third place overall.
The only other time the Silverstone-based team have finished in the top three was Italian Giancarlo Fisichella's second place in Belgium in 2009 after starting from an unexpected pole position.
"Today is one of the greatest days in the history of our team," said co-owner Vijay Mallya.
"It's been a long time coming, but it's very satisfying to see Sahara Force India back on the podium after so many near misses in recent years."
With Germany's Nico Hulkenberg finishing fifth, and scoring points for the third race in a row, Force India now have 44 points to McLaren's 43.
'An amazing podium'
Last updated on: April 07, 2014 15:55 IST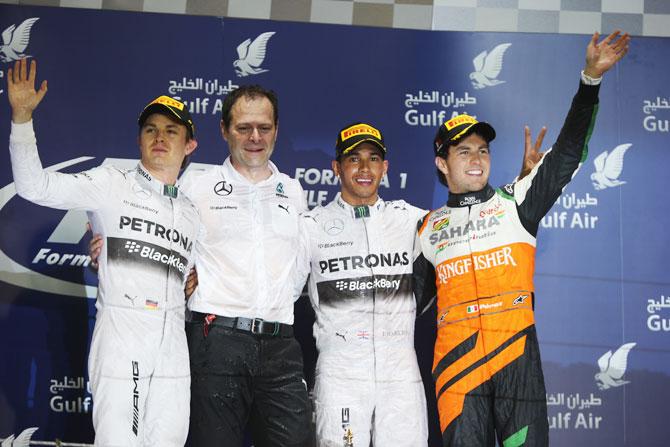 Perez is no stranger to the podium, although he did not manage it all last season with McLaren, having enjoyed top-three placings with Sauber in 2012 but this was the hardest-won of any of them.
"It means a lot," said the elated Mexican.
"It's a very special podium for myself. I had a really tough time, my time in McLaren where I was basically quite far...I never had a chance to fight for a podium in all my year (there).
"Really, coming into Force India and being able to, only in my third race, to be able to qualify fourth and then straight away being able to fight for the podium was a great feeling. An amazing podium."
Perez had his team mate to thank for it as well, with Hulkenberg holding Australian Daniel Ricciardo's Red Bull at bay for long enough to allow the Mexican to get too far out of reach after the safety car period.
"We fought so hard and it's been so close so many times that finally coming through is just wonderful," said deputy principal Bob Fernley.
"It looked a little bit in jeopardy after that safety car came out."
McLaren's chief rebukes Vettel for swearing
Last updated on: April 07, 2014 15:55 IST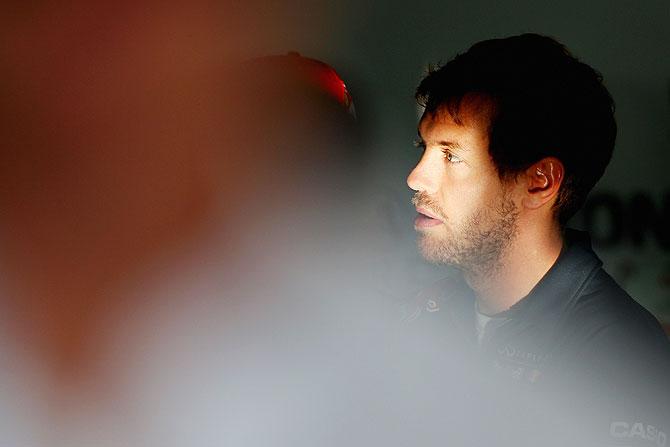 McLaren head Ron Dennis criticised quadruple Formula One world champion Sebastian Vettel on Sunday after the Red Bull driver described the sound of the sport's new V6 turbo engines as 'shit'.
The German driver had made his opinion clear at a news conference at last weekend's Malaysian Grand Prix when asked about the much quieter units that have replaced the screaming V8s.
Formula One supremo Bernie Ecclestone and Jean Todt, president of the governing FIA, agreed at the Bahrain Grand Prix on Sunday that the sound would be tweaked with the full agreement of teams.
While the FIA has cautioned drivers about keeping their language clean in public in the past, Todt told reporters he respected Vettel's opinion and would be happy to discuss the situation.
Dennis told Sky Sports television that he was disappointed, however.
"Being a world champion requires a dignified approach to everything, so putting aside the language, even the sentiment is inappropriate," said the Briton.
"The simple fact is if he was sat in a Mercedes he would be extremely happy, and I'm quite sure any four or five-letter words would be more of joy.
'Just because his dominance is being shaken, doesn't give him license to be disrespectful'
Last updated on: April 07, 2014 15:55 IST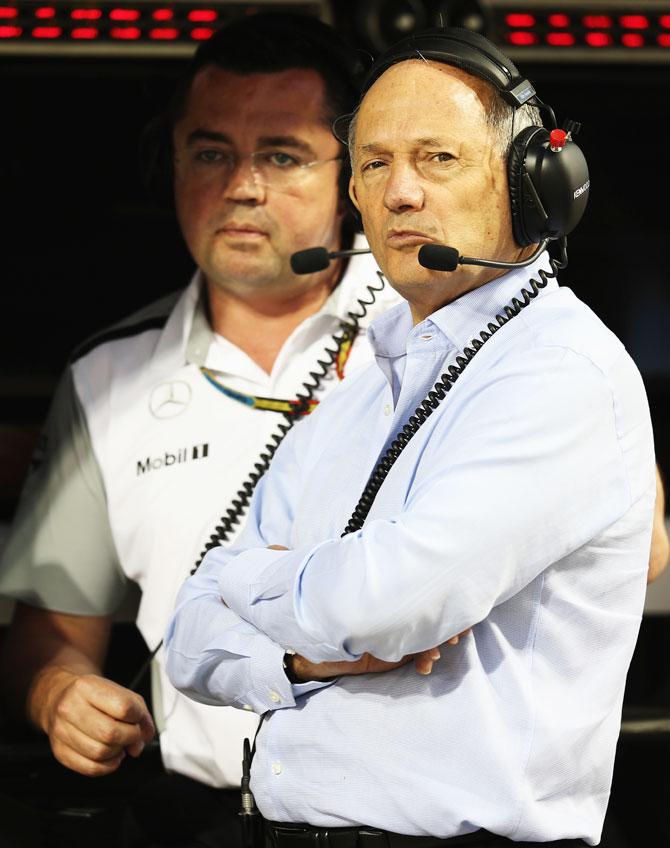 "He should just reflect on the fact he has had a period of dominance, and just because that dominance is being shaken by Mercedes, doesn't give him the licence to be disrespectful of the obligations placed on him as a world champion."
Mercedes, with Britain's Lewis Hamilton and Germany's Nico Rosberg, have won the first three races of the season from pole position and their engines have been dominant.
Vettel won the last four world championships, and nine races in a row to the end of last year, but Renault-powered Red Bull have been playing catch-up in the new era.
The German's Red Bull team boss Christian Horner rejected Dennis's criticism of the driver.
"Our drivers, we don't manipulate what they say in the press," he told reporters after the race. "They have freedom of speech.
"Perhaps the choice of his specific word wasn't ideal but I don't think anyone would disagree with him that the sound of the cars could be better.
"It's his opinion and he's free to express that. If we don't allow drivers to express themselves, we just end up with robots."
Maldonado gets grid penalty for Chinese GP
Last updated on: April 07, 2014 15:55 IST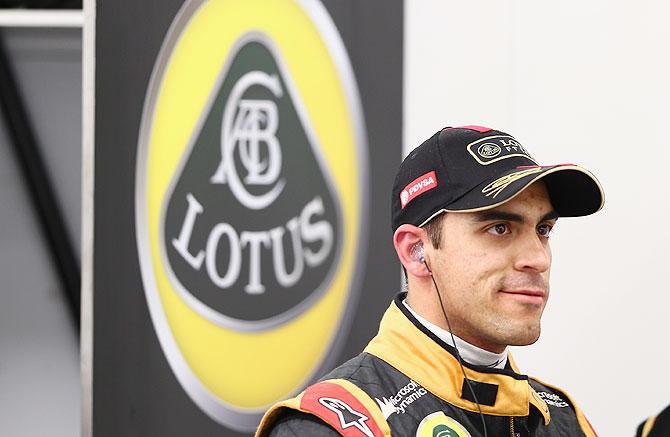 Pastor Maldonado will carry a five-place grid penalty into the Chinese Grand Prix after the Venezuelan speared his Lotus into the side of Esteban Gutierrez's Sauber in Sunday's floodlit race in Bahrain.
Gutierrez literally did not know what had hit him after the Mexican's car was flipped abruptly in the air by the impact at turn one before landing upside down on the roll bar and then righting itself.
"Wow, what was that?," he exclaimed over the car radio from the wreckage.
The incident brought out the Formula One safety car while Gutierrez appeared unhurt but was taken to the medical centre before further precautionary checks in hospital. The team later said he had been released and was fine.
Maldonado was handed a 10-second stop/go penalty during the race for causing the collision with stewards later also imposing a five-place grid drop for his next race and three penalty points.
Any driver who accrues 12 points in a 12-month period faces a race ban.
"We will need to have a look again at what happened as Esteban seemed to be off his line coming into turn one -- maybe he missed his braking point, I don't know," commented the Venezuelan.
"By then I was in the corner with nowhere to go. It's difficult to understand and I was coming out from the pits and with cold tyres. I think he was very unlucky and it's good he jumped straight out of the car."
Maldonado's Lotus team have yet to score any points in three races this season after finishing fourth overall last year. The Venezuelan ended up 14th in the race.
Source:
© Copyright 2021 Reuters Limited. All rights reserved. Republication or redistribution of Reuters content, including by framing or similar means, is expressly prohibited without the prior written consent of Reuters. Reuters shall not be liable for any errors or delays in the content, or for any actions taken in reliance thereon.