World Cup chit-chat: FIFA rejects Suarez appeal against ban for biting
Last updated on: July 10, 2014 20:51 IST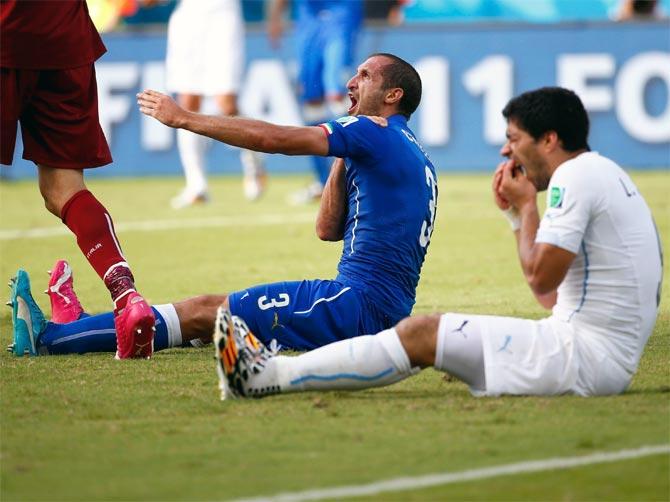 FIFA has rejected Luis Suarez's appeal against his lengthy ban for biting an opponent in a World Cup match.
Football's international governing body said on Thursday its appeals committee rejected the appeal by Suarez and the Uruguay football federation in its entirety.
Suarez can still appeal to the Court of Arbitration for Sport.
The Liverpool star was banned for nine competitive international matches, four months from all football and fined 100,000 Swiss francs (US $112,000) for biting the shoulder of Giorgio Chiellini during Uruguay's 1-0 win over Italy in a group-stage game in Brazil.
It is the third time Suarez has been banned for biting an opponent, after similar incidents at both Ajax in the Dutch league and Liverpool in the English Premier League.
The incident was missed by match officials, and FIFA's disciplinary committee studied video evidence before charging the Uruguay forward.
The ruling to uphold the sanctions was expected, as FIFA's appeals panel seldom changes disciplinary verdicts.
Suarez can now ask the CAS to freeze his sanctions during his appeal process.
If granted, Suarez would be allowed to train and play with his club until a final verdict is reached, likely in several months.
Suarez is reportedly negotiating a move from Liverpool to Barcelona. FIFA said his transfer could proceed despite the sanction from football activity.
NEXT: Neymar recovery going 'very well', Barca doctors say
- Complete coverage of the Football World Cup...
- Please click NEXT to read more...
Neymar recovery going 'very well', Barca doctors say
Last updated on: July 10, 2014 20:51 IST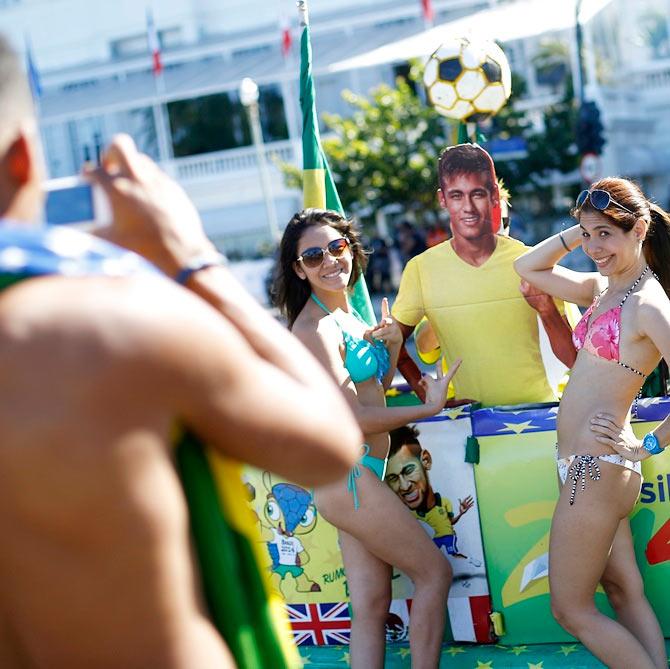 Neymar is recovering "very well" from the fractured vertebra that ended his World Cup, Barcelona said on Wednesday after medical staff from the La Liga club examined the Brazil forward at his home.
"The injury is progressing very well and from Aug. 5 the player will continue his treatment and the final stage of his recovery in Barcelona," Barca said on their website.
Club doctors had confirmed the diagnosis made by the Brazilian soccer federation (CBF) and had agreed the course of treatment with CBF medical staff, they added.
Neymar was injured in a challenge with Colombia defender Juan Zuniga in last week's World Cup quarter-final.
- Complete coverage of the football World Cup
NEXT: Van Gaal slams pointless 3rd-4th place play-off

Van Gaal slams pointless 3rd-4th place play-off
Last updated on: July 10, 2014 20:51 IST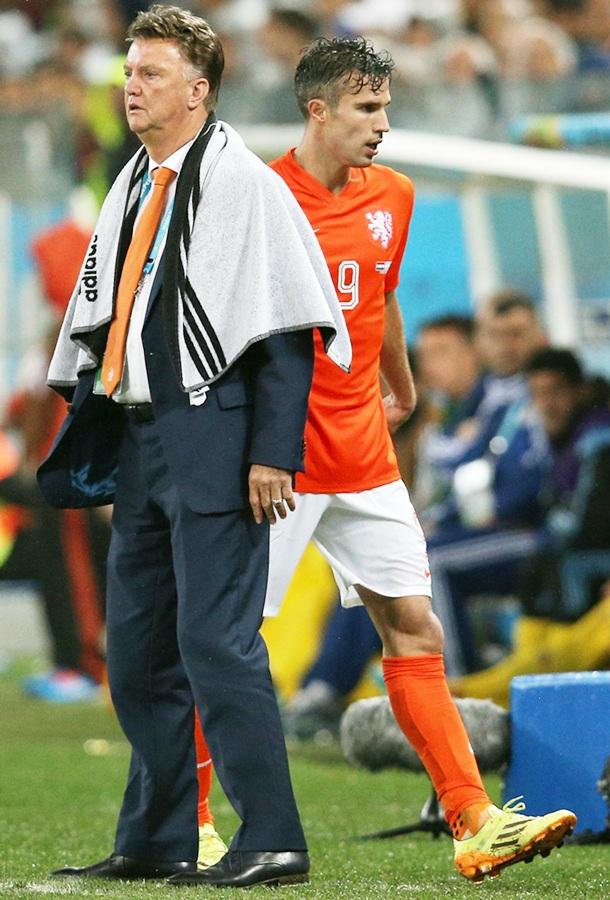 The Netherlands will face Brazil in Saturday's third-fourth place play-off but it is not a match the Dutch want to play, with coach Louis van Gaal saying it was a pointless exercise that "has nothing to do with sports."
- PHOTOS: Romero's heroics guide Argentina into World Cup final
"I think this match should never be played and I've been saying this for 10 years," Van Gaal said after his team were knocked out by Argentina on penalties.
"It is unfair we have one day less to recover than our opponent so that is not fair play either," he added.
"But the worst thing is I believe that chances are that you lose twice in a row. And a tournament in which you've played so marvelously well you would go home as a loser just because you could possibly have lost the last two matches and this has got nothing to do with sports in my view."
"So, in a football tournament particularly not at the last stage you shouldn't have players playing match for third-fourth place. Because there is only one award that counts and that is becoming world champion."
The Netherlands will face host nation Brazil, who were hammered 7-1 by Germany in the other semi on Tuesday. The match will take place in the capital Brasilia.
- Complete coverage of the football World Cup

NEXT: Colombia offers Zuniga security after insults over Neymar

Colombia offers Zuniga security after insults over Neymar
Last updated on: July 10, 2014 20:51 IST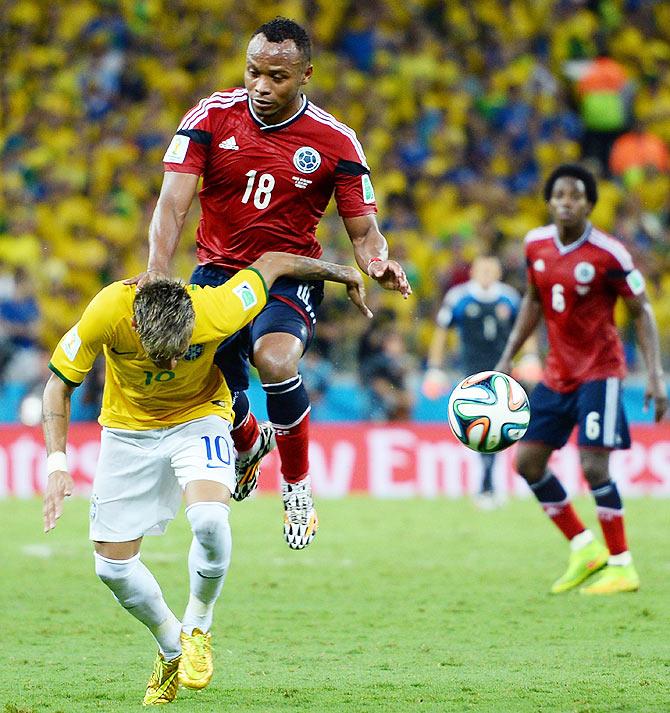 Colombia's football federation will provide security measures for defender Camilo Zuniga over threats he has received for a foul that ended Brazilian forward Neymar's World Cup, the ruling body said on Wednesday.
Zuniga's raised-knee challenge during a rough quarter-final when Brazil beat Colombia 2-1 left Neymar with a broken vertebra and out of the hosts' semi-final against Germany.
The 28-year-old right back, who plays his club football with Napoli, sent his best wishes for a speedy recovery to Neymar and said there was no ill intent in the clash.
But there was a vitriolic reaction in some quarters, especially from Brazil, where current and ex-players called the tackle "cowardly" and "evil."
Brazil fans have also taken to social media to berate him.
"The Colombian Football Federation rejects all threats and insults against the player Camilo Zuniga and his family," the national body said in a statement.
"It reiterates it will continue taking all actions with the appropriate security and government organs to give the necessary guarantees to the player, for both his time in Colombia and his permanent residency in Italy."
Zuniga is currently on holiday in Colombia after the team's wonderful World Cup run and is due to return to Italy in days.
Earlier this week, football's world governing body FIFA ruled that he would not be retrospectively punished for the clash, noting it could not reopen the case because the referee had dealt with it on the pitch.
Sympathisers say Zuniga's foul on Brazil's marquee player was clearly not intended because TV replays showed he had his eye on the ball, but critics say it was reckless to have gone in with a knee up regardless of that.
NEXT: Robben laments exit
- Complete coverage of the football World Cup
Robben laments 'grim' exit
Last updated on: July 10, 2014 20:51 IST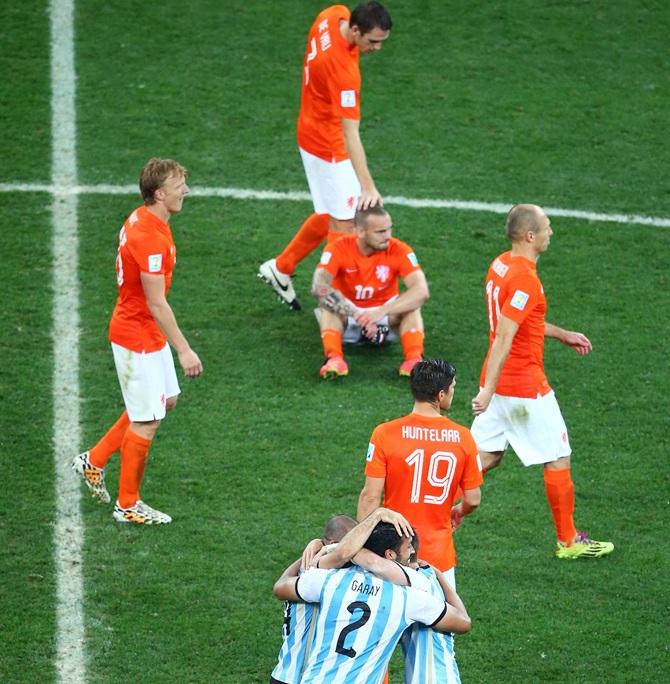 Dutch striker Arjen Robben rued his team's "grim" exit from the World Cup after being knocked out by Argentina in the semi-finals on Wednesday.
"It hurts but we gave it our all this evening and it's grim going out in this way," Robben told Dutch television after the game.
The Netherlands went out as they lost 4-2 on penalties after a goalless draw over 120 minutes in Sao Paulo.
"Unbelievable. It's tough, but that's what sport is about," said Dutch defender Ron Vlaar, who missed the first penalty. "I wasn't nervous, I concentrated. It had to go in and it didn't."
NEXT: Why FIFA suspended Nigeria
- Complete coverage of the football World Cup
FIFA suspend Nigeria over NFF sacking
Last updated on: July 10, 2014 20:51 IST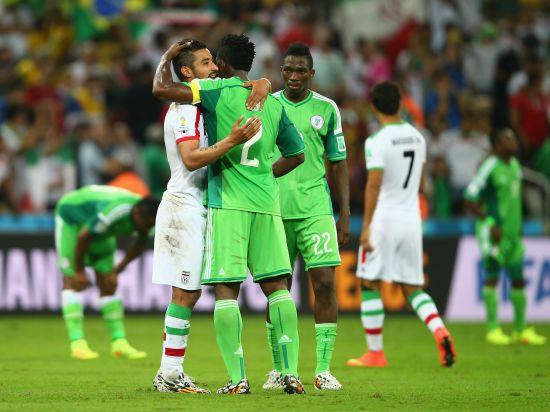 Off the field, FIFA suspended the Nigeria Football Federation (NFF) because of government interference.
A regional court in Nigeria last week ordered the sacking of the existing NFF executive after the team's performance at the World Cup, where they were eliminated by France in the second round.
The court appointed a new administrator to run the game in the populous west African nation but FIFA warned Nigeria they would be banned from competing internationally unless the old leadership was restored to power.
"The suspension will be lifted once the court actions have been withdrawn and the properly elected NFF Executive Committee, the NFF general assembly and the NFF administration are able to work without any interference in their affairs," FIFA said.
NEXT: South Korea coach Hong resigns after World Cup exit
- Complete coverage of the football World Cup
South Korea coach Hong resigns after World Cup exit
Last updated on: July 10, 2014 20:51 IST
South Korea coach Hong Myung-bo apologised to the nation and announced his resignation on Thursday to shoulder the blame for his team's early exit from the World Cup in Brazil.
The announcement came just a week after Huh Jung-moo, vice- president of the Korea Football Association (KFA), said it had rejected Hong's resignation and persuaded him to lead the national team ahead of next year's Asian Cup in Australia.
Huh also announced his resignation shortly after Hong had finished speaking at a press conference in central Seoul.
"From player to coach I have spent 24 years in the national team," Hong said at the media conference.
"I promised to give hope to the nation before I headed to the World Cup but I am offering my sincere apologies for giving nothing but disappointment as a result.
"I could have diverted blame from myself if I had announced my resignation at the airport, but I felt taking blame for our performance should also be my responsibility, so I made a late announcement.
"I have made many mistakes and errors. I was not mature enough, and I created many misunderstandings."
Hong's position came under scrutiny after South Korea, who reached the semi-finals in 2002 on home soil, finished bottom of Group H and earned just one point.
It was the first time the north east Asian team failed to record a win in the group stage since 1998.
Hong faced criticism from fans before the team even left for Brazil with the selection of his 23-man squad.
His decision to stick with misfiring striker Park Chu-young in Brazil then drew more criticism, while his failure to sort out the team's defensive woes led to an embarrassing 4-2 loss to Algeria that virtually eliminated them from the tournament.
"What kind of coach only picks his favourite players for the World Cup," Hong asked rhetorically. in explaining his selections.
"I realised one of the reasons I failed is because I did not go through the World Cup qualifying process.
"If I had, I could have known the strengths and weaknesses of each player but I didn't. So I only selected the players that I knew."