No rest for Nadal as Spain pick him for Davis Cup singles
September 13, 2013 09:32 IST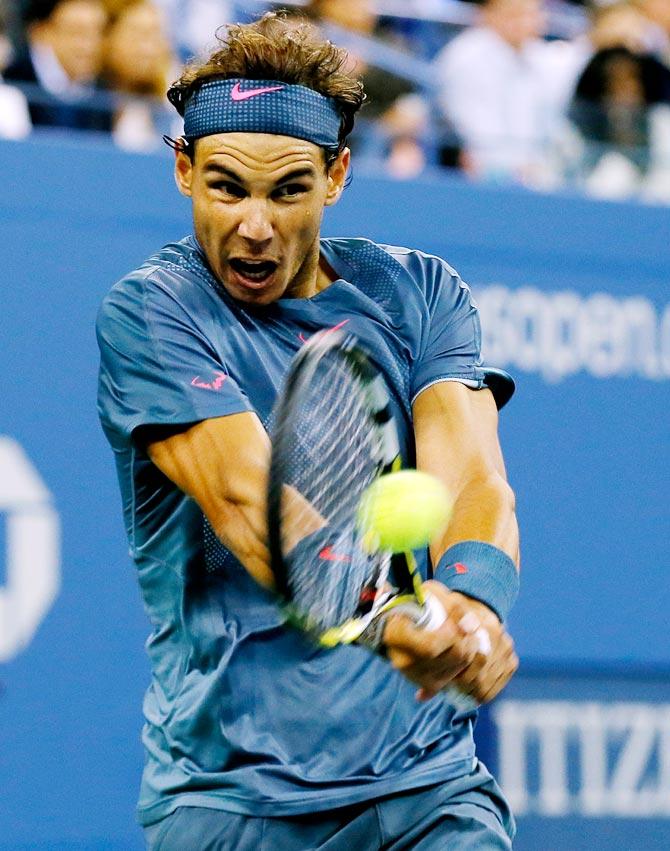 Rafael Nadal will play Sergiy Stakhovsky in Friday's second Davis Cup singles rubber after Spain announced their lineup for the World Group playoff at home to Ukraine on Thursday.
There had been doubt over world number two Nadal's participation in the three-day tie in Madrid after his recent exertions in New York where he beat top-ranked Novak Djokovic in Monday's US Open final.
Nadal arrived in the Spanish capital early on Wednesday and after training at the "Magic Box" venue the 27-year-old was named in the team for Thursday's draw by captain Alex Corretja.
"When I have been asked and have been free of injury I have always turned out to try to help the team win points and secure victories," Nadal told a news conference.
Draining effect?
September 13, 2013 09:32 IST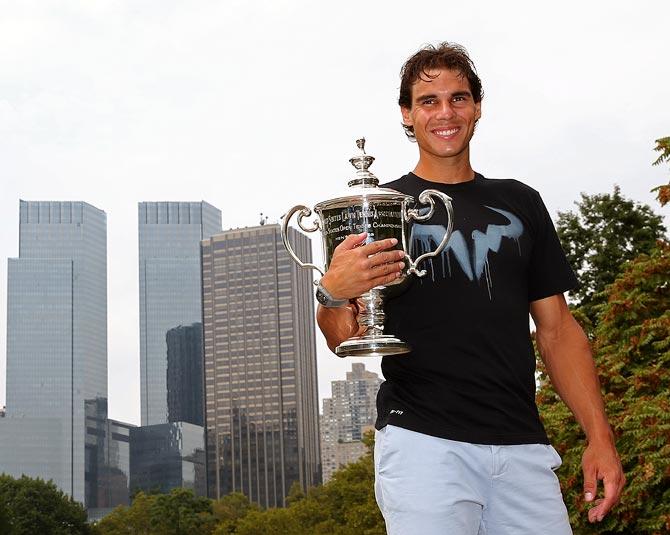 "I have been playing at the maximum intensity for practically a whole month and obviously that has a draining effect," he added.
"But I am ready for tomorrow and it's just going to require another little bit of effort. I hope to be competitive even though I have spent very few hours on the court."
Stakhovsky caused a huge upset at Wimbledon this year when he defeated seven-time champion Roger Federer in the second round but Nadal should have little trouble against the world number 92, especially as the tie is on his favoured clay.
Nadal has won 20 of his 21 Davis Cup singles matches, including a perfect 16 out of 16 on clay.
Spain No 2 Fernando Verdasco will play Ukraine No 1 Alexandr Dolgopolov in the opening singles, with the doubles to come on Saturday and the reverse singles on Sunday in the first meeting between the two nations.
Spain are in the playoffs after losing away to Milos Raonic's Canada in the first round in February when Nadal, who had just returned from a seven-month injury layoff, did not feature. They had last fallen in the first round in 2006 when a team also missing Nadal was beaten 4-1 by Belarus on indoor carpet in Minsk.
Djokovic fired up to recapture Davis Cup glory
September 13, 2013 09:32 IST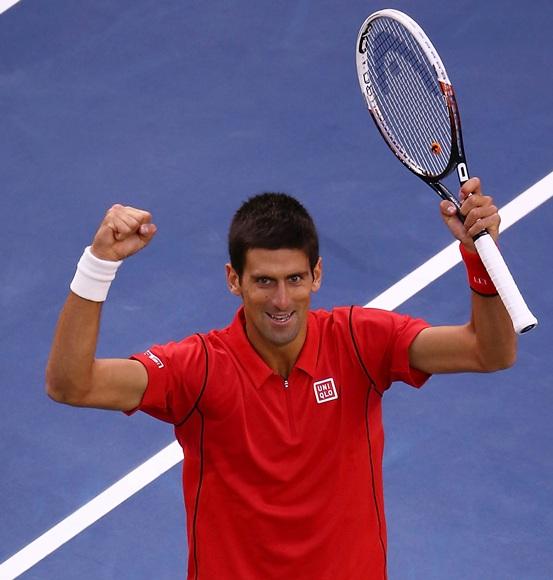 Winning the 2010 Davis Cup for Serbia proved the launch pad for Novak Djokovic to reach the top of the men's game and the 26-year-old hopes another epic run will have a similar effect.
Looking upbeat and raring to go just a few days after a crushing US Open defeat by Rafael Nadal, Djokovic was named to play singles on the opening day of the semi-final against Canada in the cavernous Belgrade Arena.
Any fatigue from his New York battles and the long-haul flight home will be soothed by the prospect of playing in front of the partisan home crowd, the world number one said.
"I am tired and jet-lagged but also as inspired and motivated as ever to play for my country," Djokovic told a news conference after Thursday's draw which pitted him against Vasek Pospisil in Friday's opening singles rubber.
'2010 triumph was a stepping stone for all of us in terms of our individual careers'
September 13, 2013 09:32 IST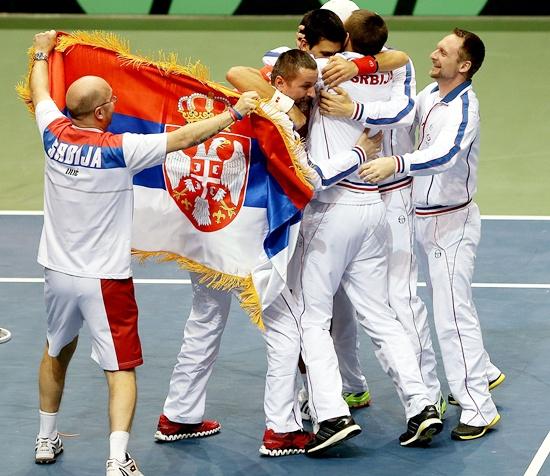 "It's not the first time I've had only two days to recuperate for a Davis Cup tie after the US Open and the fact that we will be playing at home for the first time in two years will galvanise us to perform.
"The 2010 triumph was a stepping stone for all of us in terms of our individual careers and that's why we are really looking forward to it."
Following their epic 3-2 win over France in the 2010 final, which produced a football-like atmosphere in a jam-packed arena, Serbia suffered their first loss at the venue in the 2011 semis.
An ailing Djokovic, who was nursing a ribcage injury, retired against Juan Martin del Potro in the reverse singles, handing Argentina an unassailable 3-1 lead as he collapsed to the ground in anguish.
'Our home fans can help us prevail'
September 13, 2013 09:32 IST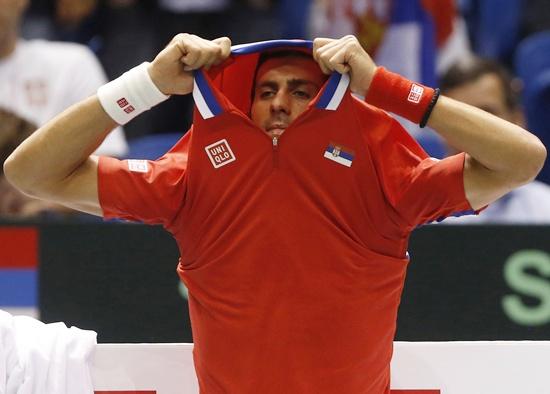 It was an anti-climax to his memorable US Open final win against Nadal that season, the most successful in the Serb's career as he also claimed the Australian Open and Wimbledon to go with a myriad of Masters Series titles.
"I am fit this time and I don't think adapting to red clay will be a problem because I've done it before," he said of the specially-prepared clay surface.
"Canada are a very strong team but our home fans can help us prevail in what promises to be a delicately balanced tie."
Janko Tipsarevic has returned to the Serbian squad after a 16-month absence and faces big-serving Milos Raonic in Friday's second singles rubber.
Nenad Zimonjic and Ilija Bozoljac play Belgrade-born Daniel Nestor and Vasek Pospisil in Saturday's doubles, while Djokovic locks horns with world No. 11 Raonic and Tipsarevic clashes with Pospisil in Sunday's reverse singles.
Nestor, Zimonjic's former doubles partner on the ATP Tour, said he expected no empathy from a raucous Belgrade crowd although he called his birthplace "a home away from home."
"Will they take it easy on me? Maybe they will early on but if Serbia find themselves on the receiving end they will do what they have to in order to help the home team win," he said.
Frank Dancevic, the other player in Canada's squad, also has Serbian roots and added: "I always felt very welcome here and it's great knowing the city and where to go to have a Serbian burger."
The winners of the tie will face either holders the Czech Republic or Argentina in the final.
Croatian 16-year-old ready to take on Murray
September 13, 2013 09:32 IST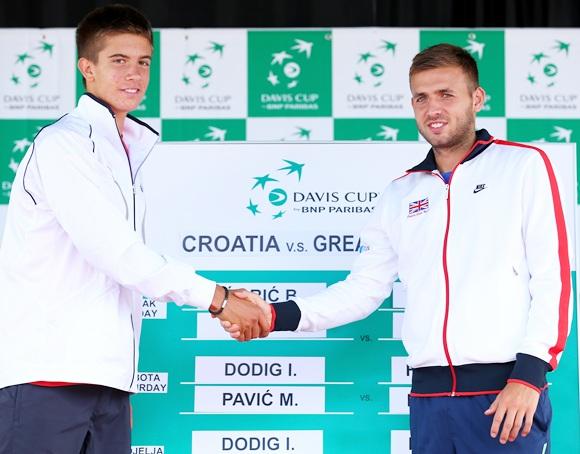 It will be a battle of US Open junior champions past and present when Andy Murray faces 16-year-old Borna Coric in Britain's opening singles rubber against Croatia in a World Group playoff tie on Friday.
Coric, who lifted the boys trophy at Flushing Meadows last week, will get a glimpse of what a launch pad winning the US Open junior title can be when he faces Wimbledon champion Murray in Umag.
On paper a match between world number three Murray, who captured the boys crown in New York in 2004, and a teenage tyro who has never played a best of five-set match looks like a mismatch but Coric is relishing the opportunity.
"I don't think I can win -- only if he injures himself," London-based Coric told the BBC about his debut match in the team event. "It's going to be tough.
"It's unbelievable to play for my country. When I was eight or nine we won the Davis Cup -- I was watching on the TV and hoping one day I'm going to play there."
Coric was brought into the Croatia squad because number one Marin Cilic and third-ranked Ivo Karlovic were unavailable.
The claycourt tie takes place from Friday to Sunday, with the winning country qualifying for the World Group.
In other World Group playoff ties Poland's hopes of joining the elite for the first time have been dealt a huge blow after Wimbledon semi-finalist Jerzy Janowicz was ruled out with a back injury for the home tie against Australia in Warsaw.