Bindra bids adieu to CWG with elusive individual gold medal
July 25, 2014 22:17 IST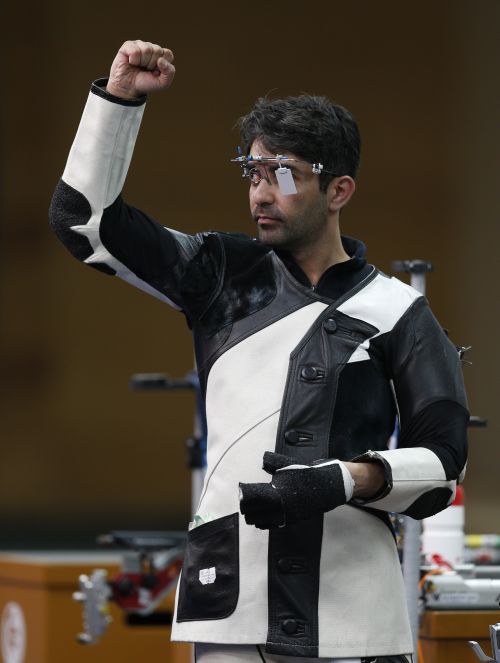 Abhinav Bindra made his swansong appearance at the Commonwealth Games a memorable one as the star Indian shooter won the battle of nerves in a gripping competition to bag the 10m Air Rifle gold medal, which has eluded him in the previous four attempts.
Bindra, who has already won nine medals including three gold in pairs events, was calmness personified as he did not put a foot wrong in the final round, having finishing third in the qualifications at the Barry Buddon Shooting Centre, Dundee.
Bindra, first Indian Olympic individual gold medallist, shot an aggregate of 205.3 to set a new Final Games Record. This is first CWG, which applied the ISSF rule of taking the final round score only and not adding the qualification score in shooting.
"This is my last Commonwealth Games. Five CWG and nine medals, it is enough for me," Bindra said while speaking to Indian journalists.
"It was a well-earned medal because I work hard and I am happy to have achieved the feat. I got the desired result."
- Please click NEXT to read more...
'I will relax a bit and then prepare for the World Cup'
July 25, 2014 22:17 IST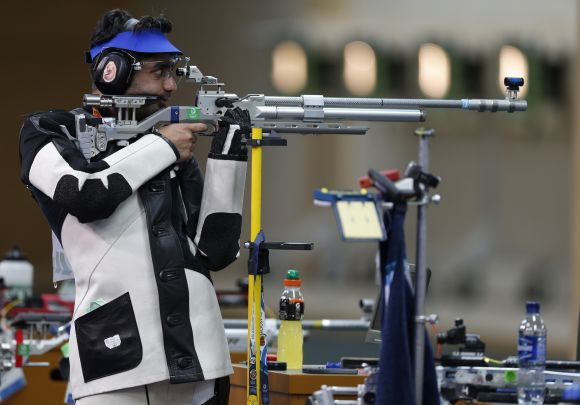 Asked if Rio 2016 would be his last Olympics, he said, "I will take one thing at a time. I will decide later."
He joked that after retirement he would take up journalism as career. "Journalism is an easy job, I may become a journalist after my shooting career."
Bindra said he would now focus to the World Championships to be held in a few months time.
"I will relax a bit and then prepare for the World Cup," said the 31-year-old Bindra who won India's first individual Olympic medal by winning the 10m Air Rifle event in 2008 Beijing Games.
- Please click NEXT to read more...
'Ravi is a talented shooter'
July 25, 2014 22:17 IST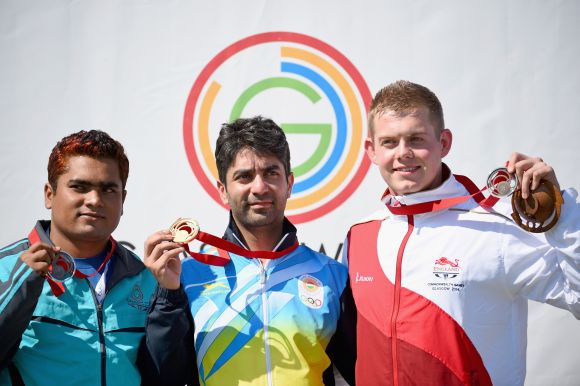 Abdullah Baki of Bangladesh finished second with a total score of 202.1 in a shootoff while Daniel Rivers of England bagged the bronze, also after a shoot-off with another Indian Ravi Kumar for an aggregate score of 162.4.
Bindra felt sorry for compatriot Ravi Kumar who missed out on a bronze in a shoot-off after leading the competition till the halfway.
"Ravi is a talented shooter. His future is bright and he will do well for the country. I have not spoken to him after the event but definitely I will speak to him and encourage him," said Bindra, who trailed the second series of the elimination stage behind Ravi.
Ravi dropped his head in disappointment after conceding lead to Bindra as he could only manage 9.4 to Rivers' 9.6 in the single shot shoot-off for the bronze.
Egged on by the strong Indian team contingent and a few others from among the crowd, who clapped inside the range every time he fired his shot, Bindra had just four below-10 scores out of 20 final round shots.
He jumped to the top spot after the third series of the elimination round and then opened up a gap of 2.5 points at the end of the penultimate round before running away with the title in style by beating Baki of Bangladesh by 3.2 points in the end.