Barcelona hit Real Madrid for six
May 3, 2009 16:47 IST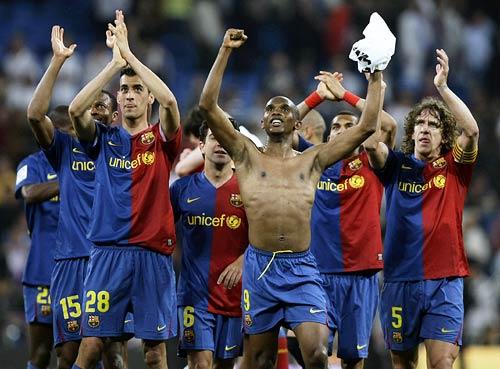 Barcelona players celebrate after beating Real Madrid 6-2 in their Spanish Primera Liga match at the Santiago Bernabeu stadium in Madrid, on Saturday night.
It was the first time in the 80-year history of "El Clasico" that Barca had knocked six past Real in Madrid and the stunning victory for Pep Guardiola's side on Saturday put them within touching distance of a first league title in three years.
Real Madrid's unbeaten run ends
May 3, 2009 16:47 IST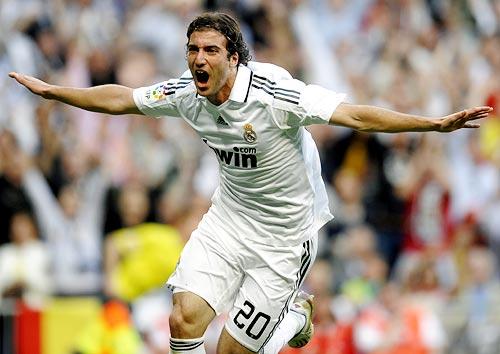 Gonzalo Higuain celebrates after scoring the opening goal for Real Madrid.
Sergio Ramos skipped past Eric Abidal on the right wing and sent over a perfect cross for Higuain to nod superbly past keeper Victor Valdes in the 14th minute.
The defeat ended Real's 18-match unbeaten league run, 17 wins and a draw, since they lost 2-0 at Barca in December. The Madrid club have won the league the last two years.
King Henry's special night
May 3, 2009 16:47 IST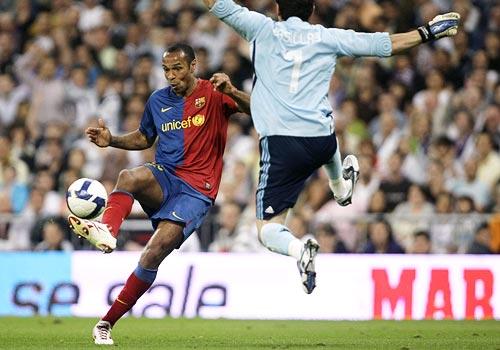 Barcelona striker Thierry Henry shoots to score past Real Madrid's goalkeeper Iker Casillas.
Real's lead lasted four minutes, Henry bursting clear on the left and finishing coolly before captain Carles Puyol headed in a Xavi freekick to make it 2-1.
Real Madrid lose title hopes
May 3, 2009 16:47 IST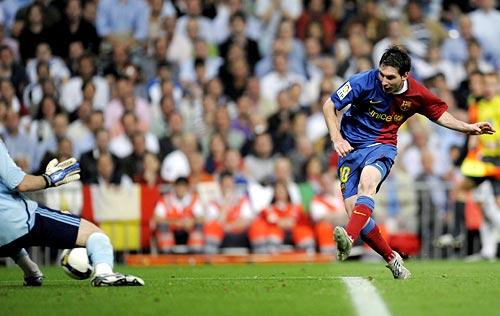 Lionel Messi scores the third goal for Barcelona.
Dangerman Messi and Samuel Eto'o went close to extending the lead as Barca dominated possession before Xavi robbed Lassana Diarra in midfield and Messi raced on to the loose ball to slot home after 36 minutes.
Real coach Juande Ramos said Barca deserved to win.
"We have lost a lot of the hope we had about winning the league," he said.
Barcelona hit century
May 3, 2009 16:47 IST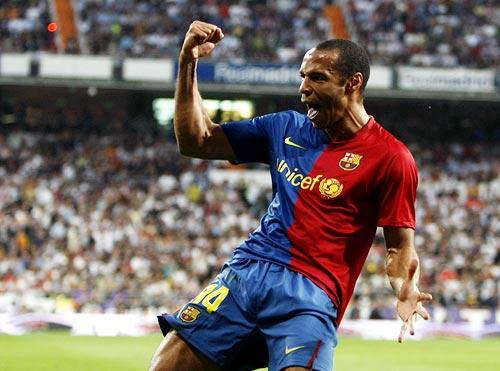 Henry is jubilant after scoring Barcelona's fourth goal.
Ramos headed in Arjen Robben's whipped free kick in the 56th to briefly give the home fans hope but Barca always looked like adding to their tally and Henry, Messi and Gerard Pique completed the rout.
Barca's victory evoked memories of a Johan Cruyff-inspired 5-0 win in February 1974 and took their goal tally for the season to 100 in 34 league matches, seven short of the record set by Real in 1989-90.
'It's a very sweet night'
May 3, 2009 16:47 IST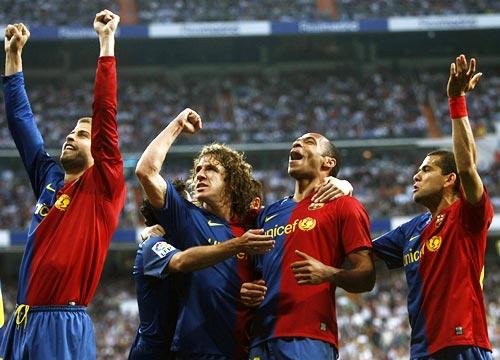 Barcelona's Pique, Puyol, Henry and Daniel Alves celebrate after winning the match.
With the Spanish league title all but secured, Barca are still in with a chance of adding the Champions League and the King's Cup to this season's trophy haul.
"We have taken a big step [to the title]," a beaming Barcelona coach Pep Guardiola said. "It's a very sweet night winning at this stadium and in front of these fans."