Azarenka survives as seeds tumble at U.S. Open
Last updated on: September 01, 2013 02:41 IST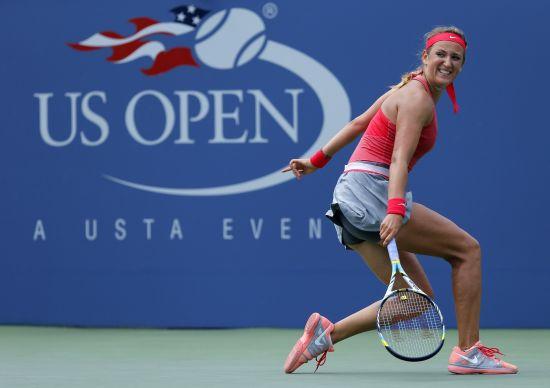 Victoria Azarenka dropped her first set of the tournament on Saturday but recovered to book her place in the last 16 at the U.S. Open after two former Grand Slam champions were sent packing.
A finalist last year and one of the favourites to win the title this season, a feisty Azarenka overcame a shaky start to beat Alize Cornet of France 6-7(2), 6-3, 6-2 after Petra Kvitova and Svetlana Kuznetsova crashed out.
Riske stuns Kvitova
Last updated on: September 01, 2013 02:41 IST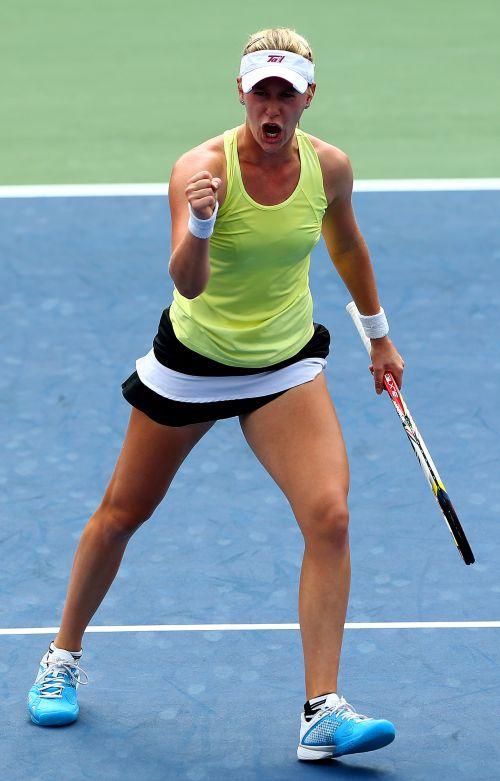 Kvitova, the 2011 Wimbledon champion and seventh seed at Flushing Meadows, fell 6-3, 6-0 to American wildcard Alison Riske in their third round match.
Then Kuznetsova, a former U.S. Open and French Open champion, was beaten 7-5, 6-1 by Italy's Flavia Pennetta as the upsets continued.
Russia's Maria Kirilenko, seeded 14th, was thrashed 6-0, 6-1 by in-form Romanian Simona Halep while former world number one Ana Ivanovic had to dig deep to avoid joining the growing casualty list.
Ivanovic survives McHale scare
Last updated on: September 01, 2013 02:41 IST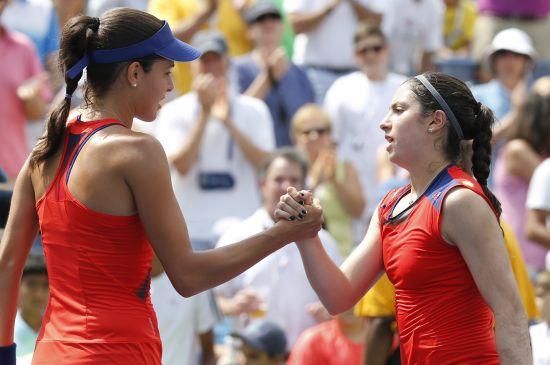 The Serbian was on the brink of defeat in her center court match against American Christina Mchale before recovering to win 4-6, 7-5, 6-4. She plays Azarenka next.
"I know what to expect," said Ivanovic. "I really want to play against the best and challenge myself, because I'm ready to take them on."
'I made too many mistakes'
Last updated on: September 01, 2013 02:41 IST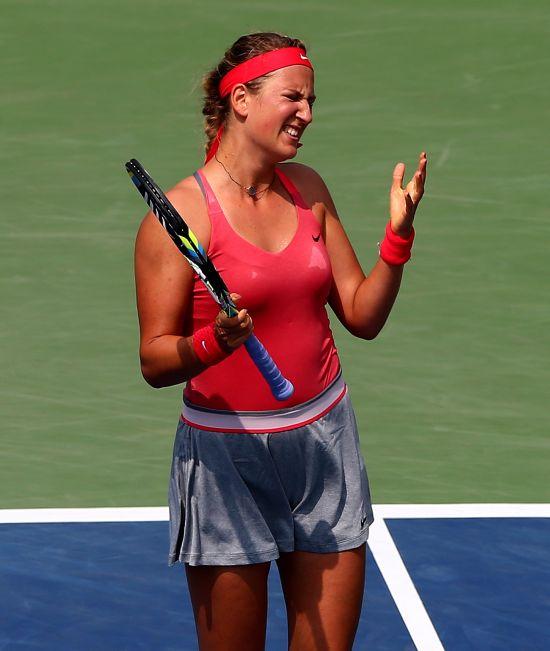 As the world number two and reigning Australian Open champion, Azarenka is expected to go deep into the tournament but the Belarussian was given a tough workout from Cornet.
"In the first set, Alize played really well and I made too many mistakes," Azarenka said. "I wasn't patient enough. I had a lot of chances and I didn't convert them."
The U.S. Open is the only Grand Slam where Kvitova has failed to at least make the quarter-finals and the Czech said she was unable to play near her best on Saturday after contracting a virus.
"Unfortunately I was lying in the bed yesterday and I had a fever," Kvitova said. "I tried to play, tried to fight. But my body wouldn't let me fight."
Riske to lock horns with Hantuchova
Last updated on: September 01, 2013 02:41 IST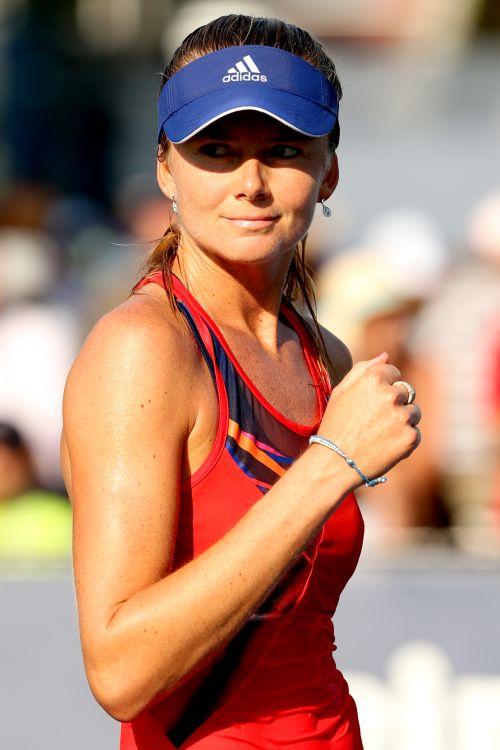 Drained of energy, Kvitova said she was unable to practice on Friday and went to a Manhattan doctor to find out what was wrong.
"I had a blood test to see if it was bacteria and virus and it was virus. I didn't have any sore throat or anything like that. I had just a very high fever."
Riske burst into tears after her win. The 23-year-old, who still travels with a security blanket that was given to her on the day she was born, has had a long road to her first fourth round appearance at a Grand Slam.
She first tried to qualify for the U.S. Open in 2007 and had never won a main draw match until this year. Now she is through to the last 16, and facing a showdown with Daniela Hantuchova, who saved four match points in her 3-6 7-5 7-6(4) win over Israeli qualifier Julia Glushko.
"The blankie story is out," Riske said. "I'm used to it now. I can't deny it now. It's getting smaller by the week. It can fit in the palm of my hand."
Ferrer through to last 16
Last updated on: September 01, 2013 02:41 IST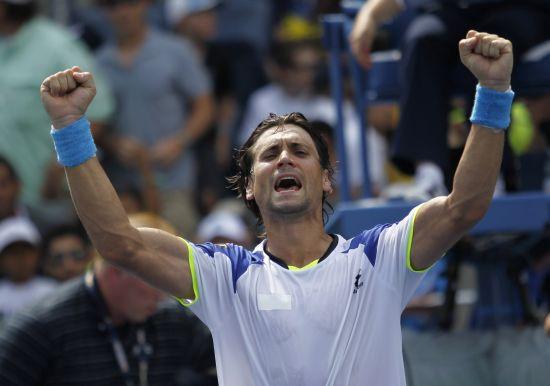 Spain's David Ferrer became the first man to reach the round of 16 at this year's U.S. Open when he defeated Kazakhstan qualifier Mikhail Kukushkin on Saturday.
Ferrer, seeded fourth after reaching the French Open final in June, dropped a set for the second match in a row but was otherwise untroubled in his 6-4, 6-3, 4-6, 6-4 victory.
Kukushkin matched his best performance at a grand slam by reaching the third round but contributed to his own downfall by committing 66 unforced errors, almost twice as many as Ferrer.
The Spaniard was a semi-finalist at the U.S. Open in 2007 and again last year. His next opponent will be either Janko Tipsarevic or Jack Sock.
Nadal roars into fourth round over Dodig
Last updated on: September 01, 2013 02:41 IST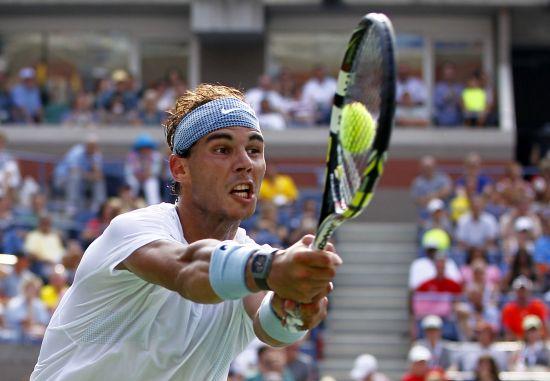 Second-seeded Rafa Nadal extended his 2013 hard court record to 18-0 with a 6-4, 6-3, 6-3 battering of Ivan Dodig of Croatia on Saturday that sent the Spaniard into the fourth round of the U.S. Open.
Nadal, the undisputed King of Clay after winning his eighth French Open earlier this year on the red clay of Roland Garros, continued to show his hard court prowess as he ran the dogged Dodig relentlessly on Arthur Ashe Stadium.
The 2010 U.S. Open winner smacked 37 winners in the two-hour eight-minute victory, nearly double the number registered by Dodig, and showed his versatility by winning 14-of-17 forays to the net set up by his ferocious groundstrokes.
Nadal will play either 13th-seeded American John Isner or Philipp Kohlschreiber of Germany for a berth in the quarter-finals.