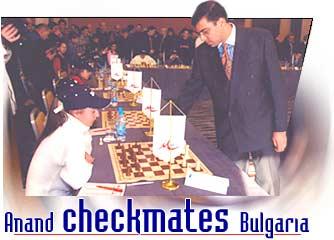 Indian Grandmaster and World 2 Viswanathan Anand started 2004 with a convincing victory at the Corus chess tournament at Wijk Aan Zee, The Netherlands. It was followed by a high profile visit to Bulgaria to promote chess.
Anand's first visit to Bulgaria, to play an exhibition match against Vassily Topalov and promote chess, turned out to be a much-publicised affair in the country, with the Bulgarian newspaper Trud running a curtain-raiser on the visit. The chess wizard also appeared on the famous Bulagarian television show, The Slavi Show. He is the first Indian to do so. Famous names who have participated in the show previously include the likes of former Soviet President Mikhail Gorbachev, German football legend Franz Beckenbauer and Hollywood star Jean-Claude Van Damme.
In an exclusive e-mail interview, Anand shares his Bulgarian experiences with Contributing Special Correspondent Shobha Warrier.
How did your visit to Bulgaria happen?
Mobiltel, the sponsors, wanted to organise a made for television chess spectacle. I was approached by Vassily Topalov's second Silvio who was keen to know if I would be interested to participate. So the visit was primarily to promote chess through various events and media initiatives.
You played with a lot of young boys and girls there. Whenever you come to India you play with youngsters. Can you compare the mindset of the youngsters in India and Bulgaria? Who do you think is better in analysis?
Bulgaria has a very strong chess history. Some children played exceptionally well. There was a boy who was the last to give up. He has played in international events and clearly has a lot of talent. These children are already club level players. They play very confidently and they know a lot of chess theory.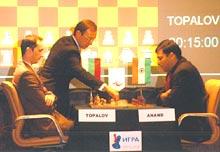 In India, the children who actually play chess are very well-prepared. I recently played a simul [simultaneous event] in Kolkatta. The children played really well. Some of them play Inter-school tournaments. So their understanding of theory and the basics is very good.
I think, everywhere, children are very similar. They lack neither ambition nor confidence. Even when they are pitted against the chess luminaries they give it their best shot. The actual chess players will usually play the longest. Their play will always be good; usually, only towards the end they miss a move or a combination.
You promote chess by playing with youngsters. Is it to understand young minds? How much do you enjoy the experience?
It is always a pleasure to play children. In a way it takes you back to your childhood. They seem so sure of themselves and at the same time they have traces of innocence.
In chess, the Pro-Am bit is excellent. Amateurs can compete with and against the world's best in specific events. Simultaneous exhibitions give children a chance to play their chess idols. It is a souvenir you treasure for life. Also, it gives them an opportunity to prepare their choice moves and try to last as long as possible. Some even prepare very sharp lines, hoping that the Grandmaster may blunder whilst playing so many people.
I thoroughly enjoy playing simultaneous exhibitions.
You were the first Indian to appear on The Slavi Show. How was the experience? Did you enjoy it? In which language did you speak on the show?
| | |
| --- | --- |
| | Also Read |
| | |
The Slavi Show is one of the biggest shows on Bulgarian television. I was quite pleased to be the first Indian on the show. I spoke in English and I had a translator. The host made some jokes about chess.

I was once invited to appear on the Jay Leno show; unfortunately, it was during a match in 1995 and had to turn it down. So, Slavi basically kept joking that his friend Jay was very upset that I had turned him down but agreed to appear on The Slavi Show. They asked me a few questions about India. They made a few jokes on Bulgarian politics as if they were all chess pieces.

I had to play Slavi on the show and I think I mated him in the first three moves.

It was quite similar to the Leno show, but I was the only guest for that episode. Actually, I love the Jay Leno Show. During tournaments it is perfect way to wind the day up.

You were to appear on the show in Indian attire. What did you choose to wear?

The organisers mentioned that I would be the first Indian on the show. Moreover, the President of India had visited Bulgaria recently. The deputy prime minister [with additional charge as minister for telecommunications and transport] of Bulgaria, Mr Nikolay Vassilev, who is an avid chess fan, was very curious about our country. So I thought it would be nice to appear on the show in Indian attire.

Most foreigners think only Indian ladies wear exotic costumes, so this was a nice surprise. I wore a churidar kurta.

Any particular reason why you chose a Tanjavur painting as a gift for the show?

We usually gift Indian artefacts or gift articles made by Vidyasagar [an NGO working for spastic children]. The Tanjore painting looks rich and colourful. It is not very common abroad. So I thought it would be a nice touch.

You had a major press conference there. Were there interesting questions?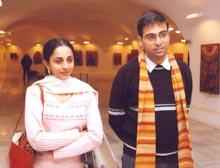 The press reception was quite incredible. We got a reception at the airport very similar to what you get sometimes in India. All World champions from [former World champion Alexander] Alekhine downwards have visited Bulgaria. I think I am the 13th World champion to have visited Bulgaria.
The questions were mainly on my performances in recent years. There were questions about the match with Vesselin and my impressions of Bulgaria, especially Sofia.
Your match against Topalov was telecast live on Bulgaria's prime television channel. Had you seen such a reception and interest in chess anywhere else?
Most East European countries have an intrinsic chess culture. The audience for the match was truly spectacular. They had an invited audience of nearly 500 people. The game was telecast on prime time television. The deputy prime minister was also present. It was quite special.
Why do you call yourself a global citizen? Does that mean you have no roots?
Since I travel for a good part of the year, I have my foot in many countries. Primarily, you are an Indian in a foreign country. When you experience new cultures, it is nice to learn about them. It influences your way of living at a very subliminal level. Every country has a heritage that they are proud of. When you go from a country like India with such a rich heritage it gives you a certain sense of pride to share your culture with others and learn a bit about other ones. Many cultures seem so different, yet at times they are so strikingly similar.
When we met last month, you talked about your love for travel. You were visiting Bulgaria for the first time. What kind of memories have you brought back with you?
We did do some sight-seeing. We visited the St Alexander Nevsky Cathedral and the Museum of National History. The museum had very interesting exhibits from the Byzantine era. It also traces the multifarious influences of the Roman, Greek and Ottomans in the Balkans.
Finally, like you heard, do the Bulgarians shake their heads like the Indians?
They do. I read about it in a travelogue on Bulgaria. They are not as expressive as the Indian headshake. I think they are the only other country to shake their heads like us. The headshake always kindles the curiosity of the foreigners. Many chess players tell me that when I speak to Aruna [Anand's wife] I do the Indian headshake and when I speak to them, I become normal again.
Image: Imran Sheikh