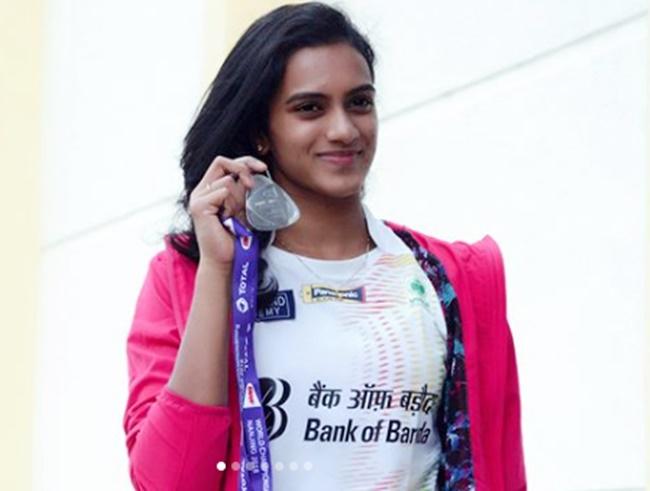 PV Sindhu shared her happiness on winning second consecutive silver at the BWF World Championships.
Talking about her performance at the World Championship, Sindhu said: "I am really very happy for the silver. It's been a good week. As you all know the draw was comparatively tough. From the first round, there were good tough matches. It's good that from my side, I gave my 100 per cent."
"Definitely, I will have to try more harder and harder until I get that gold. I hope, one day, I will get that."
Sindhu lost the World Championship final to Spain's Carolina Marin last week, her third major final defeat.
She slammed her critics by saying that her silver sparkles. She added that she didn't lose the gold but won the silver medal.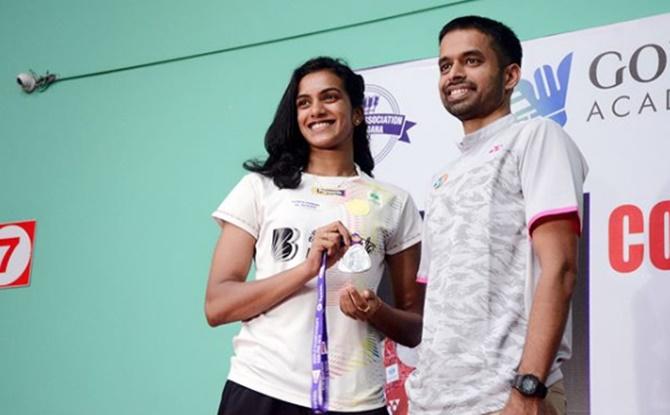 The star shuttler shared her winning pictures on Instagram with the caption, "Never give up, never give in, and when the upper hand is ours, may we have the ability to handle the win with the dignity that we absorbed the loss" – dough Williams. It brings me immense amount of pleasure to bring back the silver consecutively 2nd year in the BWF world championships. I didn't lose the gold, I won the silver and I can proudly say my silver sparkles."
"It was indeed a wonderfull week in Nanjing, inspite of losing in the finals I had some great matches. I have been really happy about my consistent performance over the rankings. I believe that patience and persistence make unbeatable combination for success, hence have complete faith that my gold shall come soon!! It's amazing how I have received so much love and support from people all around the world, and that keeps me going!"
She further said, "And finally I want to thank my amazing team, who have stood by me like a pillar throughout the tournament and also thanks to all my sponsors whose been supporting me and a special thanks to my Physio who has always been waiting to treat me and take care of me when ever I want to and always being there for me. And finally thanks to all my coaches who helped me in and out and also been so kind always."
Earlier, tennis player Rohan Bopanna and the legendary Prakash Padukone came to her support and praised the Indian shuttler for her persistence.
Bopanna on Monday tweeted, "Badminton World Championships: PV Sindhu loses to Carolina Marin in final settles for silver again' How about instead of this headline it be: 'yet another consistent performance by Sindhu at the World Championships which shows her peaking at big events.'"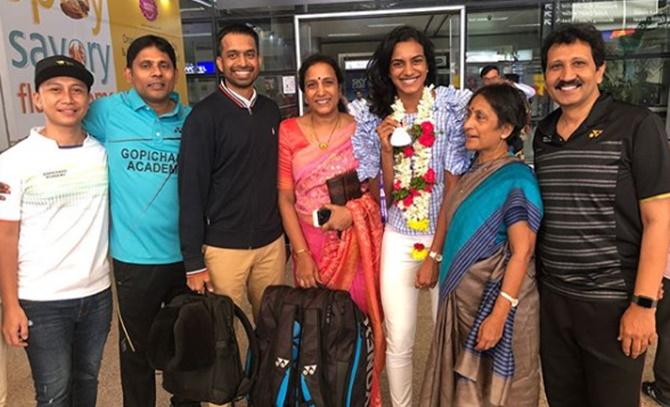 He added, "While covering news, keep in mind the sentiment of a sports person who themselves are far from ecstatic to lose in the finals. If anything it already is more frustrating to lose to further be discredited."
Padukone insisted that P V Sindhu doesn't have any mental block in major finals and urged the media to not put the star shuttler under pressure by focussing on her defeats.
"It is quite creditable that she reached the final again. The competition is very tough. She should aim for the gold next time. She beat two Japanese players (Okuhara and Yamaguchi) against whom she normally loses. Unfortunate that she could not do the same in the final," said Padukone.
"We should not put too much pressure on her when she is doing well. She is world number three. The focus should be on how we can make her win rather than why she is losing the final again and again. If we keep doing that, she would only feel more pressure," he added.