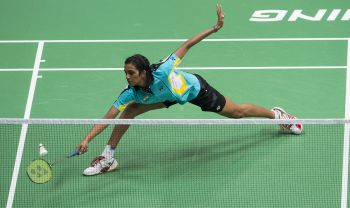 In a bid to keep herself fit for the packed international schedule this year, Indian shuttler P V Sindhu will not be defending her women's singles title at the $120,000 Malaysia Grand Prix Gold badminton tournament to be held at Johor Bahru from March 25-30.
"Sindhu is playing back-to-back tournaments, the All England Championship and Swiss Open. She has to maintain her strength, and consecutive tournaments can be physically and mentally draining. So, she will have to skip Malaysia GP gold," Sindhu's father P V Ramana said.
"She will next play in India Super series in New Delhi and then Singapore Open," he informed.
The $250,000 India Open Super Series will be played from April 1-6 and USD 300,000 Singapore Open Super Series will take place from April 8-13.
World No. 9 shuttler had won her maiden Grand Prix title last year when Malaysia Open was held in Kuala Lumpur in May, followed by the Macau Open Grand Prix Gold title in December.
"It is a hectic year and there are many important tournament like Commonwealth Games and Asian Games lined up. So maintaining fitness and peaking at right time is very important.
"So she has to make time for training. As long as she can maintain her ranking she can afford to skip a few tournaments. Gopi (national coach Pullela Gopichand) will decide her schedule with time," said her father.
The World Championship bronze medallist had crashed out in the first round of the All England Championship recently and when her father was asked about Sindhu's disappointing debut there, Ramana said, "She had a tough match against the Chinese girl. She was leading briefly but then there were a few errors. Hope she can do well in Swiss Open.
"She is taking one match at a time. The first two rounds are favourable but then she will have Shixian Wang in the quarters and the Chinese is in very good form. So let's hope for the best."
The 18-year-old Hyderabadi is presently playing at the Swiss Open Grand Prix Gold in Basel, where she is seeded seventh.
Image: PV Sindhu
Photograph: Victor Fraile/Getty Images