Simanta Roy looks beyond Sim Bhullar's 7'5" tall, 360-pound frame to the first player of Indian descent to play in the high-profile NBA.
FIRST PUBLISHED IN INDIA ABROAD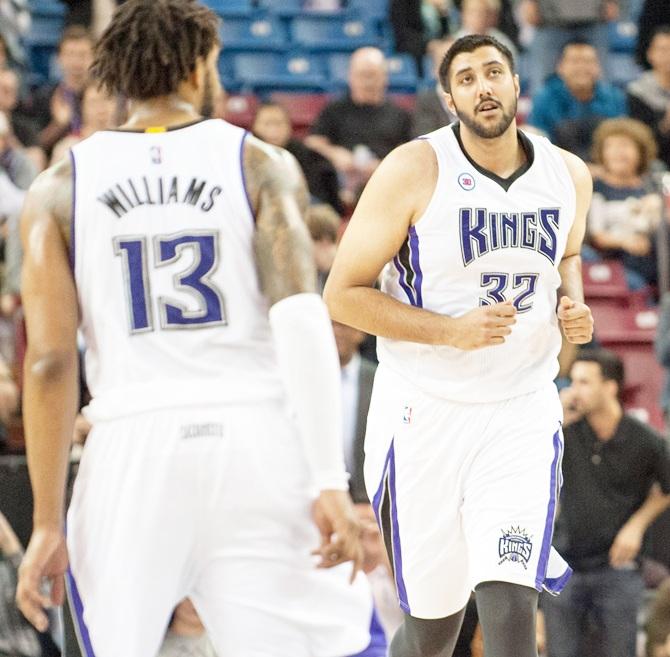 Sacramento Kings centre Sim Bhullar, right, runs up the court against the Minnesota Timberwolves in his debut match on Wednesday. Photograph: Ed Szczepanski-USA TODAY Sports/Reuters
Gursimran 'Sim' Bhullar is a man of superlatives. Standing at 7'5", touting a wing span of 7'11", and carrying a 360-pound frame, he likely has the biggest presence of any Indian person you've heard of recently.
But Bhullar is more than the sum of his physique. When the Sacramento Kings signed him August 14, the 21 year old became the first athlete of Indian descent to secure an NBA contract.
And this is a big deal, because it's giving the Indian Diaspora massive representation in South Asia's fastest-growing sport, previously dominated by players of non-Indian ethnicities.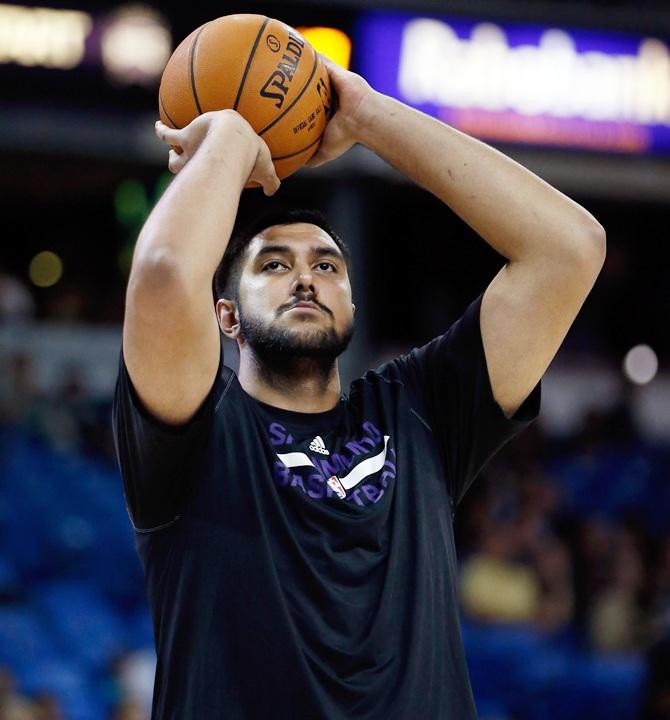 Sim Bhullar of Sacramento Kings warms up before the game against New Orleans Pelicans at Sleep Train Arena. Photograph: Ezra Shaw/Getty Images
Bhullar is aware of the implications of this accomplishment. Having an ambassador in the NBA "makes it a lot easier for people to relate," he admits. "If you have one person who does it, people can follow in their footsteps."
Keep in mind that these are size 22 footsteps.
Bhullar joined the Sacramento Kings training camp to compete for a spot behind Kings star center DeMarcus Cousins. His current goals are to get into better cardio shape and fine-tune his conditioning, so that he can ultimately become a regular in the NBA. For now, he hopes to refine his skills and maximize his strengths.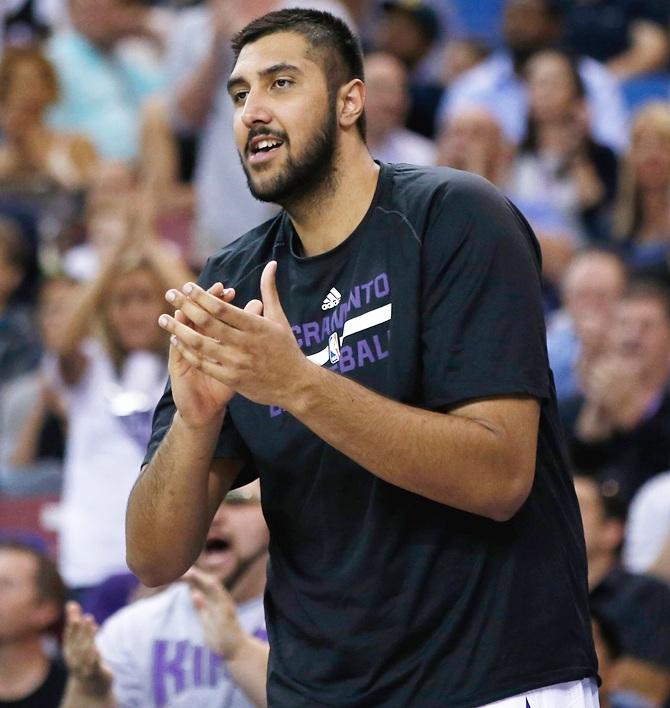 Sim Bhullar of the Sacramento Kings cheers on. Photograph: Ezra Shaw/Getty Images
As fitting as Bhullar's frame might seem to the sport, he wasn't always a basketball player. Born and brought up in Ontario, Canada, Bhullar first began playing basketball after school through various youth programs. In the sixth grade, he was already 6'3".
His mother, Varinder, and father, Avtar, were accustomed to big presences and athleticism: They each stand at 5'11" and 6'5", respectively, and Avtar grew up playing kabbadi. However, unsurprisingly, they had no exposure to the sport of basketball prior to their migration from Punjab to Ontario in 1988.
Avtar originally wanted his son to play cricket, but he soon realized that Bhullar's stature was not well suited for the cricket field, where the average height is around 5'11".
All that said, Bhullar stresses that his parents have been completely supportive of his basketball career so far and are a source of inspiration to him. They own and run a gas station in Toronto, where they have adorned the store's walls with news clippings of his athletic accomplishments.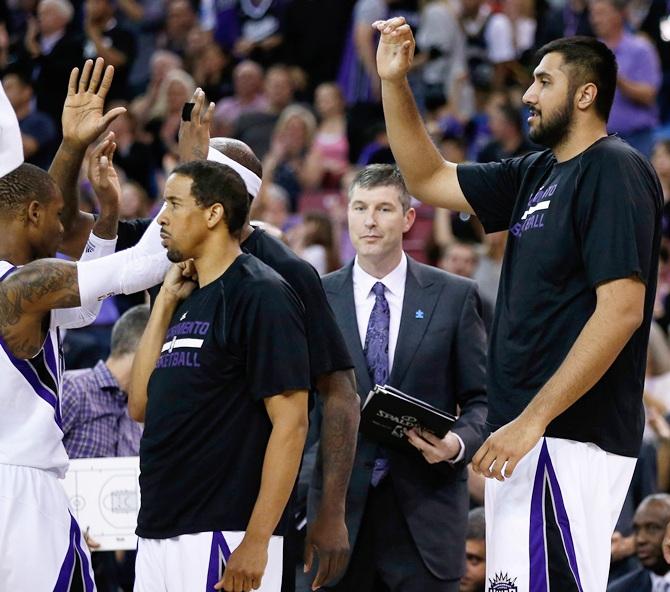 Sim Bhullar with team mates. Photograph: Ezra Shaw/Getty Images
In order to foster Bhullar's talent and passion as a ballplayer, the family moved to the United States when Bhullar was 17. There, he played on preparatory school teams at the Kiski School in Pennsylvania and then later at the Huntington Prep School in West Virginia.
The road to the NBA, though, wasn't a straight shot. In 2011, Bhullar, then 19, originally committed verbally to playing on Xavier University's college team as a Musketeer. However, because he couldn't afford to attend the school on full tuition, he ultimately spent two seasons with the New Mexico State Aggies. There, he had a thriving collegiate career as a two-time Western Athletic Conference Tournament MVP. One season, he even set a school record for most blocked shots (85).
He was a big part of the reason the Aggies made it to the NCAA tournament in both the 2013 and 2014 seasons.
Though he didn't get signed this past June in the 2014 NBA Draft, he joined the Las Vegas NBA Summer League as part of the Sacramento Kings, where his team won the tournament about a month later.
It was soon after this that Bhullar's NBA deal solidified, and he announced his signing with the Kings via Twitter this past August.
From left, Sacramento Kings co-owner Raj Bhathal, US representative Ami Bera, Karan Bains, Sim Bhullar, and owner Vivek Ranadive. Photograph: Kyle Terada-USA TODAY Sports/Reuters
He's not the only one who is excited about what this means for the future of the league.
"While Sim is the first player of Indian descent to sign with an NBA franchise, he represents one of many that will emerge from that region as the game continues to garner more attention and generate ever-increasing passion among a new generation of Indian fans," Kings majority-owner Vivek Ranadivé has said.
So what's it like for a rookie to be surrounded by Kings superstars like Cousins and Ray McCallum? Bhullar notes reticently that his teammates are "definitely cool," though that's not to say he can't carry his own standing next to them.
Bhullar's presence is by no means average on the basketball court: The tallest active NBA player, Hasheem Thabeet of the Oklahoma City Thunder, stands at 7'3". Bhullar's height — almost a foot taller than the average NBA athlete — makes him an asset to the Kings. His frame makes him a difficult person to defend and cover for the opposing team, and his offensive rebounding skills are notably competitive.
All that said, there are things that are down-to-earth about Bhullar. He loves hip hop music, volleyball, and video games. He is close to his family: One younger brother, Tanveer, 19, is also a promising prospect currently playing for New Mexico State and has been mistaken as Sim's twin at some points in life; and one older sister, Avneet, is a lawyer who, many years ago, drove the brothers to basketball practice.
What advice does Bhullar give to those who have similar dreams?
"Just keep working hard," Bhullar says. "You can accomplish anything you set your mind to."
And now, thanks to Bhullar and the Kings, young desis both at home and abroad have one more sizeable reason to follow basketball — and somebody new to look up to.