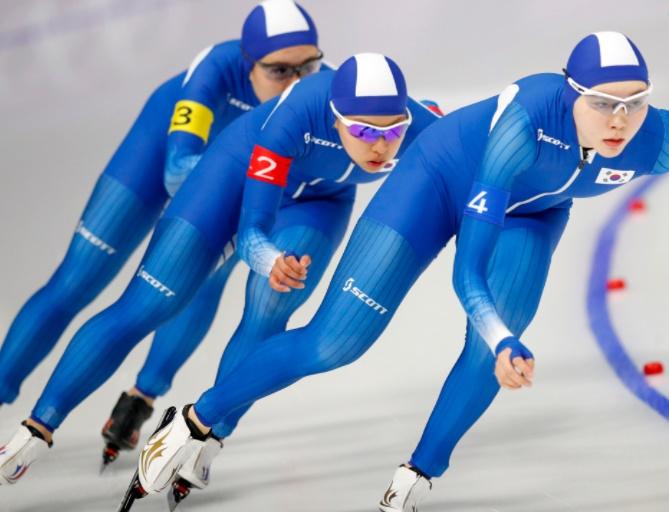 IMAGE: Kim Bo-Reum, Ji Woo Park and Seon-Yeong Noh of South Korea compete. Photograph: Phil Noble/Reuters
Two South Korean speed skaters are facing growing calls for them to be banned from the national team after they appeared to blame a team mate for their failure to reach the semi-finals of the women's team pursuit at the Pyeongchang Winter Olympics.
Kim Bo-reum and Park Ji-woo crossed the line almost four seconds ahead of the third Korean skater, Noh Seon-yeong, in the quarter-finals on Monday.
In the pursuit, the clock only stops when the final skater has crossed the line and teams typically finish with all three skaters bunched together.
Television clips showed Noh in tears on the bench after the race while Kim and Park appeared to ignore her and walk away with only their Dutch coach, Bob de Jong, offering Noh comfort.
Noh had been hoping to win gold to honour her late brother, former short track world champion Jing-kyu, who died of bone cancer in 2016.
While Kim and Park were being interviewed after the race, Noh walked out of the arena and declined to answer questions.
"Team pursuit results are decided when the last skater reaches the finish line, and that's the part where we didn't do well," Kim said in the interview.
Park said in the interview that she "didn't know Noh was left behind because it was too loud".
As of Wednesday afternoon, more than 500,000 people had signed a petition lodged with the presidential Blue House, calling for Kim and Park to be ousted from the national team.
If a demand receives over 200,000 signatures within 30 days, the Blue House must address the issue. It has yet to give an answer.
"A sportsman who isn't a team player doesn't deserve to be part of the national team", one petitioner wrote.
"It's truly a shame to see the athletes bully one another, and they represent the Republic of Korea", another said.
Public anger has yet to subside despite Kim apologising for her remarks at a tearful news conference on Tuesday. At the same news conference, coach Baek Cheol-gi said it was Noh's choice to skate third on the final lap.
However, Noh said in an interview with local broadcaster SBS that she had never volunteered to be the third skater and had prepared to be in the middle.
"(The three of us) practiced in different places and didn't really have a chance to see each other, let alone talk about the race", she said according to interview footage.
The issue is the latest setback for the Korea Skating Union (KSU), which has been plagued by allegations of favouritism and physical abuse over the years.
It also came under fire ahead of the Pyeongchang Olympics after Noh almost lost her spot due to an "administrative error".
The KSU later apologised for the error.
The South Korean team are scheduled to race in the seventh-place match later on Wednesday.
Vonn gone? Don't bank on it just yet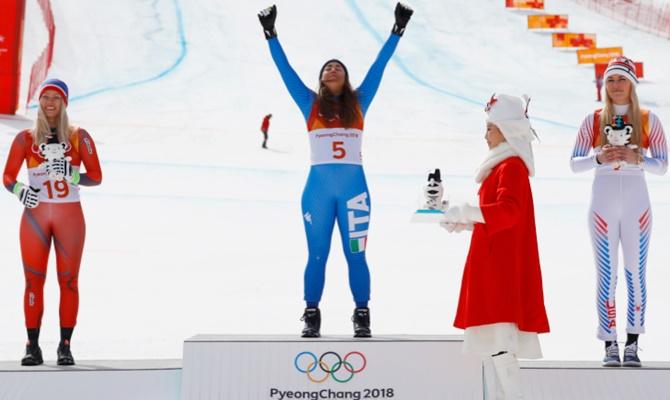 IMAGE: Gold medallist Sofia Goggia of Italy celebrates her victory as she is flanked by silver medallist Ragnhild Mowinckel of Norway and bronze medallist Lindsey Vonn of the US during the flower ceremony. Photograph: Leonhard Foeger/Reuters
Lindsey Vonn's bronze medal run in Wednesday's downhill was billed as her final bid for Olympic gold in the sport's marquee event but those who know her best say they wouldn't rule out a fifth attempt in Beijing in 2022.
"Never say last with Lindsey," her sister Laura Kildow said when asked by Reuters whether the skier would have been happy with bronze in her last race.
Her other sister Karin Kildow quickly jumped in: "Never say never," before adding her preferred choice of language: "Most likely last".
Vonn herself has pointedly referred to Pyeongchang as "probably" her last Olympics and she used the same language after her race at the Joengseon Alpine Centre, where Italian Sofia Goggia won gold.
"It has been an emotional day all round because it's probably my last Olympic downhill race but I'm on the podium so I'm very happy," she said.
A source with knowledge of Vonn's thinking said that her use of such language was no accident.
The reluctance to talk of a definitive end to her Olympic career reflected her understanding that even though she would be 37 when Beijing comes around, there is no need to rule herself out at this stage.
And Vonn has been clear that the only obstacle to her extending her career is the state of her knees.
On the eve of her downhill run, she said: "I love what I do. I have so much fun going fast and pushing myself to the limit on downhill skis there is nothing else I would rather do.
"So if I could physically continue skiing then I absolutely will. But at this point, it takes a lot to make my knee good enough to ski downhill, it has to be pretty solid to push yourself at these speeds and be able to trust it.
"I am just counting on some medical miracles to extend my career," she added.
So Vonn certainly isn't hanging up her skis just yet and she has plenty of plans, starting with a run in Thursday's Alpine combined.
The Minnesota-born skier has been clear that her next goal after Pyeongchang is to beat Swede Ingemar Stenmark's record of 86 race wins on the World Cup circuit.
Vonn currently has 81 World Cup triumphs and to get the six more she needs to become the most successful skier of all-time could well take her more than a single season. She won four races in 2018.
She also has expressed a strong desire to race in a men's event -- probably at Lake Louise at the start of next season -- which would rule her out of the women's event she has won 18 times and extend the process of reaching Stenmark's record.
That could take her, perhaps, two seasons and it is then, in 2020 that she is likely to make a definitive decision on Beijing.
If she is still capable of winning and her knees are holding up, would Vonn really turn down the chance of one final push at the Games she loves so much?
"I bet she'll be there," said team mate Breezy Johnson. "She won't necessarily be competing but she'll still be there."