Shreyasi Singh of Bihar on Friday won the gold medal in the women's trap event as Beijing Olympic gold medallist Abhinav Bindra slipped a place to second in the men's 10-m air rifle competition at the 56th Shooting National Championship in New Delhi.
- What is the incentive to be a sportsman in India?: Rajyavardhan Rathore
Shreyasi clinched the top prize with a score of 65 + 14. The silver medal was won by Seema Tomar of Army and the bronze went to Ria Rajeshwari Kumari of Punjab. Their scores were 58 + 14 and 54 + 18 respectively.
On the second day of the 10-metre qualification, Chain Singh of Army shot 594/600 to take the top place. As a result Bindra, who was tied for the first position on Thursday with PT Raghunath with a score of 591/600, was pushed to second spot. The final of this event will be conducted on Saturday.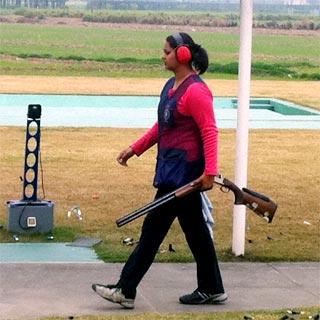 On the second day of men's trap event, Zorawar Singh was tied with Olympian Manavjit Singh Sandhu with 95/100.
Mansher Singh, who was leading on Thursday, dropped to the third position and was tied with Birendeep Singh with a score of 94/100. The finals of this event will also be conducted on Saturday.
In the junior sports pistol event, Shivraj Sase of Maharashtra won the gold medal after shooting 572/600.
The silver and bronze medals were won by Loktongbam of Army (566) and Ajitesh Kaushal of ONGC (565), respectively.