'Physically, tactically, emotionally, three out of five separates the great players from the good players'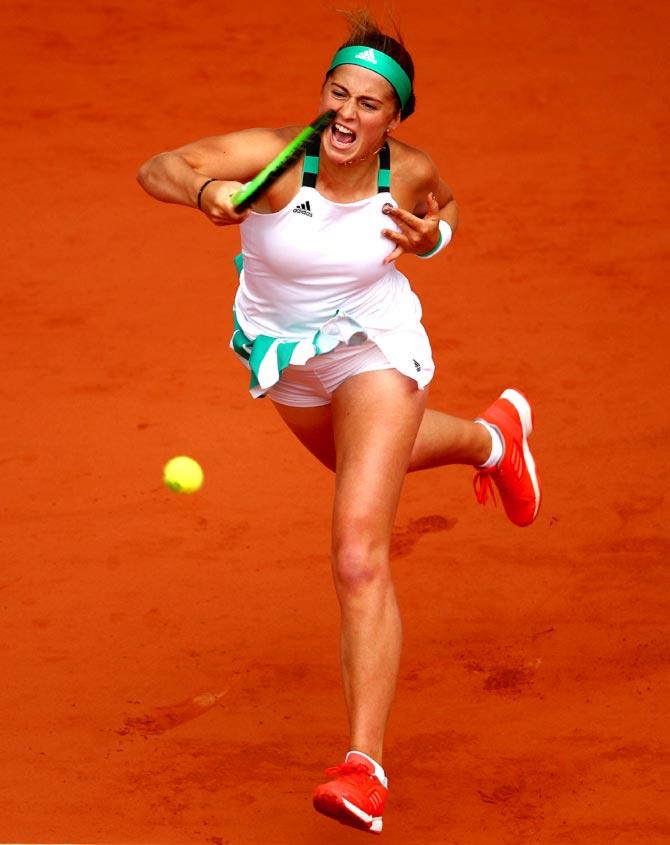 IMAGE: Jelena Ostapenko reached the semi-final of the French Open in only her second main draw appearance in Paris. Photograph: Clive Brunskill/Getty Images
The wild unpredictability of women's tennis could be tamed by making matches best-of-five sets at grand slam tournaments, three-time French Open champion Mats Wilander said on Tuesday.
With 22-times grand slam champion Serena Williams out of the equation, you could have stuck a pin in the women's draw to pick a winner at Roland Garros this year, such is the lack of a consistently reliable leading bunch.
None of this year's eight quarter-finalists were grand slam champions and 19-year-old Jelena Ostapenko on Tuesday reached the semi-finals in only her second main draw appearance in Paris.
She will face 30th seed Timea Bacsinszky in the semis while the other half at least still includes second seed Karolina Pliskova and third seed Simona Halep.
Seven of the eight top men's seeds reached the quarters compared to three in the women's.
While the open-nature of the women's tournament has created interest, Wilander says longer matches would create a situation more similar to the men's with regular grand slam match-ups between the world's top players.
"You would get the cream to the top more of the time," Wilander told Reuters.
"They are physically strong enough to play five sets and I guess it's just more about is the demand there from the TV and the crowds?
"Physically, tactically, emotionally, three out of five separates the great players from the good players.
"Maybe they should do a survey with fans and sponsors and TV viewers to ask if they go to three out of five in slams.
"I think the three out of five format makes a massive difference for the better players to have the chance to be down a set and a break and not panic and come back. I think (three out of five) is definitely something to put out there."