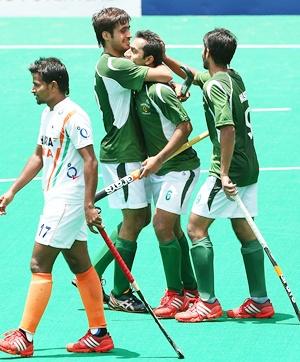 The Pakistan Hockey Federation said it has resumed talks with the Indian hockey authorities to have a bilateral series as soon as possible.
PHF President, Akhtar Rasool told a media briefing in Lahore that he was keen to have a bilateral series with India in both countries not only to improve the financial health of Pakistan hockey but also to revive interest in the sport in the country.
"The inconsistent performance of our team since last year has hit the popularity of hockey in the country and we need a series to lift its sagging image among the people," Rasool said.
He said it was difficult to get sponsorship and people to the stadiums for hockey unless people followed the sport like they used to do in the past.
"That is why we are keen to revive bilateral ties with India and we have initiated talks with them," he said.
The former Pakistan captain said that the PHF was keen to first have the Indian team play in Pakistan.
"We will then willingly go to India. We know there will be questions and debate about the security but we firmly believe that if the Indian hockey federation is on board with us this series can be made possible very soon."
Rasool said Pakistan hockey was facing a financial crisis for which he had asked the government to help with a special grant of 650 million rupees.
"We are also trying very hard after involving the government to ensure our team can play in the Commonwealth Games and Asian Games this year," he said.
A rift between two parallel national Olympic bodies has led to the refusal by organizers to include the Pakistan team in the hockey event of the Commonwealth games and Asian games.
Photograph: Paul Kane/Getty Images