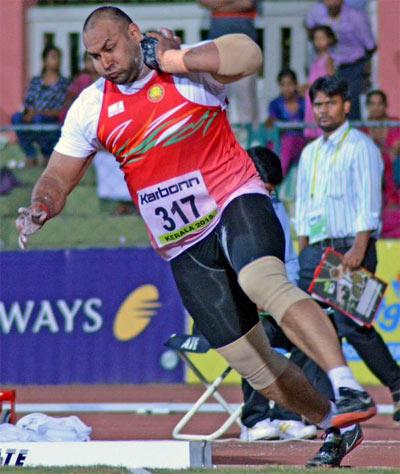 World University Games silver medallist shot putter Inderjeet Singh achieved the qualification mark for the Rio Olympic Games in 2016 with a throw of 20.65m on the second day of the 19th Federation Cup at Mangala Stadium, in Mangalore, on Saturday.

Defending champion Inderjeet from Harayana was just a shade away from the national mark of 20.69m, held by Om Prakash Singh since 2012.

The Olympic qualification period commenced only on Friday and is 20.50m for the men's shot put. Punjab's Tejinder Singh (18.08m) pushed Om Prakash (18.02m) to third spot.

Army man Devender Singh become the first athlete to create a new meet mark as he set out the spear to 79.65 metres to win the javelin throw event.

Haryana's Neeraj Chopra (73.96m) and Delhi lad Rohit Kumar (72.72m) were the other medallists. The first two came under the qualifying grade for the Asian meet.

National record-holder Rajinder Singh (Haryana), who won the National Games gold with 82.23m, finished a disappointing fourth with a paltry 71.67m.

Former Youth Olympic Games silver medallist Durgesh Kumar Pal clinched the gold in men's 400m hurdles clocking a personal best 50.29 secs which helped him seal a berth in the Wuhan-bound team for the Asian Championships.

His Army team mate M Ramachandran, in second place, also made it with yet another career best time of 50.35s. The bronze in this event went to Tamil Nadu youngster A Dharun in 51.14 secs.

It was indeed a tremendous improvement in Personal Bests for both the athletes as their previous bests stood at 50.61 and 50.87 secs respectively. Last year's winner Jithin Paul, representing Gujarat, failed to defend his title this time and finished outside the podium in 51.47s.

Capitalising on the absence of Ashwini Akkunji, Kerala girl Anu Raghavan took the women's title in the 400m hurdles. In addition to the gold, she also attained the qualifying norm for the Asians with a time of 59.13 secs that was third best in her career and second in the current season.

Karnataka's M Arpitha (60.79s) bagged the silver while Tamil Nadu got another bronze medal through M Loganayaki (62.99s).

Army got another gold medal through Jinson Johnson as he came from behind to win the men's 800m in 1:47.58, yet another PB for him. Manjeet Singh (Tata Motors, 1:48.14) and K A Bharath of Karnataka (1:50.80 PB) garnered the other two medals, while local lad Vishwambar Kolekar who led the field with 50 secs first lap could manage only a fourth place at the end in 1:51.84.

Tintu Luka ran a solo race to win the women's 800m event. Tintu, went through the bell at 58 secs, managed to clock 2:04.14 to ensure her place for the national squad but failed to materialize her ambition of making the Rio Olympics standard that stands at 2:01.00.

As expected, National Games champion Abhishek N Shetty (Karnataka) won the decathlon with 6630 points. V V Raneesh (Gujarat, 6391 pts) and R Suren of Indian Bank (6264 pts) finished second and third respectively.

Odisha athletes Amiya Kumar Mallick and Srabani Nanda were the fastest man and woman of the meet by winning the 100 metres gold in 10.56 and 11.59 secs respectively.

In the men's race Mallick, who underwent a training stint under Olympian Usain Bolt's coach Glenn Mills at Jamaica, pipped defending champion Jyoti Shankar Debnath at the tape while both the athletes clocked an identical 10.56s but the former was declared as a winner in photo-finish.

Krishna Kumar Rane of Maharashtra went home with the bronze in 10.58 secs.

Interestingly Srabani Nanda, the silver medalist in Fed Cup in the last four editions, got off from the blocks first and made it a memorable evening as she equalled her legal best time of 11.59 secs to secure the gold and also qualify for the Asians.

Ironically her state-mate Dutee Chand, a pre-race favourite to win the top spot, could manage only 11.86 secs and hence settled with a silver slightly ahead of Karnataka's M G Padmini (11.89s).

Long jumper Ankit Sharma, who used to represent Madhya Pradesh in the last three editions of the Fed Cup but changed colour to Haryana this year, went on to win his fourth straight title with a 7.99m leap. While winning his gold medal at the National Games earlier this year Ankit leapt a personal best 8.04m.

Interestingly national record-holder Kumaravel Premkumar, currently in a training stint at United States, also leaped to 8.04m in recent week and also delivered two identical 8.01m jumpts to win a silver medal in the 21st Adidas Steve Scott Invitational meet at Irvine on Friday.

Earlier, in the morning former national record-holder L Deepmala Devi, representing Karnataka here, had won the women's 20 km race walk with a time 1 hour 44 minutes and 29 secs, the slowest winning time in four years.
Image: Inderjeet Singh.
Photograph courtesy: National Games Kerala 2015/Twitter