Summary of sports events and persons who made news on Friday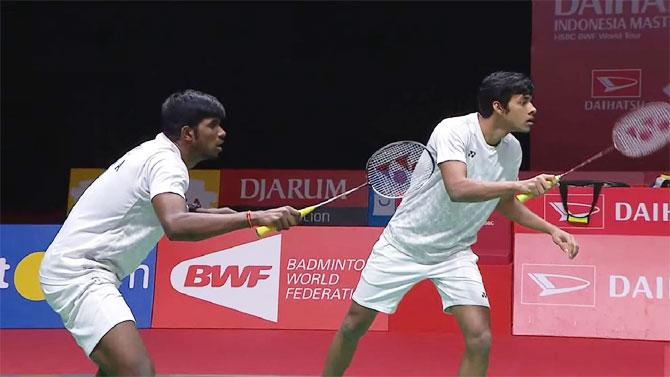 India's Satwiksairaj Rankireddy and Chirag Shetty qualified for the men's doubles semifinals but B Sai Praneeth crashed out of the men's singles event at the Thailand Open.
While Rankireddy and Shetty registered a hard-fought win over qualifiers Choi Solgyu and Seo Seung Jae of Korea, Sai Praneeth suffered a straight game defeat against seventh seed Kenta Tsuneyama of Japan.
After posing some challenge in the first game, Sai Praneeth, who reached the semifinals of last week's Japan Open, surrendered 18-21, 12-21 in the men's singles quarterfinals.
With Sai Praneeth's exit, Indian challenge has ended in the men's singles event.
However, the unseeded Indian combination of Rankireddy and Shetty fought valiantly for exactly an hour to get past the Korean rivals 21-17, 17-21, 21-19 in a quarterfinal duel.
The win was Rankireddy and Shetty's maiden victory over the Korean pair.
The 16th-ranked Indians will take on another Korean combo of Ko Sung Hyun and Shin Baek Cheol in the semifinals on Saturday.
However, it was curtains for Rankireddy in the quarterfinals of mixed doubles event as he and Ashwini Ponnappa lost in straight games to bow out of the tournament.
Rankireddy and Ponnappa were no match for third seeds Yuta Watanabe and Arisa Higashino of Japan, losing 13-21, 15-21 in a lopsided encounter that lasted just 28 minutes.
Boxing: Neeraj stuns world champ Mesiano to enter Umakhanov final
Reigning India Open gold medallist Neeraj stunned 2016 World Champion Alessia Mesiano to enter the final of the Magomed Salam Umakhanov Memorial International Boxing Tournament in Kaspiysk, Russia on Friday.
Neeraj, a bronze medallist at the Strandja Memorial, eked out a narrow 3-2 win over Mesiano in the 57kg category to assure himself at least a silver medal.
It was a neck-and-neck fight between the two boxers but a series of clear punches from the Indian in the final round sealed the tie in his favour.
Earlier, Commonwealth Games gold medallist Gaurav Solanki and 2019 India Open silver medallist Govind Sahani assured two more medals for India by entering the semi-finals on Thursday.
Gaurav, a bronze medallist at this year's India Open, defeated Russia's Maksim Chernyshev 3-2 in a split verdict to enter the last-four round of 56kg category.
Gaurav initially played patiently against his Russian opponent before increasing the tempo with a flurry of punches to secure the win.
Later, Govind, a silver medallist at the GeeBee Boxing earlier this year, out-punched Tajikistan's Shermukhammad Rustamov in the 49kg category to earn the first RSC win of the tournament.
Govind dominated the proceedings from the word go and showed great display of his attacking prowess. He continued the onslaught throughout the match, forcing the referee to stop the contest in the third round.
However, it was curtains for Ashish Insha in the quarter-finals of the 52kg division, losing 1-4 to Russia's Islamitdin Alisoltanov.
The match was in the balance till the last round before Ashish conceded a few clear punches in the dying minutes of the tie to suffer the defeat.
The 2018 India Open gold medallist, Sanjeet had to forego his bout against Russian counterpart Daniel Lutai after suffering a cut on his forehead in the first round of the match.
India are assured of six medals as four women and two men have reached the semi-finals.
Wrestling: Sonam grabs gold, Komal in final at Cadet World Championship
India's Sonam Malik dished out a dominating performance and conceded just three points on her way to a second successive gold medal at the World Cadet Championship while Komal assured herself at least a silver in Sofia, Bulgaria.
Hailing from Madina in Haryana's Sonipat district, Sonam trounced China's Binbin Xiang 7-1 in 65kg final, adding to the gold she won last year.
Sonam, coached by Ajmer Malik at Gohana, began with a 9-1 win over Tunisia's Khadija Jlassi and followed it up with wins over Lillian Alene Freitas (7-1) and Ekaterina Glukhareva (4-0) en route the final.
In the 40kg final, Komal will fight American Sterling Blayke.
Hanny Kumari is in contention for a bronze in 46kg and is up against Mexico's Adriana Berenis Hernandez Sanchez while Bhagyashree Fand will clash with Sweden's Eva Olivia Linnea Forsberg in 61kg bronze medal bout.
Madhuri Patel, though, lost her bronze medal clash 0-8 to Aida Kerymova from Ukraine.
In the men's free style, gold eluded the Indian team but as many as four bronze medals were grabbed by the young grapplers.
Udit defeated Azerbaijan's Javid Javadon 11-2 in the 48kg bronze bout while Aman got the better of Turkey's Muhammet Karavus in 10-6 in 55kg.
Manish Goswamy bagged bronze in the 65kg category with a 5-2 win over Azerbaijan's Kudratbek Nurullaev, while Anirudh Kumar defeated Salar Saeid Habibiehsani 8-1 in 110kg.
Sunil lost his bronze medal clash in the 51kg while Monu Dahiya suffered a same-stage defeat in the 92kg.
Others could not reach medal round.
In the Greco Roman style, Rupin (48kg semi) and Pravin Pandurang Patil (55kg) reached the semi-finals.
Indian men's 20km race walk team win upgraded bronze
Seven years after missing out on a podium place at the IAAF World Race Walking Cup in Russia, India was, on Friday, handed a bronze medal upgrade following disqualification of a member of the second-placed Ukrainian team for dope violation.
The Indian team of K T Infra, Babubhai Panucha and Surinder Singh had finished fourth in the men's 20km team event behind China, Ukraine and Australia in May 2012 at Saransk.
But Ukrainian race walker Ruslan Dmytrenko was disqualified after seven years on the basis of his biological passport analysis, and that led to the Indian team's result being upgraded to bronze.
The performances of three best finishers in the 20km individual event was counted to decide the team rankings and India collected 68 points to finish fourth originally.
After the annulment of Dmytrenko's result, India and Ukraine were tied on points. But India had a higher position finish of the last (third) walker (29th as against 51st of Ukraine) to break the tie and got the bronze.
Dmytrenko had won a bronze in the individual event and he will be stripped off that medal as well.
"Men's 20km Race Walking Team is elevated to Bronze Medal position after 7 years at IAAF Race Walking World Cup held at Saransk #Russia in 2012," the Athletics Federation of India tweeted.
Adarsh Singh wins double gold
Young Adarsh Singh outclassed his rivals in the Sardar Sajjan Singh Sethi Memorial Masters shooting competition, winning the gold medal in both the men and junior 25m rapid fire pistol event in New Delhi on Friday.
The 17-year-old Adarsh shot 584 to top the qualification rounds, his score way above the second-ranked shooter in both the competitions.
The Haryana boy then won the men's final 27-26, overcoming a poor start -- when he had one out of five hits -- to edge out Army marksman Gurmeet in a tense finish as both shot identical 3s to end the duel.
Punjab's Anhad Jawanda bagged the bronze with a score of 22 in the six-man final.
In the junior event, Adarsh easily overcame Chandigarh's Vijayveer Sidhu 30-27 to claim a double on the concluding day of the tournament.
Haryana's Ayush Sangwan won bronze with a score of 21.
Japanese Koga's doping ban reduced to two years
Japanese Junya Koga's four-year suspension for an anti-doping rule violation has been reduced to two years after it was found that his supplements may have been contaminated, the Court Of Arbitration for Sport (CAS) said on Friday.
Koga, a gold medallist in the world championships in 2009 (100 metres backstroke) and 2016 (50 metres backstroke), tested positive in March last year for ostarine and ligrandrol, which are on the World Anti-Doping Agency (WADA) prohibited list.
Koga was handed a four-year ban until March 2022 by the International Swimming Federation (FINA) before the 32-year-old filed an appeal in October last year at CAS, who amended FINA's original decision.
"In June 2019, the parties informed the CAS that having agreed that contaminated supplements were the most likely source... of both the ostarine and ligrandrol found in Junya Koga's samples, they had signed a settlement agreement," CAS said in a statement.
"The athlete shall be sanctioned with a period of ineligibility of two years, commencing on the date of provisional suspension on 15 May, 2018. The period of ineligibility shall therefore end on 14 May, 2020 included."
However, Koga's return to competitive swimming looks to have come too late for him to earn a berth at the Tokyo 2020 Olympics, with Japan's Olympic trials set to be held in April. Koga was in Japan's team at the 2016 Games in Rio de Janeiro.