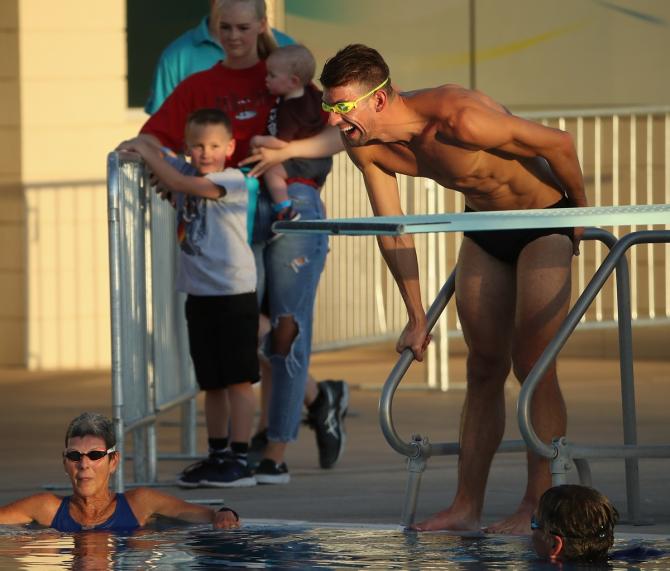 Michael Phelps said the disruption caused by the COVID-19 pandemic means it is unlikely any swimming world records will fall when the postponed Olympic Games are held in Tokyo next year.
American Phelps, 35, won a record 23 gold medals over four Olympic Games and is widely considered to be the greatest swimmer of all time.
Phelps believes most swimmers are putting in the necessary work but that they are at a big disadvantage given limitations on training and the one-year delay to the Games.
"There are kids out there who are controlling everything that they can control. They are swimming like they should be, they are lifting," said Phelps, who set 39 world records during his career.
"But honestly, I think pushing it back by a year throws a bigger loop into it than everybody thinks.
"The best of the best will fight back and you're going to see some fast swims. But world records? I don't think so.
"With all these pools being shut down, somebody would have to be damn near perfect for the rest of the preparation to have that chance."
Phelps, a longtime champion of mental health issues who has partnered with toothpaste brand Colgate to highlight young people making a positive impact in the world, said the emotional challenges of competing will be daunting.
"The mental approach is going to be disrupted so much. Some people might not be able to get over that," he said.
Phelps, who has in the past been critical of the United States Olympic Committee, said the organization was doing more to help athletes suffering with mental health problems but there was room for improvement.
"There are more opportunities nowadays for athletes to get the help they need, but there is still a way to go," he said. "It's good that we're finally started."
"Everyone is so adamant that our physical well being is perfect but our mental and physical health should be treated equally.
"But we're definitely starting on the right path."
Hamilton, Doyle and Liverpool win SJA Awards
Seven-times Formula One world champion Lewis Hamilton, female jockey Hollie Doyle and Premier League champions Liverpool were the main winners at Britain's Sports Journalists Association (SJA) awards on Thursday.
The ceremony was conducted virtually, instead of the usual gala event, due to the COVID-19 pandemic.
Hamilton was named Sportsman of the Year after becoming the most successful Formula One driver of all time in a record-breaking season in which he equalled Ferrari great Michael Schumacher's seven titles.
The Mercedes driver, who also won the award in his debut 2007 season with McLaren, is competing in the year's final race in Abu Dhabi this weekend after recovering from the new coronavirus.
Doyle was Sportswoman of the Year after becoming the first female jockey to win five races on one card at Windsor in August.
"I've never felt like I have not been accepted in this industry at all to be honest, I think it is just the fact there aren't as many females wanting to be jockeys as there are males," she said.
"Doors are opening and things are changing, and they are going in the right direction so that's great."
Liverpool were Team of the Year.
"In many ways, it was a pretty exceptional season and an exceptional year, it's an award for my team and I think they really deserved it," said manager Juergen Klopp.
NBA: Slow and steady Anthony Davis gets ready for season
Los Angeles Lakers fans have not even celebrated their team's record-equaling 17th NBA championship yet and their squad is less than two weeks away from embarking on their title-defense journey. Lakers' big man Anthony Davis agrees.
"It is crazy to not be able to celebrate and kind of have a parade with the fans and the city, but it is something that we have to just get through and be able to come out and defend our title as well as make sure we stay fresh and be ready for Friday," said Davis while speaking to reporters.
It is just over two months since the Lakers clinched the 2020 NBA Championships in Game 6 against the Miami Heat. "It is a quick turnaround, especially for us and Miami but there is nothing we can do about it and we got to be ready. We are kind of going slow to get back in the swing of things," admitted Davis.
With a very short offseason, Davis himself made it clear he doesn't want to rush into things. "We've seen, unfortunately, how football went with no preseason, shorter season, and a lot of injuries happen. You don't kind of want that same thing. So I'm going build up the right way. Coach has been doing a great job of doing that with our team, building up the right way," he said.
The Lakers star is relying on his training team to keep him calm and ensure he is smart about coming back from a curtailed offseason. But there is something else that worries Davis even more. With no signs of pandemic going away soon, Davis emphasised that everyone in the organisation will have to be accountable for keeping things safe.
"It's going to be a lot tougher, to be honest. The bubble, you knew you were safe. Here, you just don't. I mean, the league has sent all these guidelines about not going to bars and restaurants and clubs and all this stuff to try to make it safe for us. We don't want to go into a season or a playoffs series without a guy because he was careless about COVID and now he is gone for ten days," said Davis.
The defending champions open their preseason and tip-off the season against city rivals LA Clippers on December 12 and 23 respectively. (ANI)