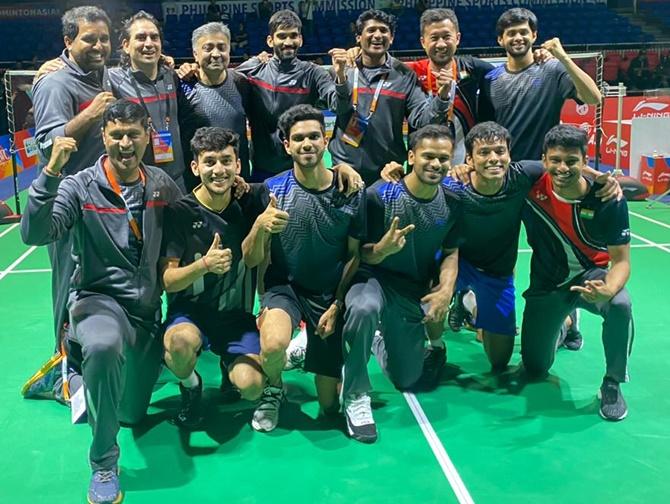 The Indian men's team assured itself of a medal after progressing to the semifinals with a thrilling 3-2 win over Thailand at the Badminton Asia Team Championships, in Manila, Philippinese, on Friday.
After star shuttlers Kidambi Srikanth and B Sai Praneeth faced reversals in the first two singles ties, India fought back to win the next three ties, which included a single and two doubles rubbers, to prevail over Thailand in the quarterfinals and set up a last four meeting with two-time defending champions Indonesia.
The men's team had last won a bronze after losing 1-3 to Indonesia in the semifinals of the 2016 Hyderabad edition.
World Championships bronze medallist B Sai Praneeth started the proceedings, but his gallant effort ended in a 14-21, 21-14, 12-21 loss to world No. 12 Kantaphon Wangcharoen, as India lagged 0-1.
In the second singles, former world No. 1 Srikanth went down 20-22, 14-21 to Kunlavut Vitidsarn, a three-time world junior champion, as India slipped to 0-2.
The pairing of MR Arjun and Dhruv Kapila kept India in the hunt with a 21-18, 22-20 win over Kittinupong Kedren and Tanupat Viriyangkura in the first doubles.
Young Lakshya Sen, who had a stellar run in 2019 with five titles, then registered a 21-19, 21-18 win over world No. 45 Suppanyu Avihingsanon to bring India back on level terms.
It then all boiled down to the makeshift pair of Chirag Shetty and Srikanth and the Indian duo dished out a superb game to outwit the pairing of Maneepong Jongjit and Nipitphon Phuangphuapet 21-15, 16-21, 21-15 in the deciding second doubles tie.
"It is an incredible result for us considering the fact that we didn't have Satwiksairaj (Rankireddy) and we generally depend on the singles to get us the win. But after we lost the first two singles, the way we got that doubles win and then Lakshya brought us back to level, it was a complete team effort," Chirag said.
India, who had lost to China 1-3 in the last edition in 2018, will now lock horns with Indonesia in the semifinals.
Indonesia boast of Asian Games champion and world number seven Jonathan Christie and world number five Anthony Sinisuka Ginting. They also have the world number one pair of Marcus Fernaldi Gideon and Kevin Sanjaya Sukamuljo, apart from the formidable Hendra Setiawan and Mohammad Ahsan.
"Beating Indonesia will be a difficult task because they have such formidable doubles pairs and even in singles, there players are ranked in top 10, so tough but if we can put the best foot foward like today, we hope to do well," Chirag signed off.
Indian lifters claim 2 medals on opening day of Asian Youth and Junior Weightlifting
India made a positive start to its campaign at the 2020 Asian Youth and Junior Weightlifting Championships, bagging two medals on the opening day of the event in Tashkent, Uzbekistan.
Both the medals -- a silver and bronze -- were bagged by Indian female lifters.
While KVL Pavani Kumari won a silver medal in the 45kg category, Harshada Goud clinched a bronze in the same weight division.
A total of 197 athletes from 20 Asian countries are participating in the event.
Gujrathi, Harikrishna settle for draws in Prague Chess
India's Vidit Santosh Gujrathi and P Harikrishna had to settle for half-a-point each on a day of draws in the Masters event of the Prague Chess Festival in Prague.
Grand Master Gujrathi, the second highest-ranked Indian in the FIDE list after five-time world champion Viswanathan Anand, had to settle for a draw against David Antón Guijarro of Spain in 49 moves late on Thursday.
He is in joint lead with 1.5 points from two rounds with Jan-Krzysztof Duda and Nikita Vitiugov.
Harikrishna battled top-seed and higher-rated Duda of Poland and signed the peace treaty in 31 moves in a Catalan opening game.
"I thought I had some chances, but I missed 24...Qd7. It's a rather simple move, with which black is completely fine," Harikrishna, the India number three said after his match.
World's top junior player -- Alireza Firouzja and Swedish GM Nils Grandelius were involved in 80-move draw lasting nearly five hours.
In the third round later on Friday, Gujrathi will take on Austrian GM Markus Ragger while Harikrishna will be up against the talented Firouzja.
Results after Round 2: P Harikrishna (IND, 1) drew with Jan-Krzysztof Duda (POL, 1.5), Sam Shankland (USA, 0.5) drew with David Navara (CZE, 0.5), David Antón Guijarro (SPA, 0.5) drew with Vidit Gujrathi (IND, 1.5), Markus Ragger (AUT, 1) drew with Nikita Vitiugov (RUS, 1.5), Nils Grandelius (SWE, 1) drew with Alireza Firouzja (IRN, 1).
Humpy beats Kosteniuk, shares joint lead with Wenjun Ju
India's Koneru Humpy defeated former world champion Alexandra Kosteniuk of Russia in 61 moves in the sixth round of the Cairns Cup chess tournament in St Louis, USA, to move into joint lead with Chinese ace Wenjun Ju.
Dronavalli Harika, the other Indian in the fray, shared points with the world champion Wenjun Ju of China in 40 moves on Thursday.
With four points in her kitty, Humpy shares the lead with Wenjun Ju. Harika, on the other hand, is on three points after six rounds and is in joint third spot with two other players.
Humpy, the reigning world rapid champion and the country's number one, played the Nimzo-Indian against the experienced Kosteniuk and took advantage of a mistake on the 50th move to record her second win in the tournament.
Harika, playing with black pieces, opted for King's Indian and equalised rather easily against Wenjun Ju.
American youngster Carissa Yip posted her second straight win after four losses, beating Valentina Gunina in the only other decisive game of the day.
In the seventh round, Humpy will take on American Irina Krush while Harika is up against Yip.
Results after Round 6: Koneru Humpy (IND, 4) beat Alexndra Kosteniuk (RUS, 3.5), Wenjun Ju (CHN, 4) drew with D Harika (IND, 3), Katernya Lagno (RUS, 3) drew with Nana Dzagnidze (GRG, 3.5), Mariya Muzychuk (UKR, 3) drew Irina Krush (USA, 2), Carissa Yip (USA, 3) beat Valentina Gunina (RUS, 2).