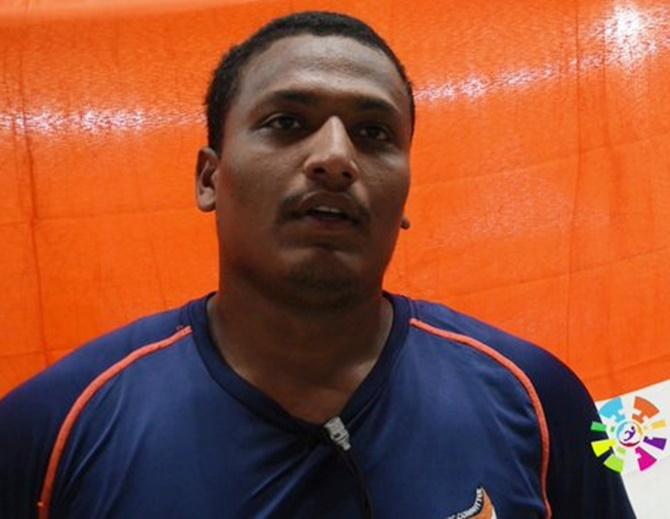 India added two more gold medals to its kitty with para-athletes Aneesh Kumar Surendran Pillai and Virender bagging the top honours in their respective events at the seventh CISM World Military Games, in Wuhan (China), on Wednesday.
Pillai won the gold in the disabled men's shot put IF1 category with a best throw of 12.76 metres which he registered in the fourth of his six attempts.
Peru's Felipa Carlos won the silver with best effort of 10.47m while Severs Robert of The Netherlands clinched the bronze with an effort of 9.93m.
Virender added one more yellow metal, when he emerged winner in the men's disabled shot put IF5 category with a best effort 11.43m.
France's Marfil Nicolas bagged the silver in this category, while Suma Piero Rosario of Italy clinched the bronze.
India narrowly missed a bronze medal in the 25m Center Fire Pistol Men team event after the trio of Yogesh Singh, Gurpreet Singh and Omkar Singh finished fourth behind Ukraine, Korea and China.
In boxing, Deepak progressed to the men's light weight semifinals with a 5-0 win over Saehan Samak of Thailand.
However, his compatriots Amit and Satish Kumar bowed out in the quarterfinals of their respective weight categories.
While Amit lost 0-5 against Kharkhuu Enkhmandakh of Mongolia in the quarterfinals of the men's fly (49-52kg) category, Satish Kumar was shown the door by Suslemkov Artem of Russia 4-1 in the men's super heavy(+91KG) division.
Gyanender missed a bronze in the greco-roman 60kg wrestling after losing 2-6 to Sultangali Aidos of Kazakhstan.
Para-athlete Anandan Gunasekaran had on Tuesday scooped two gold medals in the disabled men's 100m and 400m IT1 events to open India's medal account at the ongoing Games.
Gunasekaran had clocked 12.00 seconds to win the 100m event, India's first medal in the ongoing Games. Later, the 32-year-old Indian clinched his second gold by clocking 53.35 seconds in the disabled men's 400m IT1 event.
WFI takes Bentinidis under its wings, also appoints Gaidarov
The Wrestling Federation of India (WFI) has brought Bajrang Punia's coach Shako Bentinidis under its wings by offering him a contract till the 2020 Tokyo Olympics and also appointed Russian Murad Gaidarov to help out Deepak Punia and Ravi Dahiya.
Bentinidis was attached with the JSW and the WFI was always interested in having the services of the Georgian.
Betinidis had refused the offer earlier but was left with no option but to bow down to the Federation since it was not happy with him and was contemplating getting Bajrang a new coach.
There were complaints that Bajrang's coach criticised WFI for its working style and the Federation took exception to that.
Apart from that Bentinidis had protested a four-point move during Bajrang's semifinal loss at the World Championship which the WFI believed robbed the Indian of appearance in the gold medal bout.
Wilfredo Garcia was tried for a few days but Bajrang, who won his third world championship medal at Nur Sultan, was not convinced on hiring the Cuban.
"The Georgian was under pressure since WFI was putting pressure on Bajrang to change the coach. Bajrang told WFI that Bentinidis was best suited for him to which the Federation agreed but put a condition that the Bentinidis has to come under them," said a source.
WFI Assistant Secretary Vinod Tomar, who had earlier denied that WFI was looking for a new coach for Bajrang, said Bentinidis has been appointed on request of Bajrang.
"We just want our wrestlers to win medal at Tokyo Games. Bajrang wanted to train with Shako (Bentinidis) only, so we hired him," Tomar said.
JSW's Manisha Malhotra said it was a transition and that they have not terminated Bentinidis.
Praveen bags gold in wushu World Championship
Praveen Kumar on Wednesday became the first Indian man to win a wushu World Championships gold, beating Russel Diaz of Philippines in the 48kg category.
The Indian saw off his Filipino opponent 2-1 in the men's sanda event of the 15th World Wushu Championships.
Praveen had earlier defeated Uzbekistan's Khasan Ikromov 2-0 in the semifinal on Tuesday to set up the summit clash with Diaz.
In 2017, Pooja Kadian became the first Indian to be crowned world champion in wushu after she defeated Evgeniya Stepanova of Russia in the women's 75kg sanda event.
Among other Indians in the fray, Poonam (women's 75kg) and Sanathoi Devi (women's 52kg) secured silver medals while Vikrant Baliyan bagged the bronze in the men's 60kg category.
India finished third overall in the championship in sanda event with a gold, two silvers and a bronze.
Wushu sanda is a martial art which combines full-contact kickboxing, including close range punches and kicks, with wrestling, takedowns, throws, sweeps and kick catches.
Iran banned for pressuring fighter not to face Israeli
Iran has been banned indefinitely from international judo competition until it can give strong guarantees that its athletes will be allowed to face Israelis, the International Judo Federation (IJF) has said.
The IJF decision follows a protective suspension imposed on the Iran Judo Federation last month for putting pressure on one of its fighters to withdraw from the world championships to avoid facing an Israeli opponent.
Iran has 21 days to appeal to the Court of Arbitration for Sport.
Saeid Mollaei was pressured by Iranian authorities to drop out of his quarter-final and semi-final bouts at the Aug. 25-Sept. 1 worlds in Tokyo to avoid a potential final against Israel's Sagi Muki, the IJF said.
The 2018 world champion, who is in hiding in Germany, has refused to return to Iran over fears for his safety.
The Iran Judo Federation has denied instructing Mollaei to withdraw from competing.