Summary of sports events and persons who made news on Thursday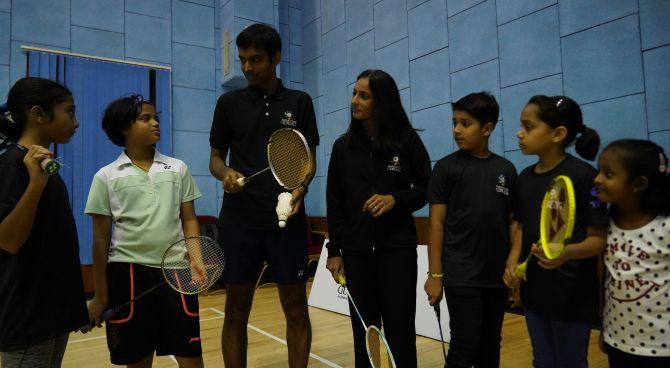 PV Sindhu is too good a player to lie low for a long time and she will bounce back strongly before the Tokyo Olympics after making some adjustments in her game, national badminton coach Pulella Gopichand said in Mumbai on Thursday.
Rio Olympic silver medallist Sindhu has exited in the early stages of all tournaments, except the French Open, since winning her maiden World Championship title in August.
But she failed to defend her World Championship title in Gunagzhou earlier this month, crashing out in the group stages. Sindhu is currently sixth in world rankings ahead of compatriot Saina Nehwal (11th).
"She (Sindhu) is too good a player not to come good. We will turn it back, we need to make some changes and hopefully we will get her back to winning ways soon," said Gopichand.
Gopichand is confident that a big badminton contingent will represent India in next year's Tokyo Olympics. He, however, stressed on the need to prepare well for the mega-event.
"Well, I have said that we have had some not so good results. It's obvious, you need to buck up and get better. With the Olympic qualification on and with almost eight of them in the top 15 in men's singles, everybody thinks they have a chance," he said.
He, however, lamented that with a packed international calendar in place, the Indian shuttlers are hardly get any time to prepare for the Olympics.
"It is just ending up (playing) tournaments after tournaments and there is hardly any time for preparation," he said.
"Having said that, I think, sooner or later we will have to crack that and make sure that people get back on track and start preparing well. May-June-July will be the key months for preparation and hopefully we will have a big contingent (in Tokyo)," the former All England champion added.
"Whether it is men single's, women's singles or men's doubles, especially with the format in the Olympics, whoever qualifies has a chance and will try and get as many medals possible."
He also lavished praise on rising shuttler Lakshya Sen and the men's doubles pair of Satviksairaj Rankireddy and Chirag Shetty.
"Lakshya's performance is great because he has done well to come up so quickly. With the ranking system it is important that you get into the top 30s as quickly as possible because then you get entries into big events. Now with his ranking, he right up and he will get entry in the All England.
"I believe he belongs at that level and he is young, with the confidence and strokes he has, it will be exciting to see his progress. He is doing the right things," Gopichand said.
2019 has been disappointing for me, admits Anand
Indian chess wizard Viswanathan Anand on Thursday admitted that 2019 has been very disappointing for him in terms of results, and said had it not been for some "sloppy moments", the scenario could have been different.
The five-time world champion did not have best of results in 2019, finishing in tied third spots in both the 81st Tata Steel Masters in Wijk aan Zee and also at the 2019 Gashimov Memorial chess tournament in Shamkir, Azerbaijan.
And Anand said not just from personal point of view but from the country's perspective as well, 2019 has not been a fruitful year for Indian chess players.
"From the chess side, 2019 has been slightly disappointing for me and may be for India as well. Despite all the players we had, nobody qualified for the Candidates. Personally, I had the feeling that I let everything go at the last minute," Anand said.
"At many tournaments, I was in good positions at the half way mark but one sloppy moment and I used to fall back in the middle and this repeated over and over again.
"At the The Grand Chess Tour, I had my best performance ever, because my Rapid stabilised compared to earlier years, but again in the last minute it fell. So, I had this little bit of feeling that it could have been a much better year," he said.
"(R) Praggnanandhaa had a very good result in London but the tendency is to look at the last result. All youngsters are making steady progress with the usual ups and downs, associated with the game. So, from their perspective, I wouldn't use the word disappointing but nothing stands out for India," explained the first Grand Master from India.
Anand also informed that he was going to skip the World Blitz and Rapid Chess tournament, which he had decided earlier and also termed the year gone by as a "hectic" one. The tournament is slated to be held in Russia.
He also attributed the rise in number of grandmasters in the country to the advent of technology.
"It (the growth of chess) has been mentioned, but this (the book) is my story and life lessons, so I didn't want to get heavily into that but there are couple of pattern. In 2000, we had 6-7 grandmasters. I became GM in December 1988, next happened in 1990, very slow and then it picked up a lot of speed.
"I remember saying that I am really looking forward to next GM because it will be (the) 64th and within couple of weeks of that announcement, we had 65 (GMs) already and this number is increasing very fast," Anand said.
All athletes must undergo selection trials, says Malleswari
Olympic bronze medallist weightlifter Karnam Malleswari on Thursday steered clear of the boxing selection trial controversy involving Nikhat Zareen but said all athletes should be ready for such a contest to be selected for marquee events.
Malleswari's comments came days after Nikhat demanded a fair Tokyo Olympics selection trial from the Boxing Federation of India (BFI).
With three spots already sealed for the Olympic trials, Nikhat's chances of securing the final place had depended on how she performed against the celebrated MC Mary Kom in the Indian Boxing League. But the bout was later cancelled.
According to Nikhat, the BFI had assured her the fourth and final spot for the selection trial if she fares well against Mary Kom in the IBL.
Malleswari, a 2000 Sydney Olympics bronze winner in women's 69kg, gave a guarded reply when asked about the boxing matter.
"All athletes should give trials. Every player, be it senior or junior, has to compete (in the trial). Only when they do well, prove themselves, then can they go ahead," Malleswari said on the sidelines of the launch of the 'BBC Indian Sportswaoman of the Year 2019' award.
"Whoever performs well should be selected. The selection should be fair and all rules and regulations should be followed," she added.
The first Indian woman to win a medal at the Olympics, Malleswari also said she is hoping for a good showing by weightlifter Mirabai Chanu in Tokyo.
"In Tokyo, no doubt Mirabai Chanu will do well. She has been performing well for the past three years. I am sure she'll bring a medal."
Indian weightlifting has been synonymous with doping, but Malleswari said proper measures are now being taken to educate athletes to raise awareness around the issue.
"Doping is not just a problem in India but all over the world. What we can do is the more we educate our players that there won't be any benefits of doping, you spoil your career.
"Officials and coaches are working for this and whenever we get time to interact with players we tell them they should be very careful of what they are consuming. Even if it is medicine for cold, they should consult a doctor, because an athlete in the Indian camp can be called any time for a test not just during tournaments," Malleswari added.
Zeena wins women's national 10m Air Rifle ahead of Mehuli, Apurvi
Himachal's Zeena Khitta stunned West Bengal's Mehuli Ghosh and world no.3 Apurvi Chandela to emerge as the new national champion in the women's 10m Air Rifle event at the ongoing 63rd National Shooting Championship Competitions Rifle/Pistol in Bhopal on Thursday.
Mehuli had to settle for the silver while Apurvi won the bronze.
Zeena was fourth in qualifying, but shot a world class 252.2 in the final to top a quality eight-woman field. Mehuli finished with 250.5 while Apurvi logged 227.6 to be placed third.
Apurvi later teamed up with Shriyanka Sadangi and Gayatri Pawaskar to win the team gold for ONGC.
Mehuli also won a double gold with the individual and team junior titles in Air Rifle.
Among the teams, Rajasthan, Maharashtra and West Bengal won two gold medals each.
Bolton named as first female AELTC chief executive
Sally Bolton will become the first female chief executive of the All England Lawn Tennis Club (AELTC) which stages the Wimbledon championships, the club announced on Thursday.
Bolton, former chief executive of Wigan rugby league and Orrell rugby union clubs, will replace Richard Lewis who is stepping down after eight years in the role following next year's Wimbledon.
"Her (Bolton's) ability to combine a depth of operational knowledge with quality strategic thinking will make a significant contribution to the future strategy and direction of the AELTC," AELTC chairman Ian Hewitt said in a statement.
"Our committee felt that she is perfectly placed to assist us in embracing and delivering on our future challenges and opportunities."
Bolton, 45, joined the AELTC as head of corporate affairs in 2016 before taking over the position of strategic planning and operations director in 2018.
"I look forward to working with Richard to achieve a successful transition before he steps down, and with Ian, the Committee and the rest of the executive team to ensure that Wimbledon continues to be regarded as highly as it is today," Bolton said.