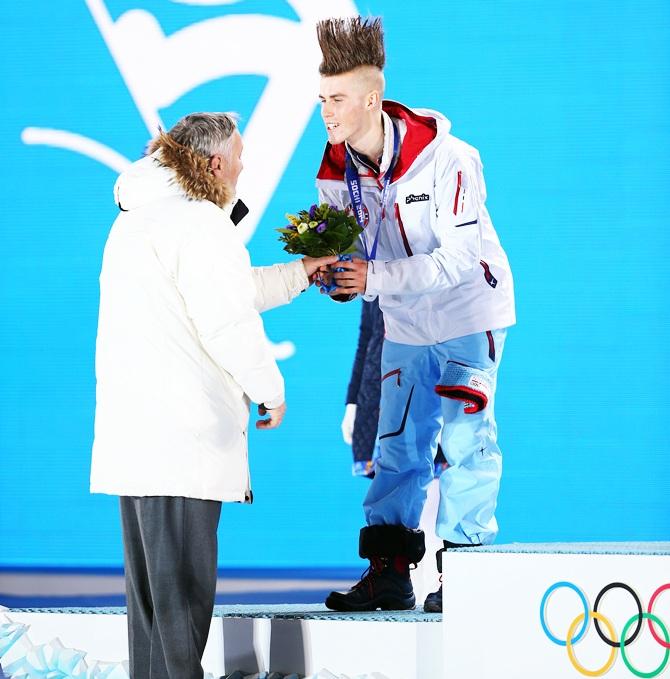 Silver medalist Staale Sandbech of Norway receives his flowers from President of the International Ski Federation (FIS) Gian-Franco Kasper. Photograph: Quinn Rooney/Getty Images
International Ski Federation (FIS) president Gian-Franco Kasper has warned FIFA against holding the 2022 World Cup in Qatar at the same time as the Winter Olympic Games.
Kasper, who is also an outspoken member of the International Olympic Committee (IOC), was reacting to comments last week by FIFA president Sepp Blatter that the Qatar World Cup would most probably be held in the northern hemisphere winter because June is too hot.
"FIFA is trying to find a way out of a situation they created themselves," Kasper told Reuters at the alpine skiing World Cup opener in Soelden.
"They could have thought about the weather in Qatar before but if they want to move into the winter, I think it would be possible to have it in November or December," he added, a position also favoured by Blatter in an interview with French radio last week.
"We could live with that. But if they want to move to January and February and overlap with the Winter Games or, like one FIFA representative said, just eliminate those Winter Games that have no interest, then of course I'm heavily opposed to it," Kasper said.
The 70-year-old Swiss, who has been FIS president since 1998, said a decision to move the World Cup to January or February would be counter-productive to both events.
"If television networks have to cover two major events just one after the other, they cannot afford it," he said. Soccer's European Clubs Association (ECA) said last week it would consider an April/May tournament.
Only two cities, Kazakhstan's Almaty and Beijing, are left bidding for the 2022 Winter Games but Kasper said it was "nothing special" that a number of bidders pulled out.
"I remember that for the Summer Games we once had only one candidate. It's not the quantity that decides but the quality. "Now we have two Asian candidates, it's not only in sport but also in the financial world that most things have moved to Asia," he said.
However, the FIS president is concerned that public opinion in Switzerland, Germany and Norway was against bidding and said it was the result of the vast expense of this year's Sochi Games. "It's the consequence of Sochi and the enormous financial cost they had there. One talks of 51 billion dollars, which is just crazy," he remarked.
"We have to ask ourselves what we want between 'nice to have' and 'must have', and if we stick to the 'must have', then the problem is more or less solved.
"From the IOC side or the FIS side we should not try to convince hosts to spend more money. We don't need Buckingham Palace as the start to a bobsleigh or a luge race."
Andy Murray claims Valencia title to boost London bid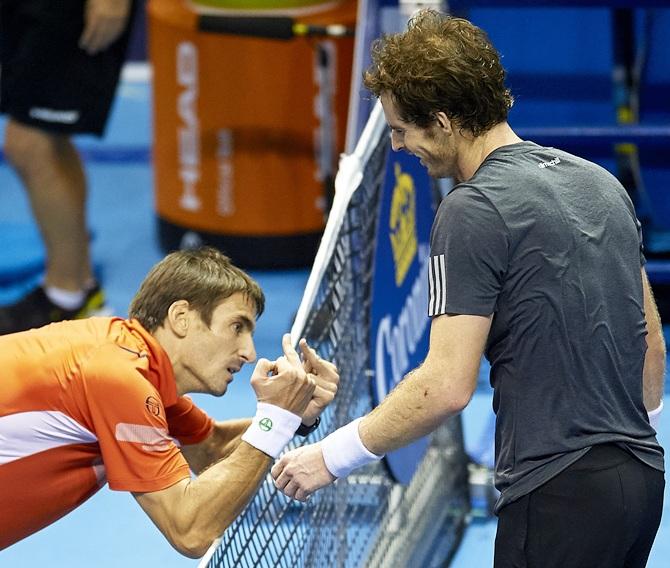 Tommy Robredo of Spain reacts to Andy Murray of Great Britain. Photograph: Manuel Queimadelos Alonso/Getty Images
Andy Murray again saved five match points against Tommy Robredo in a final when he fought back to win 3-6, 7-6 (7), 7-6 (8) at the Valencia Open on Sunday and secure valuable points for his World Tour finals bid.
The gruelling battle at the cathedral-like Agora arena, at three hours and 20 minutes the longest final of the year on the ATP World Tour, was a repeat of last month's Shenzhen Open showpiece, when Murray fought off five match points against the Spaniard on the way to a 5-7, 7-6 (9), 6-1 success.
A wildcard at the Valencia indoor hardcourt event, which he won in 2009, third seed Murray produced an erratic display against unseeded Robredo but had just enough in the tank to claim a 31st career singles title.
After thumping a backhand winner to seal victory, the Scot, who squandered a match point earlier in the third set, collapsed to the floor and barely had enough strength to get to the net to greet his equally exhausted opponent.
The win earned Murray, playing his 20th match in five weeks having also won in Vienna this month, a further 200 points and lifted him to fifth in the race to secure a spot at the season-ending eight-man Tour finals in London.
Along with Kei Nishikori, David Ferrer, Tomas Berdych, Milos Raonic and Grigor Dimitrov, he will be looking to secure one of the four remaining berths at this week's Paris Masters.
"I played well at the right moments," Murray told reporters.
"I know it was an incredible match," added the 27-year-old. "The tennis at the end and in the second set was high level."
Streb seals maiden PGA Tour win in playoff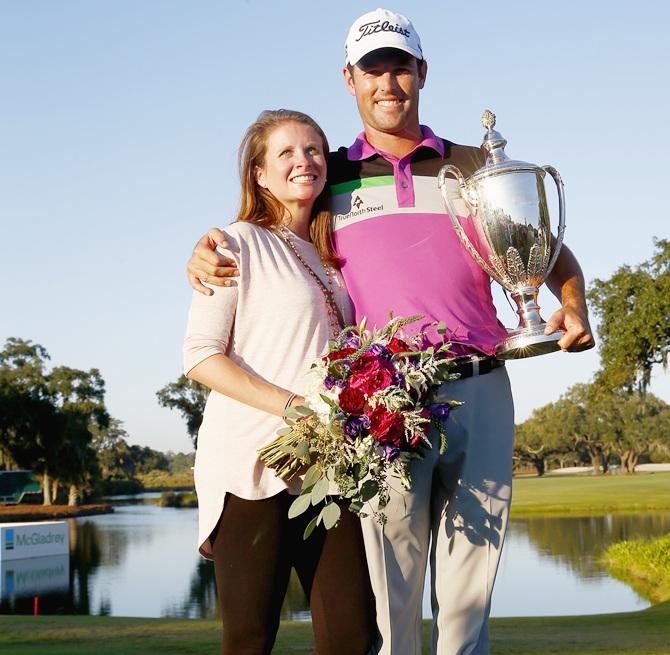 Robert Streb, left, and wife Maggie pose with the winner's trophy. Photograph: Sam Greenwood/Getty Images
Robert Streb held his nerve to win his first PGA Tour title in a playoff with fellow American Will MacKenzie and Zimbabwe's Brendon de Jonge for the $5.6 million McGladrey Classic at Sea Island in Georgia on Sunday.
Streb sealed victory by sinking a four-foot birdie putt at the second extra hole, the par-three 17th, where de Jonge narrowly missed his birdie attempt from 18 feet.
MacKenzie, seeking to end a six-year title drought on the PGA Tour, was eliminated at the first extra hole, the par-four 18th, where he bogeyed after failing to get up and down from a greenside bunker.
The trio had finished the 72 regulation holes on 14-under-par 266, de Jonge closing with a five-under 65 on the Seaside Course, MacKenzie carding a 68 and Streb firing a best-of-the-day 63.
Sampdoria chief refers to Inter president as 'that Filipino'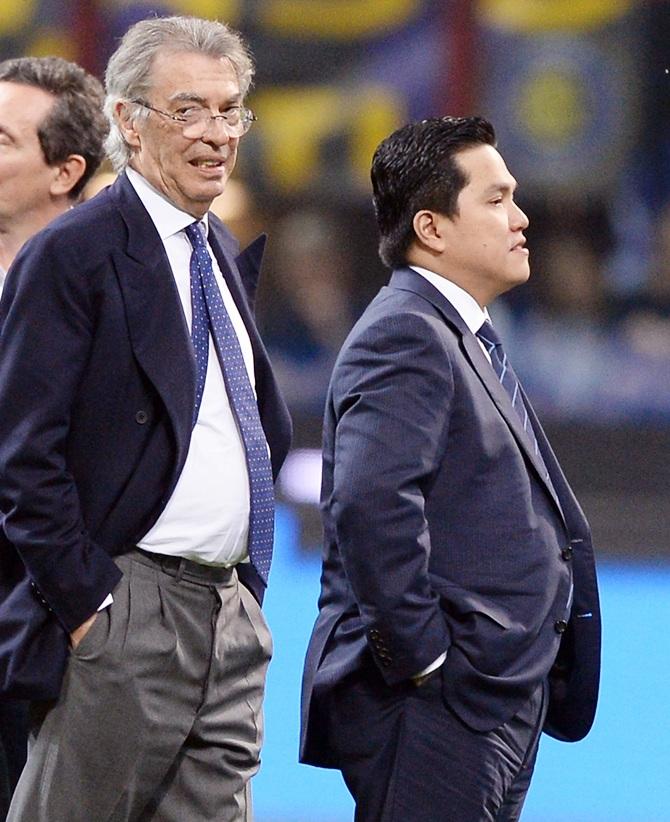 President of FC Internazionale Milano Erick Thohir, right, and Massimo Moratti after the Serie A match. Photograph: Claudio Villa/Getty Images
Sampdoria president Massimo Ferrero has apologised for referring to Inter Milan's Indonesian owner Erick Thohir as 'that Filipino' and saying that he should have been kicked out by the club.
Ferrero was discussing former Inter owner Massimo Moratti's decision to resign as the club's honorary president this week amid media speculation of a disagreement with Thohir.
"Moratti is a great man and it seems unfair that he has been treated like this, because he has given so much to Italian football," Ferrero said during a live programme on Italian state broadcaster RAI.
"I am very sad for him. I had told him: kick out that Filipino..."
When the programme presenter told him that Thohir was Indonesian, Ferrero replied: "Don't defend him, he's insulted an emblem of Italian football."
Shortly afterwards, Sampdoria issued what they described as a sincere statement by Ferrero on their website.
Ferrero's outburst came less than three months after Carlo Tavecchio, now president of the Italian football federation (FIGC), referred to African players as 'banana eaters'.