Summary of sports events and persons who made news on Saturday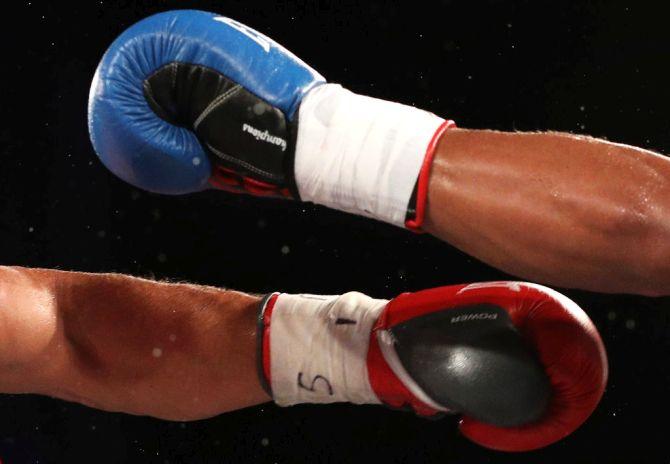 India Open silver-medallist and defending champion Vanlal Duati (51kg) on Saturday said she was robbed of a win at the ongoing National Championships here and has challenged her 2-3 semi-final loss to Haryana's Ritu.
The Mizo boxer, who is a five-time national medallist, said her loss was nothing short of "cheating". The Boxing Federation of India has assured her of a decision on her appeal by 7am on Sunday.
"A judge (Neelam Punia) was replaced by another (D S Raju) just at the end of the first round, all of a sudden, no reason was given. I have never complained about any loss in my career but I feel robbed today," Duati told PTI.
"I have paid Rs 5,000 and sought a review. They will tell me tomorrow morning at 7, what is the point of it. Tomorrow is the final. I don't have any hope," she added.
Duati had lost to the iconic M C Mary Kom in the final of the India Open earlier this year.
A top Boxing Federation of India official said judges can be changed in the bout only with the permission of the supervisor and only in extraordinary circumstances. It is being investigated whether due procedure was followed in this case.
"Punia was changed because she was affiliated to perhaps one of the competing boxers' units. We will have to see whether the supervisor's permission was duly taken in this," he said.
8 Railways boxers enter finals of Women's National C'hips
Defending champions Railways dominated the proceedings as eight of their boxers, led by World Championships silver medallist Sonia Chahal (57kg) and India Open Gold medallist Bhagyabati Kachari (75kg), stormed into the finals of the Women's National Boxing Championships in Kannur on Saturday.
Former national champion Sonia showed her experience and composure as she faced the challenge of young boxer Ritu from Chandigarh. The lanky boxer from Haryana took advantage of her height and relied on counter-punches to win the bout unanimously.
Sonia will face youth world champion Sakshi in the finals.
"My strategy was to maintain distance and counter-attack my opponent. I played with the same strategy throughout the bout and did not face much trouble. I have defeated Sakshi once before and know what to expect from her. I will be up for the challenge tomorrow," said Sonia after the bout.
Youth world champion Jyoti, representing Railways, had an easy outing as she controlled the bout and defeated Manipur's Soibam Devi 5-0 in the 51kg category.
One of the best bouts of the day was between two-time World Championships bronze medallist Kavita Chahal and Himachal Pradesh's Monika in +81kg as both the boxers fought tooth and nail right from the first round in a highly entertaining contest.
Seasoned Kavita displayed her experience and reigned supreme in the end with a 3-2 split verdict in her favour.
Meenakumari Devi (54 kg), last year's gold medallist, continued her title defence with an easy 5-0 win over Divya Pawar of Madhya Pradesh. Last year's silver medallist Bhagyabati Kachari (81kg) continued her fine run and showed her class against Lalfakmawii Ralte of All India Police to notch up a 5-0 win.
Kerala's Indraja (75kg) scripted one of the upsets of the day as she defeated last year's bronze medallist Imroz Khan 4-1 in the semifinal. Spurred on by the home crowd, the local girl set the ring on fire with her relentless attacking approach. She will face last year's silver medallist Nupur of Haryana in the final.
"Indraja is a good boxer and her bout was quite impressive," said Indian women's boxing team head coach Ali Qamar who is here on a lookout for fresh talents.
Former youth world champion Ankushita Boro (64kg), representing Assam, was at her attacking best against Uttar Pradesh's Aradhana Patel and won via RSC in the 2nd round. She will fight for the coveted gold medal against fellow Assam Boxer Pwilao Basumatary, who is representing Railways.
Former Asian championships silver medallist Pavitra (60kg) continued her fine run on her comeback as she trounced Maharashtra's Poonam Kaithwas 5-0. She will face 2017 world youth champion Shashi Chopra from Haryana in the final on Sunday. Shashi blanked All India Police's Rekha Tewatia 5-0 earlier on Saturday.
The finals will witness eight boxers from Railways and five from Haryana fighting for the top honours.
India beat New Zealand 4-1 in 3-Nations women's junior hockey tournament
Sharmila Devi struck twice as the Indian junior women's hockey team secured a superb 4-1 win over New Zealand in its third match of the 3-Nations Tournament in Canberra, Australia, on Saturday.
India came from a goal down to defeat their opponents after New Zealand's Olivia Shannon (4th minute) had scored for her side.
It was Sharmila Devi (12th, 43rd), Beauty Dungdung (27th) and Lalrindiki (48th) who scored the goals for India in their impressive victory.
In a shaky start to the match, India conceded a Penalty Corner in the 4th minute, and New Zealand made the most of it as they scored through Olivia to make it 1-0 in their favour.
India fought back inside the first quarter and found the equalizer when Sharmila finished off a crisp team-move to make it 1-1 in the 12th minute.
Both teams had several chances in the second quarter as well, but neither could convert until India finally managed to convert their Penalty Corner in the 27th minute.
It was India's forward Beauty, who produced a sublime finish to give her team a much-deserved lead.
New Zealand did have a Penalty Corner at the stroke of the half-time break, but India's Bichu Devi Kharibam made a decent save to ensure India retained their 2-1 lead.
The start of the third quarter was slightly slower for both teams as they tried to implement different strategies.
Indian goalkeeper Bichu was called into action again in the 40th minute, but she made a diving save to protect her side's lead.
Three minutes later, it was India's chance to break away on the counter which saw Sharmila score her second field goal to extend India's lead to 3-1.
The confidence levels rose within the Indian team after scoring their third goal, and it was visible in the last quarter when they started aggressively.
In the 48th minute, India won themselves a Penalty Corner, and the resulting execution saw young Forward Lalrindiki score past New Zealand's goalkeeper Kelly Carline to make it 4-1, and secure the win for her side.
New Zealand did try to pose a threat in the remaining minutes, but could not penetrate through the Indian defense which meant India registered their second win in three matches of the 3-Nations Tournament.
India will face hosts Australia in their fourth and final match on Sunday.
Hamilton and Rossi preparing for ride swap
Six-time Formula One world champion Lewis Hamilton and MotoGP great Valentino Rossi are preparing for a ride swap in Spain on Monday, with the Briton "super excited" at the prospect.
Hamilton, who collected his F1 champion's trophy at an FIA gala in Paris on Friday, will head to Valencia's Ricardo Tormo circuit for the closed event organised by mutual sponsor Monster.
"I think me and @LewisHamilton will have some fun soon," Rossi teased on his Instagram feed next to a picture of him sitting in a Mercedes F1 car.
The 40-year-old Italian, a nine times world champion with seven of those coming in the top MotoGP class, will drive a 2017 Mercedes while Hamilton gets to ride Rossi's Yamaha.
Rossi has driven a Formula One car before, several times with Ferrari between 2004 and 2010 when there was speculation, he could follow in the tracks of the late Britons John Surtees and Mike Hailwood and switch from two wheels to four.
Four times 500cc world champion Surtees remains the only man to win the Formula One title (in 1964) as well as top motorcycling honours.
Hamilton is also a keen motorcycle rider, riding to some European tracks and testing a Yamaha superbike but never a MotoGP machine.
"I'm super excited about it," the 34-year-old told reporters last month.
"Just being on the same track at the same time as Valentino is going to be very, very surreal, and a real honour, because he's such an icon in the sport, and he's done so much. It'll be cool to see him in my car as well."
Don't see why Formula 1 should not be back in India: Liuzzi
Former Italian Formula 1 racer Vitantonio Liuzzi said on Saturday that there was a lot of following for motorsport in India and he didn't see why F1 should not be back here in the future.
"India has a lot of interest in motorsport. People are passionate about speed and racing. That is why the Force India owners and other sponsors made F1 happen here. There are business tycoons who could still be interested in F1. I think they should push for it," Liuzzi, who is here to take part in the second round of the franchise-based X1 Racing League, said.
"India is nothing less when compared to other countries in the world. It has got so many businessmen. Geographically, it is huge. It can make a successful team in any sport. I don't see why F1 shouldn't be back here in the future," the Italian, who is turning out for Black Birds Hyderabad in the League, added.
The 39-year old Liuzzi, who had to give way to India's Narain Karthikeyan at HRT in 2011 for the Indian GP at the Buddh International Circuit in Greater Noida, said he was more than happy then to give way to the host nation's driver.
He felt there was a lot of interest for motorsport in India, referring to the crowd in the opening round of X1 League at the BIC.
2 ONGC sportspersons win athletics gold for India in South Asian Games
Two sportsperson of state-owned Oil and Natural Gas Corp (ONGC) have won gold medals for India in the South Asian Games in Kathmandu, Nepal.
Kirpal Singh and Suresh Kumar won gold medals at the meet this week, the company said in a statement here.
"Kirpal Singh created history in discus throw with a new SAF Meet record en-route winning the gold medal. He is the reigning national champion of India in Discus Throw and is an officer at ONGC," a statement from the company read.
Suresh Kumar bagged Gold in the 10,000 metres men's category, continuing his excellent form after winning the national Open Athletics Championships in Ranchi to become the national champion. He too is an officer at ONGC.