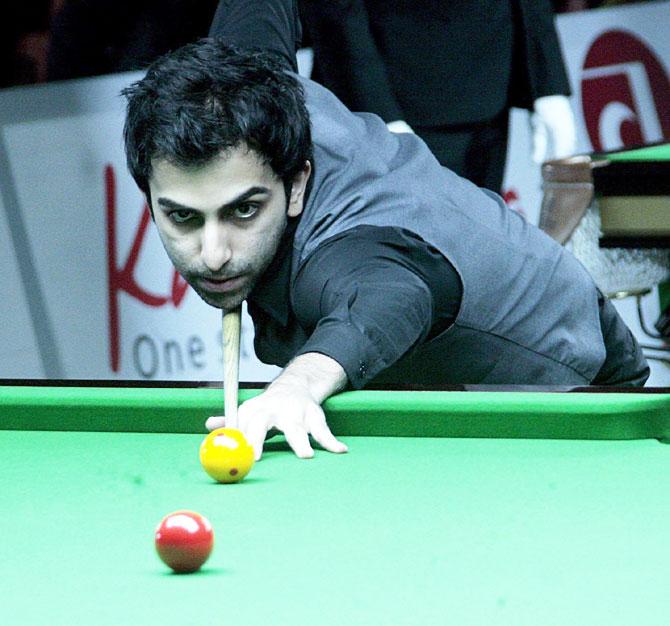 The Indian duo of Pankaj Advani and Aditya Mehta overcame a tough Thai team to emerge world champions in the IBSF World Snooker Team event, in Mandalay, on Wednesday.
This takes Advani's world title tally to a phenomenal 23 while Aditya claimed his maiden at a time when his future is being doubted due to health issues.

For Advani, this win has ensured that his name is now there on every IBSF world title on offer.
He had won the world billiards event last week.
A great start to the final was delivered by Mehta as he drew first blood winning the opener 65-31. However, Advani couldn't get the Indian momentum going as he lost the second 9-69.
The doubles tie went India's way thanks to a handy 55 break from Mehta. After a couple of tight frames, India were 3-2 up and needed just two frames in the best-of-nine final to win the coveted title. Advani took over in the second doubles frame and took India one frame away with an aid of a 52 break.
But it was Mehta who sealed the deal for India as he played some of the best snooker in his career and thrashed his Thai opponent 83-9 in the seventh to get his name on the privileged list of world champions.
"I'm absolutely excited to win my first world title. All the years of hard work and struggle has finally paid off," said Mehta.
Advani too was ecstatic.
"It's a dream trip for me as I return from Myanmar in under 3 weeks with 2 world championship gold medals and a bronze (which he got in the world 6-red snooker event). I'm over the moon to have won the only missing world title on my list and this win is very special for that reason."
"It's been a long but satisfying outing. Having to switch from billiards to snooker in a day and to come out on top is a reassurance that specialising in two sports is indeed achievable."
Advani returns home for a week before heading out to Australia for the long format of the World Billiards Championship in the first week of October.
India 1 beat Thailand 2: 5-2: 65-31, 9-69, 74(55)-8, 21-64, 55-44, 72(52)-23, 83-9.
Virdhawal wins gold in 50m freestyle but fails to make Olympic A cut
Virdhawal Khade clinched India's seventh gold medal at the 10th Asian Age Group Championship but failed to make the Olympic 'A' cut in the men's 50m freestyle event, on Wednesday.
Khade clocked 22.59 seconds to finish ahead of Khurshidjon Tursunov (22.96) of Uzbekistan and Iranian Gharehhassanloo Benyamin (23.23).
The gold medal winning feat was, however, not enough for the 2010 Asian Games bronze medallist to make the Olympic A qualification mark, set at 22.01 seconds.
"I am quite disappointed with my timing. I was fully tapered for this meet, I got off to a great start but somehow my timing with the technique was not put to the mark," Khade said.
Earlier, this month during the senior nationals, Khade had clocked 22.44 seconds in the same event.
"I will be attempting again next month during the FINA World Cup in Singapore and I want to achieve it this year although there is time till June. If I can make the qualification now then I can just focus on training for Tokyo," he added.
Sajan Prakaah won his second silver in the men's 100m butterfly category with a timing of 54.42 seconds. The gold went to Wongcharoen Navaphat (54.06) of Thailand while Mhah Qali Abbas (55.10) of Kuwait bagged the bronze.
Kushagra Rawat, was excellent in his 1500m where he comfortably won with a time of 15:41.54 seconds making it his third gold medal of the event. He touched ahead of Chang Cheng Li Wei (15:49.85) of Chinese Taipei and Kittiya Tanakrit (16:19.75) of Thailand.
Likith Selvaraj clinched his second bronze of the Championships in the 50 metres breast stroke with a time of 28.38 seconds. Vladislav Mustafin (27.68) of Uzbekistan and Denis Petrashov (28.35) of Kyrgyz Republic clinched gold and silver respectively.
Shoan Ganguly, swimming his first Asian Age Group Championships, also continued to increase his medal tally. He won silver in the 400 metres freestyle Group II boys clocking 4:07.21 seconds. On the inaugural day he had won gold and two silvers. He finished behind Liu Haiyang (4:03.76) of China and Huang Chun Chieh (4:08.04) of Chinese Taipei.
In the morning session, India's mixed freestyle relay team comprising the quartet of Srihari Natraj, Khade, Maana Patel and Shivani Kataria clinched bronze with a timing of 3:42.56. Thailand (3:39.17) and Uzbekistan (3:41.73) bagged gold and silver respectively.
Kenyan duo barred from World Championships
Kenyan 5,000 metre runners Michael Kibet and Daniel Simiyu will not be allowed to compete at the athletics world championships in Doha after failing to meet anti-doping rule requirements, Athletics Kenya (AK) officials said on Tuesday.
AK had hoped that the Athletics Integrity Unit (AIU) would clear Kibet and Simiyu, who finished first and second at the Kenyan trials, to compete at the global championships that begin on Friday.
AIU rules state that athletes must go through three out-of-competition and one in-competition doping test to be eligible for the world championships.
AK Vice President in charge of competitions Paul Mutwii confirmed that the AIU had declined a request to enter Kibet and Simiyu in the global showpiece.
"Only Nicholas Kimeli and Jacob Krop (third and fourth at the trials) will represent us in Doha. Kibet and Simiyu have not been allowed because they did not comply with the AIU anti-doping rules. We are now very strict with the compliance rules, we cannot make a mistake," Mutwii told reporters.
About 60 Kenyan athletes have been sanctioned for anti-doping rule violations in the past five years. They include 2008 Olympic 1,500m champion Asbel Kiprop, 2016 Olympic marathon winner Jemimah Sumgong and former Boston and Chicago Marathon winner Rita Jeptoo.
Officials said Kenya would still be strong contenders in the men's 5,000m in Doha, with Kimeli among the world's fastest in the event this year, having run 12 minutes 57 seconds in June.
"(Nicholas) Kimeli is the strongest among Kenyans, despite his third placing at the trials," AK Council Member Barnaba Korir said.
The Kenyan team has suffered a number of setbacks in the lead up to the world championships.
Elijah Manangoi announced last week that he would not be defending his 1,500m title due to injury, while Jackline Wambui, who won the 800 metres at the Kenyan trials, and Linda Kageha, who was in the mixed relay team, withdrew after failing to take mandatory testosterone level tests.
'Dark Destroyer' Benn aims for comeback 23 years after last fight
Britain's 55-year-old Nigel Benn is set to announce his comeback to boxing 23 years after his last professional fight, his promoter was quoted as saying on Tuesday.
"I wouldn't support Nigel if I didn't believe he was fit to box,' Mark Peters told the BBC.
Benn is scheduled to attend a news conference in London on Thursday, with British media reporting he would announce a Nov. 23 fight in Birmingham against 40-year-old Cameroon-born Sakio Bika, a former WBC super-middleweight champion.
Benn held the WBO middleweight title in 1990 and also the WBC super-middleweight title from 1992-96. His last fight was in November 1996 when he lost to Irishman Steve Collins.
The Daily Telegraph reported that the British Boxing Board of Control (BBBoc) refused to grant Benn a licence, with the fight to be sanctioned by the British and Irish Boxing Authority (BIBA).
"We were approached by Nigel Benn a few months ago inquiring whether we would grant him a licence, but he was told that we would not consider it, given his age and how long he has been away from the sport," the Telegraph quoted BBBoC general secretary Robert Smith as saying.
Benn, nicknamed 'The Dark Destroyer', has a 42-5-1 record, including 35 wins by KO.
Newgarden takes place among IndyCar's 'veterans'
Sitting in a Manhattan restaurant on Tuesday, less than 48 hours after clinching the IndyCar Series title, driver Josef Newgarden contemplated what many in their late 20s often do -- the idea that he might not be that young anymore.
"I was in the 'emerging talent' for like eight years. I never got out of that silo," the 28-year-old Newgarden told Reuters, after hoisting the championship trophy on Sunday at Laguna Seca.
"When you don't think about it you always think you're young. You're like 'I'm young, I haven't done this a long time.' But I really have. I'm probably one of the veterans of the sport in a lot of ways."
Yet for the American, who also won the championship in 2017, a second title in three years marks a pivotal moment in a career already laden with early success.
"I feel like it meant more this time around than our first championship in 2017," said Newgarden. "I just think you have more perspective on it and more appreciation for the amount of time and work that goes into it.
"Winning a championship is a huge deal but if you get another one then it really puts a stamp on your time within the sport."
IndyCar is a sport where younger drivers are making inroads.
Three of the top seven in points this season are 27 years old or younger, while Colton Herta became the youngest-ever IndyCar winner in March, six days before his 19th birthday.
Yet the suggestion that Newgarden, who won four races this year, is "established" still takes some getting used to for the Team Penske driver.
"There's no hiding it, I've been here for a long time," said Newgarden. "Next year will be my ninth season. I've been around and done it a long time. You feel that way after eight or nine years."
For Newgarden, who in 2016 competed on televised obstacle course competition "American Ninja Warrior" on just one week's notice, remaining adaptable is key, and he points to the variety of track types in IndyCar competition as proof that the veterans are not going anywhere.
"I think the reason the veterans hang on so long and they get better with age is just because of the challenge of the series, the amount of tracks they go to," said Newgarden.
"They have the mental strength to switch back and forth really quickly throughout the year which you have to be able to do."
Swimmer Shayna Jack 'struggling' with lengthy drug probe
Drug-tainted Australian swimmer Shayna Jack has claimed she could have to wait nine months for a chance to prove her innocence, after testing positive to a banned substance.
Jack, part of Australia's 4x100m freestyle team that set a world record last year, tested positive outside competition to the banned muscle-building drug Ligandrol in June.
In her first public comments since meeting with Australian Sports Anti-Doping Authority (ASADA) officials in early August, Jack wrote in an Instagram post late Tuesday that the uncertainty surrounding the lengthy drug probe and her swimming future had taken its toll.
The 20-year-old, who has denied knowingly taking the drug, said the "whole process has been a test" of the strength of her mental health.
"I have found that I am struggling most with accepting the current situation, how much it has not only impacted my swimming career but my everyday life," she wrote.
She said she did not expect her case to be heard until June 2020, which would coincide with trials to qualify for Australia's swimming team that will compete at the 2020 Tokyo Olympic Games.
The controversial young swimmer faces a four-year ban from competition -- the standard penalty for athletes who test positive for anabolic agents -- unless she can prove her innocence.