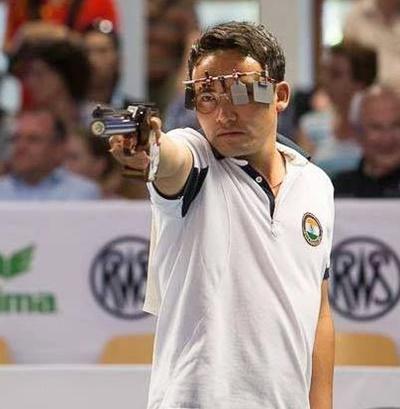 Ace Indian shooter Jitu Rai clinched gold medal in the men's 50m Pistol event at the International Shooting Sport Federation (ISSF) World Cup being held, in Bangkok, on Friday.
Jitu trounced China's former World and Olympic Champion Pang Wei to second place shooting 191.3 to Pang's 186.5. Wang Zhiwei, also of China and an Olympic Bronze medalist finished third with a final round score of 165.8.
Jitu, who had been nursing a serious injury on his right palm for some months, reached the final by finishing third at the end of the 60 shot qualifying series with a score of 562. He did not start as strongly as he would have wanted to in the final however he maintained a top three position throughout.
Former Olympic and World Champion Pang Wei of China led the field of eight top qualifiers with a score of 564, while Olympic medalist and compatriot Wang Zheiwei followed him in second place scoring 563.
Pang Wei who was also having a strong consistent show finally conceded the lead to Jitu after having below par 13th and 14th shots. The following two shots also saw a similar pattern for Pang and from then on, it was Jitu all the way as both the Chinese challengers had a tame end to the 20-shot final. Tomoyuki Matsuda after briefly lying in the top three was eliminated in 5th place.
Saturday will see the finals of the Men's 50, Prone and 10m Air Pistol events. Jitu Rai will look to increasing his medal tally in the pistol event while Gagan Narang and Chain Singh will lead India's charge in the Rifle event.