London Olympics silver medalist Vijay Kumar on Sunday clinched the gold medal in the men's rapid fire pistol event at the 56th National Shooting Championship in New Delhi.
While Vijay shot 572 and 25 in the finals to win the top prize in his event, Punjab's Heena Sidhu bagged the gold in the women's air pistol competition after she shot 383 + 99.5 in the qualifiers and finals respectively.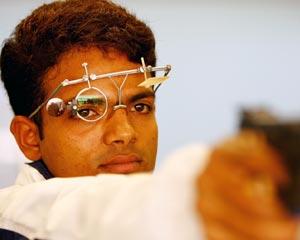 Harpreet Singh (569 + 21) of Navy clinched the silver in the men's rapid fire pistol event ahead of Army's Pemba Tamang who shot 572 and 18.
In Heena's event, Annu Raj Singh won the silver with scores of 383 + 96.8 while the bronze went to Priyanka Susvirkar of Railways who shot 378 + 100.8.
In the 3-position men's event, Surendra Singh Rathod of Army won the gold with scores of 1158 + 97.9.
The silver went to Sanjeev Rajput who scored 1154 + 97.6 while the bronze was won by Chain Singh of Army for shooting 1150 + 100.4.
Aribam Dicky Sharma of Army bagged the gold in the 3- position junior men's event. The silver went to Brahma Puri of Gujarat while H Sanahal Singh of Army had to be satisfied with a bronze.
In the air pistol junior women's meet, Shreya Gawande of Maharashtra won the gold, with Punjab's Malaika Goel and MP's Surabhi Pathak winning the silver and bronze respectively.
Gawande won yellow metal in the air pistol youth category too, with Goel of Punjab and Haryana's Manjeet finishing second and third respectively.