London Olympics silver medalist shooter Vijay Kumar was honoured with the 'Services Best Sportsman' award for 2012 at the Army Headquarters in New Delhi on Friday.
"The award is given to the best sportsman from the three defence forces -- Army, Air Force and Navy," a release stated.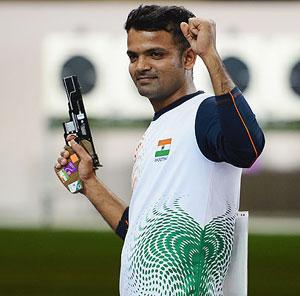 The award, including the trophy and Rs 1 lakh, was presented to the ace shooter by Navy Chief Admiral DK Joshi.
"I am honoured to have been given such a prestigious award. It makes me really happy that my efforts are now being applauded and appreciated by the Services," Vijay Kumar said.
Vijay Kumar won a silver medal at the July-August London Games in the individual 25 metre rapid fire pistol.
The current world No. 3 had earlier won three gold medals and one silver medal at the Delhi 2010 Commonwealth Games.
Meanwhile, the Himachal Pradesh shooter will be flying to Bangkok on October 22 to participate in the prestigious ISSF World Cup Finals.