Ronjan Sodhi is a hard man to please and the Indian shooter insists he will not rest on his laurels after rising to number one in the world rankings and is setting his sights on a medal at next year's London Olympics.
The 32-year-old Punjab shooter has been a consistent performer at international level and the bronze medal he won at last month's World Cup in Slovenia put the 2010 Asian Games gold medallist on top of the latest double trap rankings.
Ronjan, however, said he was chasing an Olympic medal which would stay with him forever, unlike the constantly changing nature of the rankings.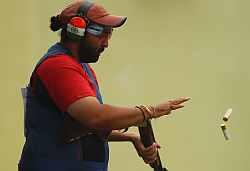 "It's a nice feeling of course and I'm happy too. But at the same time I know it's a momentary phase," Ronjan told Reuters.
"I'd like something that stays with me forever, like an Olympic medal, and I'm going to give my best in London to get one.
"Any athlete will tell you that an Olympic medal is the biggest thing in his or her life. That's the ultimate recognition, the pinnacle of sports," Ronjan said from Italy where he is practising for next month's shotgun World Championships in Belgrade.
Ronjan has already booked a berth for the London Olympics through the silver medal he won at the Beijing World Cup earlier this year, avoiding the pain he endured three years ago.
Rajyavardhan Singh Rathore, who won silver in 2004 Athens Olympics, was awarded the quota place for the Beijing Games while Ronjan, despite having broken two world records, was not even awarded a wild card.
"I did not get to compete in Beijing despite being the world number three shooter then. I always thought the Olympics was for the top shooters and it felt strange not to be there.
"I didn't get a quota place and I remember NRAI (National Rifle Association of India) asking for a wild card. But it didn't stop me there. I always knew my time would come.
"It happens in an athlete's life, such ups and downs... I watched the competition on TV and felt I should have been there. But one has to move on in life, you can't keep (complaining)."
India's shooters will bear the weight of expectation for success in London, hardly surprising after Abhinav Bindra (10m air rifle) captured the second most populous country's first individual Olympic gold at the 2008 Games.
Ronjan accepts that emulating his compatriot's triumph would be a difficult task.
"You can't guarantee a medal in London. It all depends on your form on that particular day. If sports was so predictable, it would have no charm," he said.
"There are a lot of factors involved. I can only assure that I will give my 100 percent when it comes to determination and dedication but there are other factors too.
"Everyone now expects us to win at the Olympics, Asian Games and Commonwealth Games. The government has spent a lot and I'm fortunate to have the backing of the Mittal Champions Trust as well.
"But in London, apart from the Americans, the English shooters will be a big challenge. They will be eager to do well in front of a home crowd.
"Although that can be a disadvantage as well... under pressure at home. It should be interesting but frankly speaking, there are at least 10-12 shooters who can win on the day."