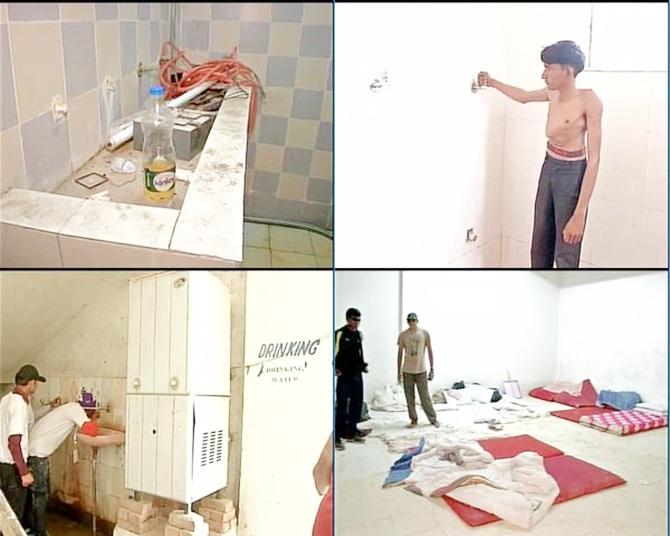 Para-Athletes handed dirty and unkempt rooms. Photograph: Courtesy ANI
In a shocking case of official apathy, differently-abled sportspersons participating in the 15th National Para-Athletics Championships have been put up at unfurnished and unhygienic accommodations, prompting the Sports Ministry to seek a report from the organisers.
The athletes participating in the National Para-Athletics Championships were in for a shock when they reached here only to be handed dirty and unkempt rooms at a building in Ghaziabad.
"We did not get proper food; we have been eating puri and one vegetarian dish for the last four days. We walk with sticks and still we have been put up at second floor. They don't even have ramps for wheelchair-bound athletes. The toilets are dirty, there are no fans and there is no water," said Yogesh, a participating athlete.
"I fell three times while taking bath today, we are drinking water from a tanker and it as not been cleaned and the toilets are filthy," added Vinay, another participant.
The athletes' condition drew Sports Minister Sarbananda Sonowal's attention after a media outcry.
"Differently-abled athletes and their well-being is a priority for us. We are examining the matter and looking into the reasons for mismanagement of the event," Sonowal tweeted.
"A detailed report has been asked on the organisation of the National Para-Athletic Games from Paralympic Committee of India," he added.
The championships, comprising of two events – the National Para Powerlifting Championships (March 14 and 15) and National Athletics Championships (March 20 to 22), are being held at the Weightlifting Auditorium in Jawahar Lal Nehru Stadium Complex and Janhit Para Sports Grounds (Madhuban, Bapudham) in Ghaziabad respectively.
A defiant Paralympic Committee of India (PCI) President Rajesh Tomar said a panel has been formed to file a report on the matter.