Former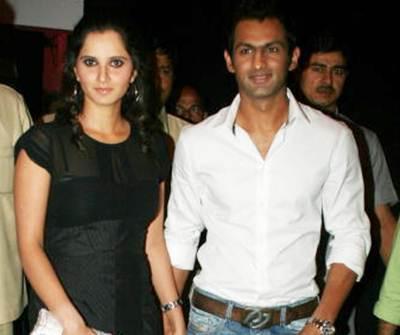 Pakistan cricket captain Shoaib Malik says he is proud his Indian wife Sania Mirza has become the world's top-ranked doubles tennis player, adding it is honour for both countries.
Mirza, 28, became the first Indian woman to achieve the feat after winning the Charleston title on Sunday, partnering Swiss star Martina Hingis.
"I am extremely proud and overwhelmed with joy," Malik told AFP.
"It's a matter of pride for Pakistan as she is my wife and, of course, she is from India and she represents her nation with 100 percent determination to be the best."
The celebrity couple, who wed in a series of lavish ceremonies across both countries in 2010, have been called South Asia's answer to "Posh and Becks" -- former English footballer David Beckham and his popstar wife Victoria.
Malik, who has been out of the Pakistan team for a year despite success at the domestic level, said Mirza's victory will be an inspiration for young fans.
It's also a victory for all tennis players and tennis fans in India and Pakistan on what is possible with hard work at a global level," he said.
Malik said he celebrated with his family after watching the match from his hometown of Sialkot in Pakistan before calling his in-laws in India to congratulate them.
"I loved tennis before I married Sania, but now my heart is really in it. I watch her matches, and also those of her rivals to keep up to date. Also since most of the time she is playing I'm not with her, I watch also because I miss her a lot."
The 33-year-old all-rounder, who has played 216 One-day internationals, 59 Twenty20s and 32 Tests, added he is working hard to make a comeback to the Pakistan national team.
Also read: 'Feel privileged that I was able to achieve the No.1 ranking'
Image: Sania Mirza and husband Shoaib Malik
Photograph: Getty Images