Five-time World champion and London Olympics bronze medallist Mary Kom has another chance to qualify for the Games at the World Championships in May.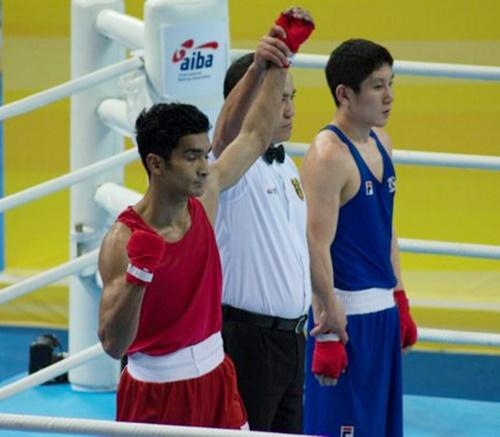 World Championships bronze medallist Shiva Thapa (56kg) became the first Indian boxer to make the cut for this year's Olympics after entering the Asian qualifying tournament's final.
However, the celebrated M C Mary Kom (51kg) failed to book a ticket to the Rio Games. She was beaten in the semi-finals, in Qian'an, China, on Thursday.
Shiva, given the top seeding in his weight category, lived up to the billing, cruising past 2013 World Championships bronze medallist Kairat Yeraliyev of Kazakhstan in the semi-finals.
He will meet second seed Chatchai Butdee of Thailand in the final on Friday.
With Thursday's victory, the 22-year-old Indian is set for his second appearance in the Olympics, four years after he became the youngest boxer to qualify for the multi-sporting extravaganza.
"I want to thank god for having managed to achieve this. I was very worked up about this bout; it was the most important bout for me. So I am totally exhausted and relieved at the same time," Shiva said.
"I have very little time at hand for rest and recovery as the final bout is tomorrow itself. So, it's slowly sinking in. I can't thank enough my coaches and all those who supported me in this journey. I hope to come good on expectations this time by winning an Olympic medal," he added.
However, it was heartbreak for Mary Kom, another top seed, who went down to old foe Ren Cancan of China in the semi-finals, which will only translate into a bronze medal for her.
In the women's category, only the gold and silver medal winners from this tournament qualify for the Rio Olympics.
The five-time World champion and London Olympics bronze medallist, however, has another chance of qualifying for the Games at the World Championships in May.
Another Indian in fray in the men's draw was Commonwealth Games silver medallist and fourth seed L Devendro Singh (49kg), but he lost to top seed Rogen Ladon of Mongolia in the semi-finals.
Assured of a bronze medal, Devendro will fight it out for an Olympic quota place by taking on third seeded Mongolian Gan-Erdene Gankhuyag.
National coach Gurbax Singh Sandhu was effusive in his praise of Shiva, while also lauding the effort of the other boxers.
"It was a very sensible, very planned and very aggressive performance. His opponent was actually running around to save himself. It was a class performance and one of the best bouts of the day," Sandhu said.
"Shiva has matured tremendously and this was evident in his performance so far," he added.