India's sole luge athlete, Shiva Keshavan has qualified for the Winter Olympics to be held in the Russian Black Sea resort city of Sochi from February 7 to 23.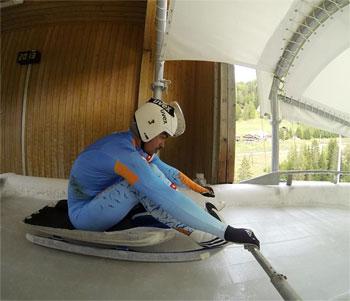 Keshavan received a letter from the International Luge Federation on Friday, informing him of allocation of the Olympic berth. The letter also mentioned the remaining mandatory participation in one World Cup and 20 official training runs post January 1 this year.
Having already completed his World Cups, Keshavan is now preparing for the 20 official training runs.
The Sports Ministry has been bearing the cost of the mandatory training and races leading up to the Winter Olympics for the athlete, given the suspension of the Indian Olympic Association (IOA).
"I am looking forward to taking part in Sochi. I would like to thank the sports ministry, the international luge federation and the IOC for all their support. This also would not have been possible without all my well wishers and sponsors," Keshavan said.
Asia Cup gold medallist Keshavan is currently training at the Olympic track in Albertville, France and this will be his fifth Olympic appearance.
An accomplished Winter Olympian, Keshavan set a new Asian speed record at 134.3 km/h and won gold medal in Asia Cup 2011 at Nagano in Japan. In 2012, he retained the Asian title by winning the Gold Medal at the Asia Cup in Nagano and setting a new Asian track record at 49.590 seconds.
He, however, had to be content with the silver medal in the same event in 2013.
Due to the suspension of the IOA from Olympic fold, the three Indians -- Keshavan, Nadeem Iqbal and Himanshu Thakur -- will be taking part in the Sochi Games as Independent Athletes under the banner of the IOC.
The logjam is expected to end next month when the IOA holds fresh polls on February 9 but that would be two days after the Sochi Games start, meaning that athletes would have to take the field under the IOC banner.
Iqbal qualified for the quadrennial event in cross country skiing while Thakur will compete in Alpine skiing.
Three Indian athletes had taken part in the 2010 edition of the Winter Games in Vancouver in Canada, while four represented the country in 2006 in Torino, Italy.
Keshavan was the lone Indian athlete in Salt Lake City in United States in 2002 and in Nagano (Japan) in 1998.
Image: Shiva Keshavan