Left in lurch after denial of government funding, Indian luge competitor Shiva Keshavan has found support from the IOC, which has granted him the Olympic Solidarity Scholarship to compete in the qualifiers for the 2014 Sochi Winter Games.
The scholarship was granted to him on the recommendation of India's IOC member Randhir Singh.
The Asian Champion, who has been training in Europe to qualify for the Sochi Winter Games after retaining his Asian title and setting a new continental record, was struggling to raise funds for participating in qualifying events.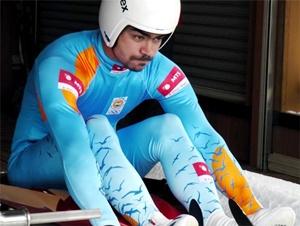 The IOC has now stepped in to ensure that Shiva gets to travel and participate in the Olympic test event and the World Cup final, a mandatory race for qualifying for the apex sporting event which will be held in Sochi, Russia in 2014.
Keshavan's Coach Yann Fricheteau, a former Olympian, had quit this year due to the non-payment of his salary by the Government under the NSDF Scheme for sportspersons.
The Government had earlier also refused to fund Shiva's participation in the World Cups and the Asian Championships, where Shiva retained the gold medal for the second consecutive time for India.
However thanks to IOC's intervention, Shiva's Olympic dream has remained alive.
"This is the first time that an athlete has been directly supported by the IOC, as it is generally the prerogative of the Sports Ministry and the NOC of each country to bear the costs of national teams participating in international competitions," a release stated.
Last year, the IOC had suspended the Indian Olympic Association (IOA) which had caused huge embarrassment in the national and international sports fraternity.
"It is already challenging enough to compete against the world's best athletes without having to worry about how I am going to pay for a place to sleep and to eat. Last month, despite the personal assurance from the Hon'ble Sports Minister, the NSDF released a small part of the required budget (less than five per cent)," Shiva said.
"I am grateful to the IOC for their support which will enable me to travel for the Olympic test event and qualify for the 2014 Games.
"I am also hopeful that the Hon'ble Sports Minister will ensure that the basic training costs are borne by the Government, and not personally by the athletes who are already giving their all to represent the nation," added a relieved Shiva from Sochi.
The National Sports Development Fund's (NSDF) main objective is "to administer and apply the moneys of the fund for promotion of sport in general, sports disciplines and individual sportspersons for achieving excellence in National and International levels".