Indian boxer Shiva Thapa stunned former Olympic silver-medallist Worapoj Petchkoom 16-10 to enter the semi-finals of the Asian Olympic Qualifiers in Astana (Kazakhstan) and is now just one win away from booking a berth for the London Games.
The 18-year-old Youth Olympics silver-medallist notched up a comprehensive triumph over his 30-year-old Thai rival, who also happens to be an Asian bronze-medallist from the 2006 edition.
"In my first bout, my body felt a bit tight but it all turned out well in this bout. Now even my body feels good," the boxer said.
Shiva had created quite a flutter by defeating a world champion in the finals in his debut senior international tournament, in Belgrade, where he went on to clinch a gold medal.
"I was aggressive and had worked hard on a plan. I saw his recordings from previous tournaments to prepare myself. I knew I could beat him and I am glad I did it," he said.
Shiva will now face Japan's Satoshi Simizu, who beat Myong Il Kim of North Korea 23-10, for a place in the finals on Wednesday after a rest day on Tuesday.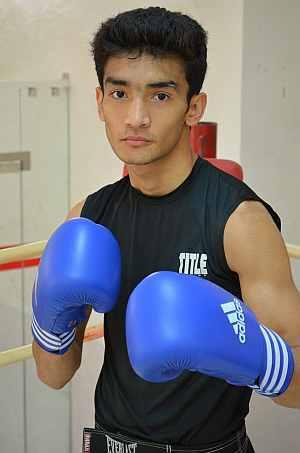 A win in the next round will assure him of a place in the London Olympics as well.
But in case he loses, he will have to pray for a gold for his rival as only the semifinalist who is defeated by the eventual champion will get the London ticket.
The Indian took a slender 5-3 lead in the opening round by being the "more aggressive" of the two boxers and worked to the same plan in the second round as well.
In the final round, he slowed down a bit due to which Petchkoom managed to make it 4-5 but the cushion from the previous rounds was enough for Shiva to emerge triumphant in the final scoreline.
"We worked to a strategy after watching Petchkoom's previous bouts. He was aggressive in the opening round and it worked. He dominated the second round as well with the same strategy," said national coach Gurbax Singh Sandhu.
"He is a very promising talent and gave a good account of himself," he added.
Shiva had beaten Mohammad Khaiber Nooristani 14-7 in his first bout after getting an opening-round bye.
With this five Indian boxers have made the semi-final cut, of whom Vijender Singh (75kg) is the only one assured of a London ticket so far as the Olympic bronze-medallist's weight category has four slots on offer.
Other Indians in the semi-final are Sumit Sangwan (81kg) and Asian Games silver-medallist Manpreet Singh (91kg) and Paramjeet Samota (+91kg).
While Sumit and Manpreet have fought their way, Samota has managed to get straight into the medal round after getting a bye.
Sumit is in a similar situation as Shiva because his weight category has three slots on offer. Manpreet and Samota, on the other hand, will have to fetch gold to qualify for the Olympics.
Manpreet will face Iran's Ali Mazaheri, while Sumit will be up against Jordan's Ihab Almatdault in the semi-finals.
Samota will be competing against Syria's Soumar Ghosoun in the semi-finals.